Table of Contents
Straight out of college? Got to start job hunting? We know: it can seem like yet another insurmountable task after years of study, coursework, and tutorials. Now you've got to learn a whole new set of skills that are all tailored for getting a job. The good news is that it isn't as tricky as it might seem, and a bit like writing an essay, the worst bit is simply getting started.
First things first, a graduate CV or resume is just that: a recruiter or hiring manager won't expect you to have a huge amount of previous experience. There are a few key things to include to showcase what you can do already and the skills you've amassed. Here's what we suggest.
Your education
When you're just starting out, your educational experience is the main point of focus and interest for an employer and most relevant for any role you apply for. List your degree(s) along with the results you achieved or your GPA, if appropriate. Your educational experience should be listed in order, with your most recent course placed first. You can also include any one-off courses, seminars, or workshops you've taken. Make sure you have all relevant transcripts and information to hand too – you may be asked by an employer for copies.
Assess your skills
Employers value what are known as hard and soft skills. If you have language skills, for example, highlight them, as this is a hard skill that is really good to have. If you participated in projects that involved giving presentations both in person or over video, mention this too – this is a great soft skill. Did you lead any group projects? Make sure to emphasize any leadership abilities.
What about achievements?
Do you have any scholarships, awards, or honors you were awarded? All or any of these speak to the fact that you value hard work, dedication, and commitment, so they should be included.
Internships and relevant work experience
If you participated in any summer internships or did any other work experience during your college years, it is essential that you include them. List them by date, and include the employer's name and your job title. A list of brief responsibilities should be included too. Aim to emphasize the skills and abilities you learned. For example, if you worked in a bar, you can showcase that you worked under pressure and within a team structure. This work experience does count, and if you present it well, it can give you an edge when applying for a job.
Make sure you tweak
One really key thing to understand about the job hunt is one resume doesn't work for all jobs.
You'll need to tweak your CV for every role you apply for, adding relevant keywords (if they apply to your experience).
This is important: often recruiters quickly scan or use software to see if you're right for the job. If they can't see some of the right keywords straight away, you won't even get a screening phone call.
If you're ready to start your search, we have three great companies to apply to below, and for lots more jobs to discover, hit up the Gradcafe Job Board.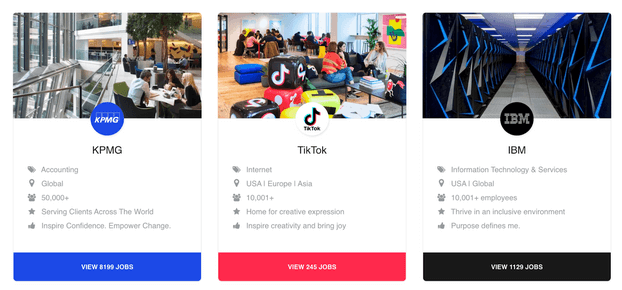 HubSpot
It's the marketing, sales, and customer service platform that's number one for scaling businesses. Its ease of use and functionality make it a must-have: it offers marketing, sales, customer service, content management and operations software to businesses, and as a result, there are a wide variety of roles available at the company.
Check out openings at HubSpot.
TikTok
There is no way you haven't heard of the social media platform TikTok: the app saw a huge increase in growth during the pandemic in the United States, growing 180% percent among 15-25-year-olds. As a result, hiring is strong here and with offices globally, there are plenty of cool locations – and cool jobs – to choose from.
Discover open roles at TikTok.
Cash App
Looking to get into the Fintech / crypto space? Cash App is the app that is making the world's relationship with money more relatable, instantly available, and universally accessible. It is essentially a mobile payment service that allows users to transfer money to one another using a mobile phone app. The company now has thousands of employees working globally across office and remote locations, with a culture geared toward creativity, collaboration, and impact.
Discover open roles at Cash App.