There's no denying that graduate school is a busy time that may sometimes have you feeling out of your depth. When you add work and family, it can get even more challenging to balance.
Luckily, there are digital apps, calendars, and planners designed to make life easier for even the busiest individuals. If you've been struggling with making those digital options work, it might be time to give good old pen and paper a try.
Paper planners aren't for everyone, but the best academic planners (below) might change your mind. We've also included a buying guide for the best planner for college or graduate students. Let's get started!
The Best Academic Planners At-a-Glance
| | | |
| --- | --- | --- |
| Planner | Description | Link |
| Class Tracker Ultimate Student Planner | Best academic planner overall | |
| Paperage 17-Month Academic Planner | Best large grad student planner | |
| Lafefo Academic Planner | A well-designed and affordable academic planner | |
| The Centered Student Academic Planner | Best planner for students who are visual learners | |
| Blue Sky Academic Planner | Best affordable student planner | |
| Live Whale Undated Planner | Most flexible planner for grad students | |
How Is an Academic Planner Different From a Regular Planner?
You can use a planner to track your tasks, priorities, events, meetings, and any other important things you might need to remember.
However, an academic planner is designed and made specifically for students. They generally start right before the academic year (around June or July). They also tend to have different features and tools on the pages that are more targeted toward students.
If you start in the fall, you can choose an academic planner. If you start in the spring semester, a traditional planner might be best, even though you won't get features like class schedule pages. If you prefer a regular planner, you can simply print or write out your own schedule and insert it into your school planner somewhere!
How to Find the Best Student Planner
Finding the right grad school planner can feel challenging – not all planners are made the same! Additionally, a planner can be deeply personal, so what works for others may not work for you. Consider some of the criteria below to find your perfect planner:
1. It's Designed for Students
Compared to a traditional option, academic planners have certain features that make them better for students, like detailed pages for class schedules. Designers also make other considerations, such as offering flexibility, adding prioritization methods, and more.
2. It Fits Your Needs
Check out product pictures to see what the inside of the planner looks like and determine whether the features you need are included. Look at product reviews to see what others have thought about their purchases.
Additionally, you can look into some of the additional tools each planner can offer. Some have pages for mind maps, habit tracking, goal-setting (and tracking), budget tracking, to-do lists, and contact lists.
Consider whether the planner includes the organizational tools you need. Many students will purchase a planner for its function over its form, but it's possible that a better-looking planner will motivate you to use it more often. We recommend balancing your aesthetic tastes, learning style, and time management methods.
3. The Start Date Aligns with Your Schedule
'Normal' planners start in January, while academic planners may start in different months (such as June or July). If you start on a non-standard date, consider using an undated planner. Undated planners allow more flexibility, letting you plan only for the weeks and months you need.
4. Check How Many Months the Planner Has
Some planners offer six months of pages, a typical 12, or even 18 (for some college student planners)! The amount you require is a matter of preference – so it's up to you to decide!
5. It Has Plenty of Space
The best planners for grad school will have plenty of space. As a grad student, it's almost a guarantee that you'll be incredibly busy. Making sure that your academic planner has plenty of space to accommodate school activities, schoolwork, tasks, meetings, and even your real-life stuff. You may even get enough space to help accommodate some notes!
The Best Planners for Students in 2023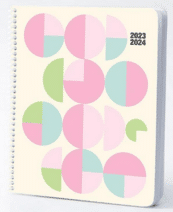 Key Information:
Size: 7 x 8.5 inches
Months: 12
Starting Month: July
Paper Type: Thick, but thickness unspecified
Cover Type: Soft-touch laminated cover; coil bound, rounded corners
Colors Available:

Cream and pale pink
Cream, ocean blue, and seafoam
Cream, pale pink, and salmon
Cream, poppy, and bubblegum
Cream, violet, and bubblegum
Ocean blue and seafoam
Pine and cream
Additional Features:

Class schedule pages
Notes pages
Goals pages
Self-care tracker
If you're looking for a tried and tested option, the Class Tracker Ultimate Student Planner is an excellent option. This dated planner has monthly and weekly pages that start in July and end in June of the following year. It includes various features to make your life easier, such as weekly pages with self-care trackers, class schedule pages, goal pages, notes pages, monthly pages, and more.
This planner (featured by Wired, CNN, and College Life Made Easy) has plenty of space for you to write everything you need. To help maintain focus, the pages have an unassuming design to restrict distractions.
Another element that makes The Class Tracker Ultimate Student Planner one of the best planners for college students is its undated option – perfect for people who want to start at their leisure. The undated planner has more cover options and the same features as the dated planner.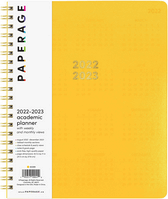 Key Information:
Size: 9 x 11 inches; also available in 5 x 8 inches
Months: 17
Starting Month: August
Paper Type: 100 GSM acid-free
Cover Type: Polypropylene plastic; spiral-bound
Colors Available: Black, blush, indigo, lavender, sky blue, yellow
Additional Features:

Gold foil month tabs
Class schedule
Goal tracking
Notes pages
Plenty of room
The Paperage 17-Month Academic Planner is the only planner on this list to feature more than twelve months. It's also the largest on this list, sitting at 9 x 11 inches. With such a size, you get plenty of room to write everything you need while still having tons of space left over for notes, color coding, and organizing.
Alongside the monthly and weekly pages, Paperage has also included pages for goal tracking, class schedules, and notes. For easy navigation, Paperage has thoughtfully included gold-foiled month tabs.
Overall, the Paperage planner is one of the best academic planners for college or grad school students who need plenty of room for all of their tasks, appointments, meetings, and more.
3. Lafefo Academic Planner – A Well-Designed and Affordable Academic Planner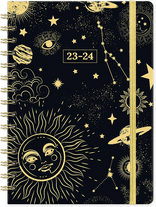 Key Information:
Size: 6.1 x 8.7 inches
Months: 12
Starting Month: July
Paper Type: Thick, acid-free; GSM unspecified
Cover Type: Hardcover; twin-wire binding
Colors Available: Black and gold solar system design
Additional Features:

Elastic closure, back pocket
Monthly tabs for easy navigation
2023-2025 holiday pages
Two contacts pages
Yearly overview
Notes section
If you're looking for a weekly academic planner that's on the affordable side, the Lafefo Academic Planner is one to consider. Although this option only comes in one unisex design, it offers the features that most student planners do.
Inside the twin-wire-bound covers, you'll find monthly tabs for easy navigation, monthly and weekly pages, a yearly overview, a notes section, two contacts pages, 2023-2025 holiday pages, and a hidden back pocket to hold receipts and small notes. The Lafefo Academic Planner also has an elastic closure to secure everything.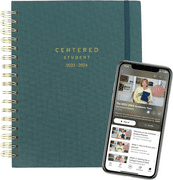 Key Information:
Size: 7 x 9 inches
Months: 12
Starting Month: August
Paper Type: 120 GSM
Cover Type: Linen-bound hardcover; twin-wire binding
Colors Available: Forest green, sailcloth (cream), starling blue, varsity blue
Additional Features:

QR-code access to 52 video tutorials to help with student life
Notes pages
50-sheet to-do list pad
Back cover pocket
Pen loop
Elastic closure
Bookmark
Focus and gratitude tracking
The Centered Student Planner is the definition of premium – and it shows in the price. Fortunately, you do get what you pay for, as the paper is a thick 120 GSM and prevents any bleed-through.
You also get a variety of features such as gratitude tracking, focus tracking, next week prioritizing, tips, and a clip-in bookmark. Even better, an included 50-sheet pad of to-do list pages helps you prioritize even further.
One of the best things about this planner is that it comes with a scannable QR code that will take you to the 52 video tutorials designed to help you manage school. The videos may be more targeted toward college students, but grad students can definitely benefit.
The Centered Student Planner is one of the best planners for students, whether they're in college or in graduate school. It's especially great for those looking for positive psychology cues to help with mental health (it follows the Centered Student system).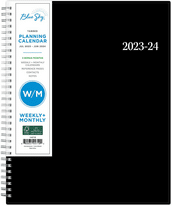 Key Information:
Sizes:

5 x 8 inches
7 x 9 inches
8 x 10
8.5 x 11 inches (letter size)
Months: 12
Starting Month: July
Paper Type: Thick, but GSM unspecified. Beware minor bleed-through
Cover Type: Polypropylene plastic; Twin-wire binding
Colors Available: Black
Additional Features:

Reference calendars
Contact pages
Notes pages
Month tabs for easy navigation
Yearly goals
The Blue Sky Academic Planner is one of the best planners for college and grad school, especially for students seeking something simple and affordable. You don't get all the bells and whistles that some planners offer, but you'll have plenty of space to write what you need. This planner only comes in black, but offers four sizes: 5 x 8 inches, 7 x 9 inches, 8 x 10 inches, and 8.5 x 11 inches.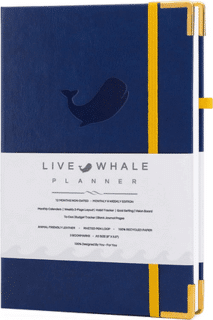 Key Information:
Size: A5 (5.83 × 8.27 inches)
Months: 12 months
Starting Month: N/A; Undated
Paper Type: 100% recycled 120 GSM with satin reinforced edges
Cover Type: Hardcover, vegan leather
Colors Available:

Grey/silver accents: Black
Yellow/gold accents: Blue, Pink, Purple, Red
Additional Features:

Vision board pages
Dreams and goals pages
Health and wellness pages
Expense tracker pages
Three ribbon bookmarks
Hidden back pocket
Riveted pen loop
The Live Whale planner is one of the best college planners for students who need extra flexibility. Because it's an undated planner, start planning any time you'd like. If you stop using the planner for any reason, come back and start fresh whenever you want.
This planner offers monthly and weekly layouts to help you stay organized, as well as plenty of other features that might come in handy. The paper is 100% recycled and thick at 120 GSM, making bleed-through unlikely. Thoughtful design decisions went into the color and accent choices for this planner, making it an aesthetic choice for those who aren't into busy prints or flashy colors.
Recommended Accessories for a Graduate Student Planner
Even if you have the best planner for Ph.D. students, it can still sometimes feel as though you're struggling to stay organized. If you find yourself on this boat, the following list of accessories might be able to help.
| | | |
| --- | --- | --- |
| Accessory | Description | Link |
| Post-it Super Sticky Notes, Assorted Sizes | This pack of Super Sticky Notes comes with 15 pads for a total of 675 notes | |
| Post-it Flags and Tabs Value Pack | This pack includes a variety of tab and flag sizes. It comes with a total of 956 flags and tabs. | |
| Clip-Rite Flag Paperclips | This 24-pack of eco-friendly reusable paperclip flags comes in four colors with six flag paper clips each. | |
| Leoter 30 Rolls Washi Masking Tape Set | Washi tape leaves no residue, sticks to most surfaces, and can be used and repositioned (even on paper). This pack contains 30 rolls. | |
| Tombow Power Mini Glue Tape (3-Pack) | This 3-Pack of Tombow Power Mini Glue Tape is a handy paste and glue substitute. | |
| Pilot Frixion Pastel Erasable Highlighter Pen Set | The Pilot Frixion line of pens and highlighters are all erasable. Use the six colors included in this pack to color-code and organize your planner. | |
| Pilot Frixion Erasable Clicker Pens (6-Pack with Refills) | This pack of erasable clicker pens comes with six pens (three black, three blue) plus four refills (two black, two blue). | |
| Sakura Gelly Roll Metallic Pens (12-Pack) | This 12-pack of metallic gel pens can help you color code and organize while ensuring important dates and deadlines stand out. | |
Why Have a Planner When You Have Electronics?
Digital planners often work with some of the best note taking apps on tablets. However, there are many reasons to choose physical planners for college students (rather than digital alternatives). These reasons include:
1. Paper Is More Tangible
A digital student planner works perfectly fine, but sometimes the best academic planners for grad students are paper-based. A physical paper planner feels much more tangible and might better remind you of your tasks, deadlines, and meetings.
When you have a book to look at, it can help make your schedule and priorities feel more "real." Plus, it's just nice to have something you can chuck in your backpack and keep with you wherever you go!
2. Fewer Distractions
A planner app or to-do list on your phone has its benefits, such as giving you reminders and notifications when something important is imminent. However, the downside to a digital solution is that the chances of distraction are far greater. Getting a notification while checking your calendar could lead to wasting an hour on social media.
Another fantastic reason to choose a paper planner over an app or other electronic service? There are few-to-no distractions.
3. Writing By Hand Offers Many Benefits
Finally, numerous studies and articles state that handwriting is simply superior to typing when it comes to memory retention, deeper comprehension, and learning.
Choosing physical planners for a college student or a grad student can help you more deeply comprehend the importance and urgency of the tasks at hand. It can also help you commit important dates to memory (though digital reminders are great for dates that shouldn't be missed).
Top Tips for Staying Organized in Grad School
It's completely normal to feel overwhelmed when you're starting – or are in the middle of – grad school. Things can get hectic fast. Without time management and organizational skills, you might find yourself struggling to keep up with necessary tasks. To help you out, we've put together some of the best tips for staying organized in grad school.
1. Use Your Planner!
It's not enough to have an academic planner: You need to use it! Make it a habit to check your planner in the morning so you know what you need to do that day. Always add new tasks, deadlines, and meetings as they come up.
It takes time to get accustomed to using a planner, so stick with it! If you struggle to remember to use yours, keep it in plain sight so you remember.
2. Work Out an Organizational System
A color-coding system can help you instantly recognize items at a glance. Use various tools and stationery like Post-it notes, flags, stickers, and colored pens to make important events (as well as coursework, research, and notes) stand out.
3. Use Digital Alarms and Reminders
Just because you're using a paper planner doesn't mean you shouldn't use technology to supplement your daily planning. Digital reminders and alarms will help you remember when the most important things are happening.
4. Develop Your Time Management
To stay organized while earning your master's or Ph.D., you'll need to work on your time management. Everyone has a style that works best for them, so find yours and stick to it.
It's also a good idea to do as much as you can without procrastinating (if it's possible). Procrastination is one of the biggest reasons that many grad students get derailed! While there is such a thing as productive procrastination, too much can lead to problems!
Frequently Asked Questions
What Should Be in an Academic Planner?
Features included in an academic planner may vary, but you can generally expect:
A monthly calendar spread with space to write important dates and deadlines
Weekly calendar spreads with plenty of room to write down assignments, coursework, important meetings, and more
Note pages if you forget your other notebooks
Some academic planners may also have pages for your class schedule.
What's the Difference Between an Academic Planner and a Regular Planner?
There's not much difference between a regular planner and an academic planner. Regular planners start in January, while academic planners often start before the fall semester (June-July). Academic planners may also have more space for writing down tasks, as well as a few pages for your class schedules.
How Do I Organize My Academic Planner?
Organizing your academic year planner is a personal experience and can depend on your preference. However, you can try techniques (such as color coding with pens, using Post-it notes, highlighting important dates and deadlines, and using stickers to draw your attention). If you experiment, you'll eventually find your preferred method of organization!
Do Students Use Planners?
Yes! Many students (of varying levels) use planners to help them stay organized and stay on top of deadlines and important dates.
Conclusion
Having the right tools can make academic life a lot easier, especially if your schedule is exceptionally busy. A planner might take some getting used to, but getting into the habit can make a massive difference in how well you organize and manage your time.
We hope this list of the best academic planners has helped you find the right productivity companion. If you think we missed a great addition to this list, tell us in the comments below!
If you prefer digital planners, check out some of the best planner apps for students!