Table of Contents
Paying for college, especially grad school, is a massive burden for all students. However, statistics reveal a wide gap between the financial situation of black and white students.
Around 86.6% of black students depend on federal loans to attend college — 27.7% higher than white students. Black students also accumulate more debt. Of course, you might consider applying for well-funded programs, like fully funded PhDs.
But various schools and organizations offer dedicated grants and scholarships for black students to bridge the gap. Ready to learn about free grants for African American students?
Read on to learn about the many options you have to secure a scholarship for being black.
Best Scholarships for Black Students in 2022/2023
General Scholarships for Black College Students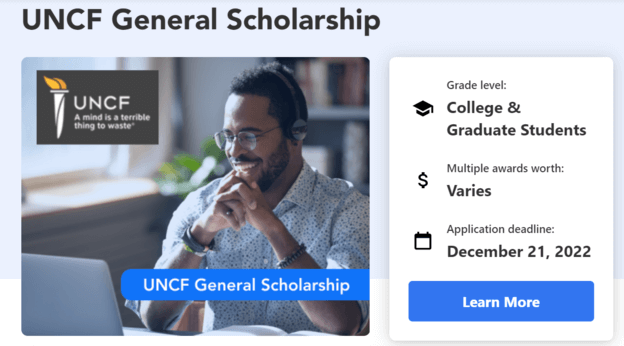 Amount: Varies
The United Negro College Fund (UNCF) offers many scholarships of varying amounts based on different criteria. Underrepresented full-time graduate and undergraduate students with financial need and studying at a UNCF member college are eligible to apply.

Amount: $5,000
This scholarship is offered to undergraduate and graduate students majoring in travel or tourism-related subjects. The scholarship was founded to support underrepresented groups, including black students.

Amount: $5,000
The American College of Healthcare Executives (ACHE) Foundation offers this scholarship for African American students pursuing healthcare management programs at the graduate level. Final-year minority students are eligible, in memory of the first African American ACHE fellow Albert W Dent.
Scholarships for Black Women Students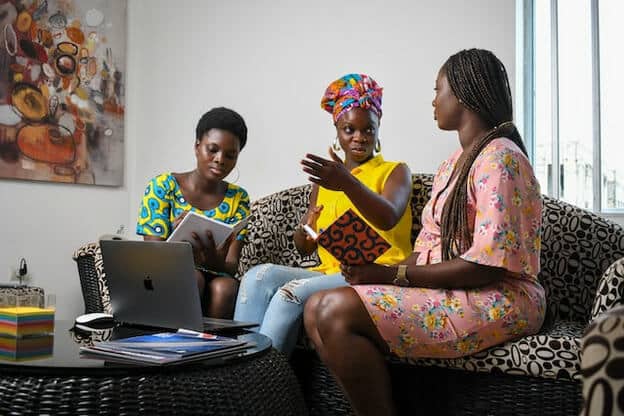 Amount: $10,000
This scholarship for black students is for female students enrolled in a UNCF (United Negro College Fund) college, Howard University, or Hampton University. You'll need to demonstrate financial need and have a minimum GPA of 3.0 to be eligible.
Amount: $2,000-$4,000
The American Planning Association (APA) offers this scholarship to women, African Americans, and other minority students, such as those of Hispanic and Native American descent. You must be enrolled in or have been accepted into a PAB (Planning Accreditation Board) program to be eligible.
Amount: $1,000
This scholarship is offered in honor of Dr. Wynetta Frazier of the University of Illinois, Chicago by the National Hook-up of Black Women (NHBW), Inc. Black women returning to college or university after their education was interrupted by family responsibilities are eligible to apply to this scholarship.
African American Scholarships for First-Generation Students

Amount: $5,000 per year (for four years)
The MARCH Foundation & Bill Dickey Scholarships are free, four-year grants for first-generation African American students. You'll need a minimum GPA of 2.5, demonstrated academic excellence, financial need, community service, and leadership qualities to be eligible.

Amount: Up to $5,000
The FEA instituted this scholarship program to increase the number of underrepresented students, including African American students, studying abroad. The program distributes many scholarships among eligible first-generation students who want to study abroad.

Amount: $10,000 per year (Renewable annually)
The Justice & Diversity Center, San Francisco, offers this scholarship to first-generation minority students pursuing a degree in legal studies. The scholarship has a three-year commitment and can be renewed each year.
STEM Scholarships: African American Students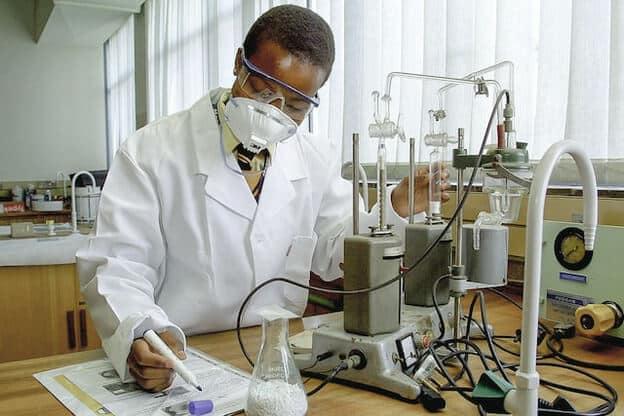 Amount: $20,000, $2,500
Microsoft awards these scholarships to African American students who want to pursue engineering degrees. Four students receive $20,000 each distributed over four years, and 41 receive a one-off award of $2,500.
Amount: $3,000 per year (for two years)
This scholarship is funded by the American Meteorological Society's (AMS) Annual Giving program. It is awarded to underrepresented students, including African American students, with a minimum GPA of 3.0 who are pursuing science education.
Amount: $3,000 per year (for four years)
The DFBSST offers this scholarship to African American students enrolled in science or technology undergraduate programs in one of the Historically Black Colleges and Universities (HBCUs). The scholarship is based on various criteria, including academic performance and financial need.
Application Requirements and Eligibility Criteria
Most scholarships require the following in your application:
Your resume
An essay on a given topic
Two or more letters of recommendation
Academic transcripts
Proof of financial need, such as your FAFSA application
However, each scholarship may have its own unique requirements. Always check the scholarship website or contact the selection committee for detailed information and conditions.
Common eligibility requirements include:
Status as a US citizen or permanent resident.
Enrollment in an accredited university.
Minimum GPA
Additionally, some scholarships require enrollment in one of the specified black colleges or universities. Other scholarships are only open to certain demographics within the black community, such as female students, or those undertaking studies in specific areas, such as STEM students.
Tips for Successful Scholarship Applications
Scholarships for African American students can be highly competitive. It's vital to put your best foot forward in your application to ensure success.
Here are some handy tips to keep in mind, as well as a few things to avoid:
Start early: Some scholarships cap the number of applications and may stop accepting applications once they reach a certain quota.
Submit the FAFSA (Free Application for Federal Student Aid) form: Most needs-based scholarships require this to evaluate your financial status.
Prepare your CSS (College Scholarship Profile) form: Some scholarships assess your financial need based on this form. A CSS Profile collects more information than the FAFSA, so some special case requirements rely on this.
Look for HBCUs when searching for scholarships: Historically Black Colleges & Universities were once the only institutions that admitted black students in the past. Many still offer scholarships and financial aid options for African American students.
Consult the experts: Check with your guidance counselor for useful information on relevant scholarships.
Get organized: Compile a spreadsheet with each potential scholarship's details. Organize separate folders with documents for each scholarship on your PC or laptop. Finally, sort the list by cut-off date so you don't miss any deadlines.
Apply early: Prioritize applications with the earliest deadlines, and submit all your applications as soon as possible.
Focus on your essay: Pay attention to the word count and other requirements, and work to compose a unique, authentic, and compelling essay to capture the attention of the selection committee.
Tailor each essay to the scholarship: Don't use the same essay for different scholarships, even if the prompts are the same. Make sure each is crafted and tailored to suit that specific scholarship.
Proofread your application thoroughly: Even small punctuation mistakes or silly spelling errors can make a huge difference, especially when there are a lot of applicants for a limited number of scholarships.
When to Start Applying for African American Scholarships
Deadlines may be spread throughout the year, though many lie between January and May. Some scholarships require current college enrollment, while others will consider your application even before you enter the program.
Check the deadlines and requirements, and start your search early to make sure you don't miss out on any opportunities. Above all, always submit your applications as early as possible — be organized and don't wait until the last minute!
Key Takeaways
Bottom line? You have a wide range of scholarships for black students to choose from, ranging from merit-based scholarships to those based on financial need. However, many have limited availability and strict eligibility criteria.
Start researching early, and get organized by compiling lists of possible awards and their requirements. Additionally, get an early start on preparing your applications, and pay particular attention to crafting a spectacular personal essay that will help you to stand out from the crowd!
Looking for more scholarships?