Perhaps you're coming to the end of your undergraduate degree and are thinking of going on to a master's program. Or maybe you have already been in the workforce for a while and are considering returning to further study. Either way, if you've started looking into everything that a master's degree involves, you may be asking yourself "is a master's degree worth it"?
Above all else, education is always going to be beneficial in a number of ways.
However, when it comes to a graduate degree, people often wonder if they should invest their time and money in further education. Let's face it — grad school can be expensive. Not everyone is capable of paying the tuition fees, let alone paying rent, transportation, and other expenses. It can be tempting to get a job and start earning money instead.
So, is attending grad school the right call for your future? Let's find out.
Is a master's degree worth it in terms of cost?
The total cost of your master's program varies depending on the institution and course that you choose. The average cost of grad school can be anywhere between $30,000 and $120,000, according to FinAid.org.
The main factor that influences the cost of the program is where you study. If you choose to get your master's from an Ivy League university like Stanford or Harvard, the total cost of the program may be more than $120,000. Tuition fees are much less at less-prestigious institutions, and are generally lower at public schools compared to private ones. Of course, having a master's from a renowned institution has significant advantages and many would argue that it's worth the investment.
It is also important to consider costs beyond tuition fees. Depending on the program and your personal situation, you may also need to budget for books, transportation, technical equipment, and accommodation.
The average cost of grad school overall also depends on the mode of learning, specifically distance education (online learning) versus an in-person degree. Online programs are usually cheaper than classroom-based learning, both in terms of fees and other expenses. On the other hand, each mode of learning offers a different type of experience.
Finally, remember that you don't necessarily need to pay all of these costs yourself. There are many forms of financial aid, grants, and scholarships that can cover some or all of the cost of grad school.
Here are some options for paying for grad school:
Apply for financial aid through the Free Application for Federal Student Aid
Apply for a scholarship, grant, or fellowship through the institution where you're studying
Apply for a special scholarship through a private foundation
Apply for an assistantship (a form of paid academic employment to cover part of your tuition)
Apply for a federal loan
Apply for a private loan
Refinance your existing college loans
For more on this, check out our guide to graduate school scholarships.
Is grad school worth it in terms of time?
The length of a master's degree can vary depending on the field, institution, and specific program, but you can complete the majority of courses within 2 years.
For example, most MBA programs run for two years, with shorter accelerated programs. Law school is typically three years, but there are accelerated programs that last two years.
Having said that, graduation programs are not as rigid as they used to be and there are ways to complete your master's in a shorter time frame. There are many ways you can squeeze your two-year master's degree into 1.5 years or even a year.
Here are a few ways that you can speed up your master's degree:
Choose an accelerated program
Enroll in a dual degree program that lets you complete your bachelor's and master's programs simultaneously
Go for online courses that allow you to complete the program at your own pace
Remember that these figures are based on full-time study. You may choose to study part time in order to balance your studies with work or personal commitments. This may stretch a two-year program out into three or even four years, but is a good way to get your master's while keeping your job and/or meeting family responsibilities.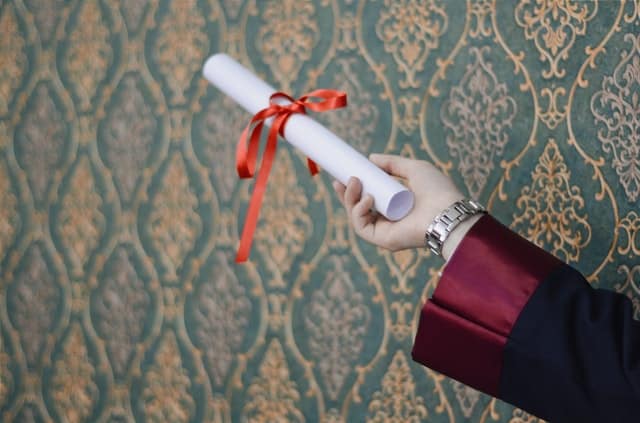 What are the advantages of having a master's degree?
To fully answer the question "is a master's degree worth it?", let's take a look at the difference having a master's degree makes to employability, pay scales, and career opportunities.
Do you get paid more if you have a master's degree?
According to a report by the National Association of Graduate Careers Advisory Services, graduates with a master's degree earn 48% more on average than those with a bachelor's degree only. Furthermore, many high-paying roles will only consider candidates with a master's degree as a minimum qualification.
According to Payscale, graduates with a Master's of Engineering make $93,300 on average, while those with an undergraduate degree in the same field earn just $77,350 a year. These figures are supported by the U.S. Bureau of Labor Statistics, which suggests that individuals with a master's degree have a higher salary on average than employees with a bachelor's degree or a high-school diploma.
Of course, there are individual differences based on your own talent, professional experience, and the company you choose to work for. However, the statistics are pretty persuasive: having a master's degree means you are more likely to get a well-paid job. This makes a master's program a financial investment that will pay for itself in the long term.
Is it easier to get a job with a master's degree?
There's no doubt that having a master's degree gives you an edge in the job market over candidates with an undergraduate degree only. For some roles, a master's degree is a minimum requirement and you won't even be considered without this qualification.
Here are some examples of jobs that typically require a master's degree:
Psychologist
Social worker
Economist
Epidemiologist
Occupational therapist
Librarian
Certified accountants
In other cases, you may be able to get an entry-level position with an undergraduate degree, but you will need to complete a master's degree to be considered for certain roles or organizations in the same field.
For example, it is possible to get teaching roles at private institutions with just an undergraduate qualification. However, for many teaching positions, especially in Government schools, a master's is required. You will certainly need a master's (if not a PhD) to teach at a university level.
Furthermore, even if you're applying for a role that only requires a bachelor's degree, you will always have an edge over other applicants if you have completed a master's program. Having a master's degree listed on your CV shows that you have a deeper level of knowledge and more practical skills compared to other candidates. It also shows your potential employer that you are motivated, hardworking, and dedicated.
Therefore, a master's degree makes you more employable in a variety of ways, and makes it easier for you to get a job after you've graduated.
Will a master's degree give you more opportunities?
We've seen that a master's degree helps you to impress potential employers and stand out from other candidates when applying for a job, but what about as your career progresses? Will having a master's degree translate into more opportunities for career progression and promotion?
In many industries, you can get your foot in the door with an undergraduate degree, but you'll find that your chances of promotion are very low without a master's qualification. You may be limited in terms of career progression with a bachelor's degree only, and will have to watch as others who are less experienced but have a master's degree overtake you on the career ladder.
Furthermore, the benefits of a master's degree go far beyond just a piece of paper. Grad school offers excellent networking opportunities. The connections you make through your master's degree can serve you well for many years to come and help you to progress your career in a variety of ways.
The Bottom Line
Like any other decision, there are advantages and disadvantages to getting a master's degree. There's no doubt that a master's program involves spending significant amounts of time and money, though this investment is likely to pay off in the long run.
Having a master's degree on your CV will make it easier to get a job, mean you are likely to have a higher salary, and will help you to advance your career for years and even decades into the future.
Furthermore, there are certain roles that require a master's degree, and this is becoming increasingly common as the job market becomes more and more competitive.
Of course, a master's degree is not for everyone. It's important to carefully evaluate your goals, budget, and personal situation. For many people, when asking "is a master's degree worth it", the answer is a resounding yes!
Ready to jump in and start applying for grad school? Check out our guides to getting into Ivy League grad school and preparing for grad school.