Going to grad school could be the key to pursuing the career of your dreams. Holding a graduate degree is recommended for many roles and is absolutely essential for others. You'll not only be able to advance your career and secure better pay and benefits, but you'll also become a specialist in your field.
Whether you're planning to go to grad school directly after completing your bachelor's or are looking to go back to school to further your career, you'll need to plan your studies.
So, how long is grad school? Or, how long does it take to get a master's degree? 
The average length of the most common types of grad degrees:
Master's:

Most master's degrees take around two years, though can range up to four years in some fields, and you can complete some accelerated programs in as little as one year.
PhD or doctorate:

It takes three to seven years to earn a doctorate.
If you're like most aspiring grad school students, you probably also want to know if there's any way you can finish your master's or PhD faster than average.
We'll cover the answers to all these questions and more in this article, so keep reading!
How Long Does it Take to Get a Master's Degree & How Can I Complete my Degree Faster?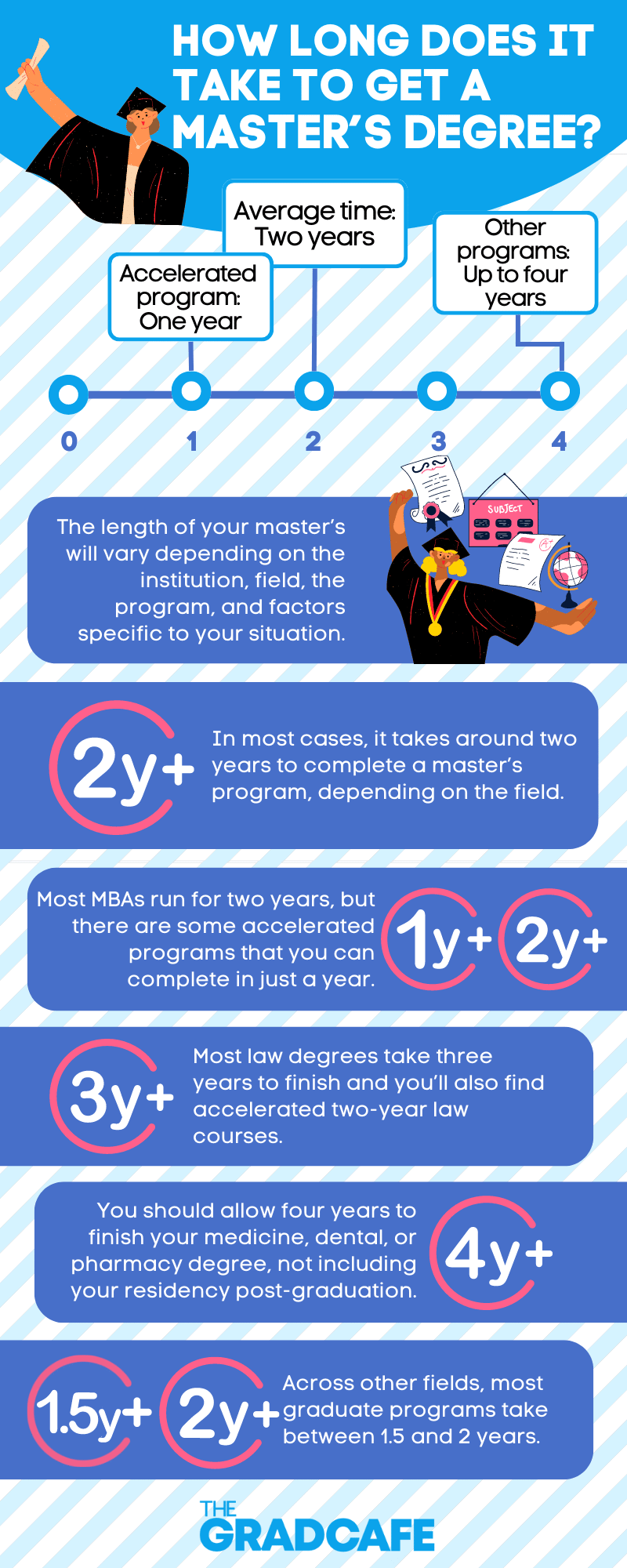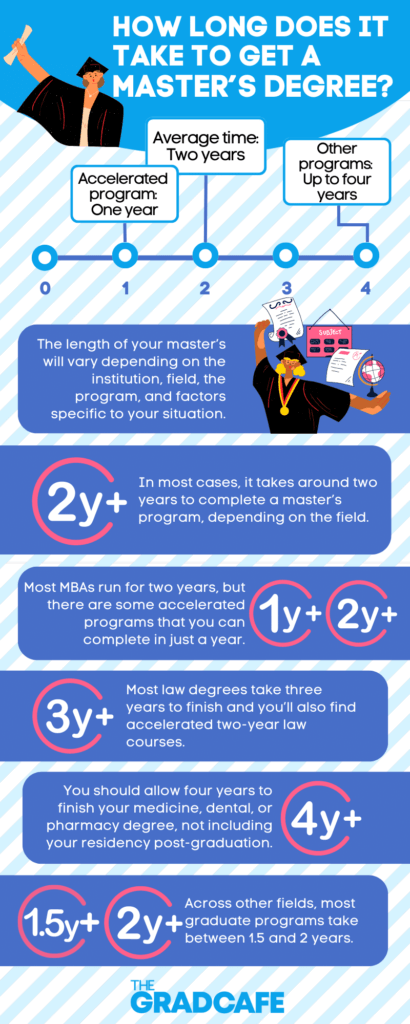 The demand for master's degrees has grown significantly in today's hyper-competitive job market. According to a report by Statista, 833,710 US students pursued a master's in the 2020-2021 academic year, and this figure is expected to expand to 849,000 students in 2027-2028.
Undoubtedly, having an advanced degree comes with a set of advantages. For starters, it gives you a leg up in the job market and allows you to stand out from other candidates. More than this, a graduate program allows you to develop a range of skills, from critical thinking to advanced research skills, while becoming an expert in your field.
The good news is that it's never too late to go to grad school. You don't necessarily have to quit your job or abandon your business to enroll in a graduate program. In fact, it is easier than ever to enroll in a graduate program, with many institutions offering cost-effective, flexible, and comprehensive programs in a wide range of fields.
In many cases, these programs include online and part-time options, allowing you to continue working while furthering your education.
Average Graduate Program Lengths
There is no set answer to the question of how many years a master's degree is, or how long it takes to get a PhD. The length of your master's or PhD program can vary depending on the institution, field, program, and factors specific to your situation — however, there are some general rules dictating how long grad school will take.
How Many Years is a Master's Degree?
So, how many years for a master's degree? In most cases, it takes around two years to complete a master's program, depending on the field.
Some master's courses are longer than others:
Most

MBA

(business school) courses run for two years, but there are some accelerated business school programs that you can complete in just a year.

Most law degrees take three years to finish, and you'll also find accelerated two-year law courses.

You should allow four years to finish your medicine, dental, or pharmacy degree, not including your residency post-graduation.

Across other fields, most graduate programs take between 1.5 and two years.
Some specific factors can influence the length of your graduate program, which we'll cover later in this article.
How Long Does it Take to Get a PhD?
A PhD is the highest academic qualification available at most institutions and involves an in-depth study of a specific topic. Therefore, it's hardly surprising that this is the longest type of graduate degree.
According to the National Center for Science and Engineering Statistics, the median time students finish a doctorate was 5.8 years in 2019. This varies depending on the program and individual student, with most students taking between five and seven years to finish their PhD, and some taking up to eight years.
In all cases, there's no denying that a PhD involves a huge time commitment!
What Does It Take To Get a Master's Degree?
The program requirements for a master's degree can vary widely depending on the discipline, institution, and individual program. There are research master's that can involve completing a research project or dissertation, while coursework master's typically rely on assignments, exams, and/or practicals.
Master's programs can range from 30 to 60 credits, which may be spread across one to two up to four years. You may be able to complete your degree in less time by loading up on credits, but you'll need to complete the set requirements regardless.
The Most In-Demand Master's Degrees
You can earn a master's degree in two years or even less, but even this is a significant investment of time and money. Therefore, it's important to ask yourself not only how long does it take to get a master's, but also which will give you the best return on your investment.
According to Indeed.com, the most in-demand master's in the USA in 2022 are:
Master's of Business Administration

Master's in Healthcare Administration

Master's in Engineering

Master's degrees in Computer and Information Sciences

Master's in Nurse Anesthesia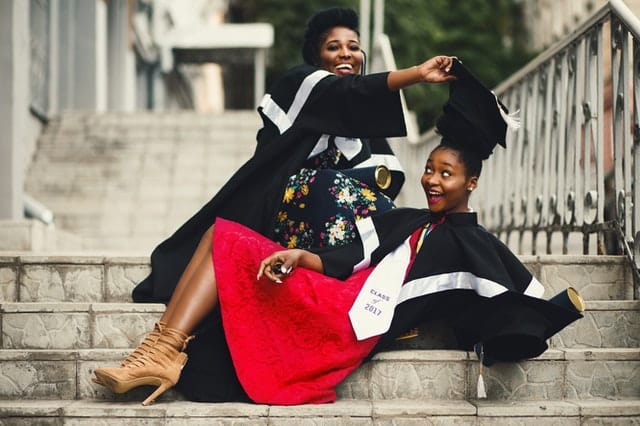 What Factors Impact Grad School Length?
There are a range of other factors that might affect the length of your grad program. These can make the difference between you spending two years at grad school, and your friend may be able to graduate in one and a half. By being aware of these factors, you may even be able to graduate sooner and launch your dream career faster.
Program Credit Requirements
When choosing a grad school, check the number of credits the program curriculum requires. The more credits are needed to complete the program, the longer it will take you to get your degree. As with many factors, the number of credit hours you'll need to complete your graduate degree varies between institutions and programs. However, most master's programs require between 30 and 40 hours of course study.
Credit hours are important because they majorly impact the length of your program and how soon you can graduate.
For example, a master's degree in financial accounting that requires 30 credit hours of study will take around one year to complete. On the other hand, you'll need around two years to finish a master's degree in business administration with 60 hours of course study.
Therefore, looking at the program's credit hours will give you a good idea of the length of the program.
Part-time vs Full-time Enrollment
If you're wondering how many years is a master's degree, the answer depends on whether you study full-time or part-time. Some institutions give students the freedom to decide their pace of study. If you balance your studies with work, you may take three to four years to complete your master's degree, while other students could finish the same program in a year and a half by studying full-time.
This is good news for professionals and anyone with family commitments, as this flexibility allows you to balance your work and personal life while furthering your education. 
On the other hand, if you want to finish your course as soon as possible, you can concentrate fully on your studies and complete as many credits as you can each semester.
However, this doesn't mean you'll be able to take as much time as you like. Unlike undergraduate degrees, most institutions set a time limit for their graduate courses, and you'll need to finish your studies within this time.
For example, at Brown, you need to finish your master's degree within five years, while students at Stanford must finish their masters within three years, with some exceptions.
Online Learning
Traditional master's programs are no longer suitable for many students, and so many institutions have started offering master's degrees online or via distance education. With an online grad school, you can enroll in a leading institute anywhere in the world, attend classes online, and receive your graduate degree. There are hybrid learning opportunities that allow students to attend lectures both online and onsite.
Both online and hybrid learning options give you a high level of convenience and flexibility, which may mean that you can complete your studies in a shorter period of time. You could use this flexibility to fit your studies around work or family commitments, or you may be able to complete more credit hours and finish your degree sooner.
How To Complete Your Graduate Degree Faster Than Average
You can reduce how many years it takes to complete your graduate degree in a few ways.
Follow these tips to complete your degree in record time:
Sign up for an accelerated master's program:

Some programs offer accelerated options that allow you to complete your degree in record time. Be aware that although you'll be able to finish the program in less time with slightly fewer credits, you'll probably have less flexibility in choosing electives and a higher course load per semester.
Complete your credits faster:

In some schools, you can complete your program in less time if you overload on credits, so meet the program requirements ahead of schedule. However, this may not be an option depending on the program structure.
Transfer credits:

If you can transfer credits from previous studies, this will reduce your required credit hours and so let you complete your degree faster. Typically, credits can only be transferred from another graduate school, and the program decides which types of transfer credits they'll accept if they take them at all.
Choose a program with flexible scheduling options:

Some graduate programs allow a range of options when it comes to scheduling your classes, with a choice between semesters, trimesters, weekday assignments, and evening lectures. You may be able to take advantage of this flexibility to earn your degree more quickly.
Final Thoughts: How Long is Grad School? 
We hope you now have a better idea about how long is grad school and how long it takes to get a master's degree or PhD. Your selected program and institution go a long way to determining the length of your graduation program. Additionally, you'll need to consider the credit requirements and whether you're studying part-time or full-time. By studying online, you may also be able to complete your studies sooner.
It's important to consider the program's length before deciding on your grad school. If you want to use grad school to launch your career or further your existing career, no doubt you want to finish your studies as soon as possible and get started! However, although the length of the program is important, it is even more critical to make sure you choose the best grad school for you, regardless of how long it takes!
Frequently Asked Questions
How Long Does It Take To Get a Master's After Your Bachelor's?
If you choose an accelerated master's, you could have your degree within 12 months of finishing your bachelor's degree. However, most master's take around two years, and you may not finish your graduate studies in medicine or pharmacy for another four years after you've earned your undergraduate degree.
Can You Finish a Master's in 1 Year?
You can finish some accelerated master's programs in a year, though they typically involve intensive study with many credits per semester. You'll find only these one-year master's programs in some fields, particularly business administration.
Can I Do a Master's Without a Bachelor's?
Even the easiest master's degrees have certain prerequisites that you'll need to meet before being admitted to the program. This is commonly a bachelor's degree in a related field, but this isn't always the case. Some programs accept professional experience and/or certificates in place of a bachelor's degree.
If you want to learn more about grad school, check out our ultimate guide to grad school.