Table of Contents
Getting into grad school is a daunting process for anyone, let alone if you have a less than stellar GPA. Your GPA is typically the first thing any grad school will consider before admitting you into their program.
Many schools have a minimum GPA requirement. Others may not have a set requirement but will certainly consider your GPA and compare this to the academic record of other applicants.
Hearing this, you might feel a bit deflated and discouraged — especially if you weren't the best student during your undergrad years. You may even be wondering how to get into grad school with a low GPA. Is it possible at all?
Well, good news! It's not impossible at all. Even if you have a 2.5 GPA, grad school remains a distinct possibility. How can you pull off getting into grad school with a low GPA? Let's find out!
Must-Dos for Getting into Grad School with a Low GPA
Here are a few things you can do to boost your chances of acceptance into grad school, even with a low GPA:
Retake any classes you got bad grades in if your school has a grade forgiveness policy that allows you to do so. Get As.
Try to find an internship or relevant job within your field of interest. For example, if you intend to go to grad school for a research-based field in STEM, try to find a relevant industry job or even a technician position in a lab (research universities are an excellent place for this). Relevant work experience can make your application more appealing despite a low GPA.
Make sure your Statement of Purpose is impactful.
Focus on doing well on your entrance tests (if they are required).
Gather strong recommendation letters.
Before you apply to your target grad school programs, learn everything you can about it and the faculty. Doing this can help you during the interview, allowing you to answer questions well and also ask better, more nuanced questions that can make an impression. Make sure you practice for any interviews.
Getting into Grad School with a Low GPA: Does Your GPA Matter?
Your Grade Point Average or GPA from your undergraduate studies is often the first thing the selection committee will look at when deciding whether to accept your application. These days, most grad schools will have a minimum GPA cutoff in order to accept your application. Typically, this cutoff is around 3.0 for master's programs, with most PhD programs having a higher cutoff.
Other schools don't have a formal cutoff, but in practical terms, you'll need a certain GPA in order to stand out from other candidates. This will depend greatly on the school — for Ivy League grad schools, most applicants will need a GPA of around 4.0 to be successful.
Your next question is probably, "what if I don't have a 3.0 for grad school?"
Well, luckily, your GPA is not the whole picture. When considering grad school applications, selection committees typically look at:
Your academic record, namely your GPA from your undergraduate degree
Your personal motivations and level of dedication
Any professional experience
So, the answer to the question "can you get into grad school with a low GPA?" is yes. It is possible to get into grad school with a low GPA, but you will need to make extra efforts to convince the selection committee that you are a strong candidate.
If you're still wondering how to get into a master's program with a low GPA or how to get into a PhD program with a low GPA, the guide below can help!
Factors That Can Determine a Graduate Program's GPA Requirements or Expectations
What makes a school decide to set their GPA requirements or expectations at a certain number? There are many factors that can go into this decision. Some colleges and universities simply have the bar set higher because they likely see it as one of the best ways to attract more qualified students. However, there are also other criteria in play, such as:
Competitiveness – If a school sees too many applicants for too few openings, one way the admissions department can narrow the pool and make selection easier is by increasing the requirements. You'll often see this being the case in schools and programs that are in extremely high demand. For example, Harvard doesn't have a GPA requirement, per se, but a great majority of its applicants typically have GPAs around 4.0. Sometimes, a school's GPA expectations simply go up because of the sheer number and quality of applications they receive.
Quality of the program – Graduate programs that are designed or known to be challenging will often have higher GPA requirements. This requirement guarantees that any student admitted into the program can handle the rigors of the courses they must complete.
Previous applicants and admits – If a graduate program has been around for a while, they may base their GPA expectations on the average GPAs of previous applicants and students admitted into the program.
Can Work Experience Make Up for a Low GPA?
In many cases, the answer to this question is yes, especially if the field of study puts an emphasis on experience. However, it all remains pretty dependent on your program of choice.
If you intend to earn a graduate degree in finance, accounting, or business administration, you're in luck. Most graduate programs in those fields will heavily consider prior relevant experience when selecting their students for admission. The same applies when it comes to graduate programs in STEM fields. There are also many other fields of study where you can skate past a minimum GPA requirement if you have an impressive CV with standout work experience and stellar recommendations.
Even if your work experience doesn't necessarily guarantee you acceptance, it can still give you an advantage during admissions. For example, if the choice is between you and someone who does not have any prior experience, your chances of being selected can increase.
Step-by-Step Guide: How to Get into Grad School with a Low GPA
You can't change your GPA, but you can demonstrate your value in other ways and convince the selection committee to accept your application. Here are a few steps you can take to demonstrate that you are a strong candidate despite your lower GPA.
1. Consider Which Grad Schools You'll Apply To
Most graduate schools have specific GPA requirements for undergraduates applying for a graduate program, usually around 3.0 for master's programs. If the school has a set cutoff and absolutely won't accept applications that don't meet their requirements, you're best looking at other options. It's also worth remembering that some schools may not care so much about poor grades in subjects unrelated to your chosen major.
Research the minimum GPA requirements in different grad schools and narrow down your options to four schools — two solid schools where you have a good chance and two safety schools where you're very confident you'll get admission.
On the other hand, if you absolutely have your heart set on a particular school, you could take a bridge year to raise your GPA with additional coursework (more on this later).
2. Focus on Your Entrance Test Scores
You don't necessarily have to limit your school choice. There are other ways to demonstrate your academic prowess and make up for a less-than-stellar GPA. One of the best ways to do this is with a strong GRE or GMAT score.
Most grad schools ask applicants to complete either a GMAT or GRE entrance test to assess their academic potential. If you prepare well and score highly enough, this can help to convince the committee that you are a deserving candidate and that you have what it takes to succeed in the program.
3. Talk to a Faculty Member
Having an ally is never a bad idea if you want to get into your dream school. Discuss your passions and goals with a faculty member and tell them why you're a perfect fit for the program despite your lower GPA. This may address the concerns your school might have about your below-average academic record from your undergraduate degree.
4. Craft a Solid Statement of Purpose
Remember that your GPA is not the only factor the selection committee will consider. If you are wondering can I get into grad school with a low GPA, the good news is that other parts of your application, such as a stellar statement of purpose, can help you to secure your spot.
Your statement of purpose is one of the best tools at your disposal to impress the selection committee and make up for your GPA. Mention your strengths and explain any extenuating circumstances that contributed to your low GPA.
Tell the selection committee how passionate you are about getting into your dream university, your life goals, past rewards and achievements, and how serious you are about your major.
5. Gather Recommendation Letters
Like entrance test scores and a strong statement of purpose, having a few persuasive recommendation letters will greatly strengthen your application and can help make up for a lower GPA.
Ask your professors, work supervisors, and others in your network to write a letter of recommendation for you. Try to get letters from professionals in the field you're looking to major in, as these will be the most impactful and the most helpful for your application.
6. Improve Your Academic Record
If your undergraduate GPA is lower than you'd like, consider taking a few additional courses to improve your grades. Raising your grades can be really tough, but taking some non-degree courses can be a great way to improve your academic record and impress the selection committee.
An easy way to do this is to take a few graduate classes in a university extended learning program or another non-degree program, though it may mean taking a year or two before entering grad school. This is also a good opportunity to get more reference letters by asking your professors from your bridge-year courses.
To make sure you get great grades, consider changing your study strategies or addressing the root causes of your poor GPA. For example, if your undergraduate grades suffered because you were working long hours at your job, make sure your work commitments don't detract from your studies this time!
7. Get Professional Work Experience
If you can't prove your merit through your academic grades, consider signing up for an internship program or getting relevant work experience to showcase your skills. Relevant work experience is an excellent way to compensate for a lower GPA and make your application stand out.
This is also another opportunity to gather useful recommendation letters. Again, this may involve taking a year or two to gain work experience before pursuing your grad degree, but it will only help your career in the long run.
8. Write a Compelling Admission Essay
In some grad schools, you might have to submit the admission essay instead of the statement of purpose.
Although these two documents are similar, there are important differences:
A statement of purpose is more personal and biographical, covering your own experiences and motivations.
An admissions essay is generally more analytical.
This essay helps you showcase your skills, personal achievements, hobbies and interests, experiences, and co-curricular activities.
Most importantly, you can use it to convince the admissions officers that you are committed and ready to thrive at grad school, despite your low GPA. Although it should be well-structured and analytical, you are allowed some freedom of expression as part of your admission essay.
9. Give a Stellar Interview
Your interview is another golden opportunity for you to tell the selection committee about your achievements and areas of expertise. It also allows you to explain the reasons you couldn't score a good GPA. Not every graduate program will ask you to do an interview, but more and more schools are embracing this trend as competition gets tougher. You may want to figure out how to explain your low GPA to graduate schools that interview you. One good tip is to be honest and also explain the steps you've taken to remedy any weaknesses you have that may have contributed to your lower grades.
While your GPA is probably the most important part of your graduate program application, it isn't the only thing the committee considers. So here's your chance to shine! Discuss your goals with the interviewer and tell them how passionate you are about the program. You can also use the interview to explain any circumstances that adversely impacted your grades.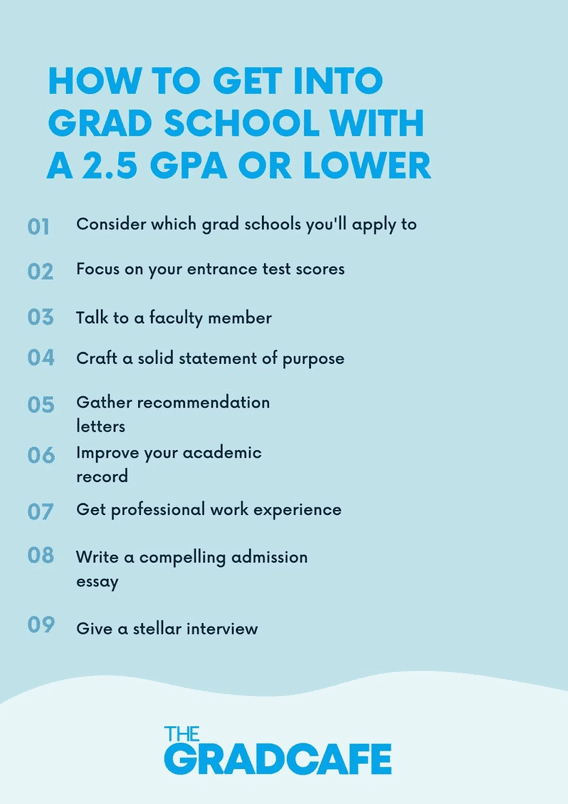 How to Improve Your GPA if You Still Have Time
Although it is very possible to get into grad school with a lower GPA, it may still be a good idea to try to boost your GPA wherever possible — especially if you still have time to do so. Increasing your GPA can help give you more options when you're selecting grad programs and schools. A higher GPA can also improve your chances of acceptance overall.
If you want to improve your GPA, you must first consider how much time you have left before graduation. If you are in your freshman or sophomore year of college, maintaining higher grades for the rest of your college career can be enough to raise your GPA. If you're in your junior or senior year, it becomes significantly more difficult to raise your GPA — but it's not completely impossible.
The tips below might help:
Use a GPA Calculator. Tools like these can help give you a grade to aim for during the semester. Getting all your classes to this grade at minimum can help boost your GPA to your goal number.
Take a deep look inward. Be honest with yourself and think hard about what may be holding you back. Is it your subpar time management skills? Are you spending too little time studying? Do you struggle with exams? Figuring out what is holding you back can make it easier for you to find a solution. Improving your weak points can significantly improve your academic performance.
Attend (and participate in) your classes regularly. Or, if you are taking online/self-paced classes, watch your lectures. Skipping a few lectures is understandable, especially if you get sick or have an emergency. However, attending and participating in your classes regularly can help improve your understanding and retention of a lesson, even if it is on a topic that doesn't interest you. Attending a lecture can sometimes provide more insight than simply reading textbooks and readings, especially if your professor breaks down complex topics well.
Meet your deadlines. Sometimes, it can be impossible to meet all of your deadlines, especially if there were extenuating circumstances that have caused your delays. However, it's important to try to meet your deadlines as punctually as possible to avoid any grade penalties and deductions.
Seek tutoring or join a study group. If you struggle to understand some of your lessons on your own, you can try to join a study group. Study groups can often benefit from each participant's input. And, sometimes, it just helps to have someone to keep you accountable. Tutoring can work in the same way. If you can't afford to pay for one, you can try checking your school's student services to see if they provide them.
Speak with your professors. Faculty provide their office hours for a reason. If you are struggling in a class, it may help to speak with your professor and ask for their guidance. It can be something as simple as asking your professor to clarify a lesson you struggled to understand, or asking for recommendations for books and other resources you can read. Some professors may even offer you opportunities to improve your grade, such as extra projects or assignments.
Choose your electives well. One of the best ways to boost your GPA is to choose "easy" electives. Easy just means subjects or fields that interest you enough that you know you'll do relatively well in. Work with your strengths. For example, if you have a great grasp of English and are comfortable in front of a crowd, a public speaking or similar communications elective might be good for you. As a bonus, you also pick up some useful skills that can come in handy throughout your life.
Best Grad Schools with Low GPA Requirements
Are you looking for a low GPA grad school that still offers high-quality education? To help you out, we've put together this list of some of the best of them.
We made sure to include only regionally accredited low GPA colleges and universities to ensure each institution on this list provides a high-quality education. Additionally, we also included schools that offer at least some of their programs in a hybrid or fully online format.

Minimum GPA: 2.5
Accreditation: HLC
Acceptance Rate: 67.2%
Popular Graduate Programs: English & Reading Teacher Education, Educational Administration, MS Computer Science, MS Sport Administration
Arkansas State University, also known as ASU, is located in Jonesboro, Arkansas. It is a public research university that also happens to be the flagship campus of Arkansas's State University System. ASU is also the second largest university in the state. Founded in 1909, ASU has provided quality education to its students for over a century.
Arkansas State University is accredited by the Higher Learning Commission and accepts qualifying graduate school applicants with a 2.5 GPA or higher.
Learn More About Arkansas State University

Minimum GPA: 2.5
Accreditation: HLC
Acceptance Rate: 97.7%
Popular Graduate Programs: Teaching ESL (English as a Second Language), Educational Technology, Business, Special Education and Teaching
Arkansas Tech University, or ATU, is another public university located in Arkansas. This institution is located in Russellville, Pope County's largest city. Also founded in 1909, Arkansas Tech University provides a high-quality education accredited by the Higher Learning Commission. ATU also has a satellite campus located in Ozark. However, this campus primarily offers certificate education and associate degrees.
ATU accepts qualifying students with a GPA of 2.5 and above. Its most popular graduate programs appear to be education-related.
Learn More About Arkansas Tech University

Minimum GPA: 2.5
Accreditation: WASC/WSCUC
Acceptance Rate: 76.5%
Popular Graduate Programs: Doctor of Education (Ed.D.) in Educational Leadership, Doctor of Nursing Practice (DNP), MS Accountancy, MS Computer Science, Doctor of Audiology (AuD)
Cal State LA is a public university located in Los Angeles, California and is part of the CSU (California State University) system which has 23 campuses. California State University – Los Angeles was first established in 1947. Since then, it has grown to have a student body of over 25,000 each year. Cal State LA is accredited by the WSCUC.
This university offers 122 master's degrees. You can get in with a GPA of 2.5 or higher, as long as your degree is in a bachelor's program from a field relevant to your chosen program.

Minimum GPA: 2.0
Accreditation: HLC
Acceptance Rate: Around 65%
Popular Graduate Programs: Computer Science, Business Administration, Healthcare Management, Information Technology
Colorado Technical University, or CTU, has its main campus in Colorado Springs, Colorado. It is a private for-profit institution founded in 1965, and has no official or public affiliation with the state it is named after. Today, Colorado Technical University offers undergraduate, graduate, and even doctorate degrees. Most of its programs are available online, as evidenced by the fact that a staggering 92% of its students are taking their classes completely online.
CTU is somewhat less selective in its admissions process, accepting students as long as they have a GPA of 2.0 or above.
Learn More About Colorado Technical University
Minimum GPA: 2.0
Accreditation: HLC
Acceptance Rate: 70.2%
Popular Graduate Programs: Business, Accounting, Law, Computer Programming, Information Science
DePaul University made history in 1998 by becoming the largest Catholic University in North America (by enrollment). It was founded in 1898 by a congregation called the Vincentians. Since then, DePaul University has prioritized recruiting students from disadvantaged backgrounds. As a private research university, the Chicago-based DePaul University now enrolls over 22,000 students each year.
Although DePaul University appears to accept a minimum 2.0 GPA, most of its graduate programs have individual requirements that you can find on the programs' information pages.
Learn More About DePaul University

Minimum GPA: 2.5
Accreditation: HLC
Acceptance Rate: 91.4%
Popular Graduate Programs: Nursing, Education, Business
Fort Hays State University is a public university with its campus located in Hays, Kansas. Since its establishment in 1902, FHSU has continued to grow and now enrolls over 15,000 students each year. This university is accredited by the Higher Learning Commission.
FHSU encourages interested students to apply to their graduate programs as long as have a GPA of 2.5 or higher. Fort Hays State University is known to be less selective, considering its acceptance rate of 91.4%.
Learn More About Fort Hays State University

Minimum GPA: 2.8
Accreditation: HLC
Acceptance Rate: 80.7%
Popular Graduate Programs: Business, Educational Administration, Special Education and Teaching
Grand Canyon University, also known as GCU, is a Christian university based in Phoenix, Arizona. It is a private and for-profit institution that earned a unique distinction only a few years ago. In 2018, GCU became the world's largest Christian university (based on enrollment). At the time, it had 20,000 students attending classes on-campus and another 70,000 enrolled online.
GCU is one of the slightly more selective schools on this list, accepting students with GPAs of 2.8 or above. Some of Grand Canyon University's programs may have additional requirements, so it is best to check before you apply. Note that a low GPA can be somewhat supplemented by high GRE or GMAT scores.
Learn More About Grand Canyon University

Minimum GPA: 2.5
Accreditation: SACSCOC
Acceptance Rate: 50.1%
Popular Graduate Programs: Mental & Social Health Studies, Business, Theological & Ministerial Studies
Liberty University, also known as LU, is based in Lynchburg, Virginia. It is a private non-profit Evangelical institution that was first established in 1971. Today, LU has grown to become one of the largest Christian Universities in the world (based on enrollment). In the United States, LU is also known as one of the biggest private not-for-profit universities. Liberty University has made itself a reputation as a doctoral research university.
Getting into Liberty University isn't all that easy, as evidenced by its 50.1% acceptance rate. However, it is possible to get into this university with a 2.5 (or higher) GPA. There is no doubt that LU has had to become more selective over time, considering its massive enrollment numbers of 15,000 on-campus and 80,000 online (in 2020).
Learn More About Liberty University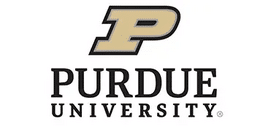 Minimum GPA: 2.5
Accreditation: HLC-NCA
Acceptance Rate: 67.2%
Popular Graduate Programs: Communications, Electrical Engineering, Business, Mechanical Engineering, Communications
Purdue University's main location is in West Lafayette, Indiana. It is a public land-grant research institution and is also the flagship campus of Indiana's Purdue University system. Purdue University was established in 1869 after John Purdue, a businessman from Lafayette, donated money and land to establish a college of agriculture, science, and technology in his name.
Purdue University's main West Lafayette Campus offers over seventy master's degrees and doctorates. Admission into any program at Purdue does not require the SAT, LSAT, GMAT, or GRE, which means you must have a cumulative GPA of at least 2.5.
Learn More About Purdue University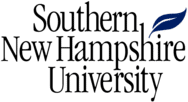 Minimum GPA: 2.0
Accreditation: NECHE
Acceptance Rate: 93.5%
Popular Graduate Programs: Business, English Language Studies, Psychology, Accounting, Healthcare Management
Southern New Hampshire University, or SNHU, is a private non-profit institution located in New Hampshire. Having only 3,000 students enrolled to study on-campus, SNHU may seem like a small institution. However, this university is actually one of the fastest-growing in the United States, thanks to its 135,000 online students.
SNHU is one of the least selective universities on this list, with a high acceptance rate of 93.5% and a minimum GPA requirement of 2.0 for provisional acceptance. You may need to provide additional credentials to gain full acceptance. Otherwise, your chances of full acceptance significantly improve at a GPA of 2.75 and above.
Learn More About Southern New Hampshire University

Minimum GPA: 2.5
Accreditation: HLC
Acceptance Rate: 93.9%
Popular Graduate Programs: Pediatric Nursing, Business, Occupational Therapy, Healthcare Management
Located just outside Evansville, Indiana, this public university founded in 1965 currently enrolls nearly 10,000 students across all its programs. The University of Southern Indiana, or USI, is accredited by the higher learning commission.
To be admitted into this institution, you must have a 2.5+ GPA from your undergraduate program. If you've taken any graduate courses, your GPA must be 3.0 minimum. You must also submit your official transcripts and GMAT/GRE scores.
Learn More About University of Southern Indiana

Minimum GPA: 2.75
Accreditation: HLC
Acceptance Rate: 83.9%
Popular Graduate Programs: Public Relations, Business, Law, Pharmacy Studies, Physical Education Teaching & Coaching
WVU, or West Virginia University, is a public land-grant research institution. Its main campus is located in Morgantown, West Virginia. In 2018, WVU had over 56,000 students across all of its campuses.
Getting into WVU is somewhat more challenging as the minimum GPA requirement is 2.75. If your GPA falls below this minimum, you may still be able to get provisional acceptance. If you are awarded provisional grad student status, you will then receive specific requirements you must meet in order to get full acceptance and become a regular grad student.
Learn More About West Virginia University
Frequently Asked Questions
Can I get into graduate school with a 2.5 GPA?
You certainly can — many universities ask for a lower minimum GPA requirement. Some of these colleges and universities can even give you provisional acceptance even if you do not meet their GPA minimums, provided you can strengthen your application in other ways. Our guide above can help you figure out how to get into grad school with a 2.5 GPA.
Can I boost my GPA after graduation?
It is almost impossible to boost your GPA after you graduate with your degree. However, you can attempt the steps below:
Retake any failed courses
Check your school's policy on grade forgiveness and retake any courses where you earned grades you were unsatisfied with, if possible
Earn a post-baccalaureate degree (second bachelor's degree) and earn high grades in the required courses
What should you do if you graduated with low grades?
Getting into a master's program with a low GPA is possible if you can strengthen other aspects of your application. Follow the steps in the guide above to increase your chances of admission.
Can I get into grad school with a 2.0 GPA?
You might be wondering, "Can I get into grad school with a 2.3 GPA? What about a 2.0?" The answer is yes. The caveat is your school choices will become limited, and admission will most likely be more challenging. However, many schools (including the ones listed above) will give you a provisional acceptance, even with a 2.0 GPA.
Does GPA matter after college?
If you intend to get straight to work after you graduate, probably not (unless you intend to work in a field where your GPA is considered during the hiring process). If you intend to go to grad school, then yes, your GPA will probably matter. Luckily, it is possible to get into grad school with a low GPA if you work hard to make a strong application.
Don't Hold Back!
The key takeaway here is not to give up! Even if you have a GPA of 2.5 or lower, you can still get into grad school.
There is no magic solution when it comes to how to get into grad school with a low GPA, but building a strong application with a combination of a compelling personal statement or admission essay, great entrance test scores, letters of reference, and shining at the interview can significantly improve your chances.
You can also take a bridge year or two to improve your GPA with additional coursework or to gather useful professional experience.
For more tips on getting into your dream grad school, check out these articles on asking for a recommendation letter, questions to ask in your grad school interview, and preparing for grad school.
Related: