Let's talk about what's on the GRE (Graduate Record Examination). It's a requirement for many candidates hoping to enter a graduate program in the U.S. and Canada. That makes it a major focus for prospective grad students.
So what's on the GRE? In this article, we explain what to expect. We break down what is on the GRE and how to make the most of your GRE test prep so you can get into the graduate school of your choice.
What is on the GRE?
This standardized test was created by the Educational Testing Service (ETS), and schools use it to assess the skills of candidates applying for Master's degrees or doctoral programs. But the GRE test is not related to a specific field. Instead, it tests general analytical and math skills.
If you're applying for a Master's or doctoral program in the U.S. or Canada, there's a good chance you'll have to take the GRE, so it's best to start preparing.
According to the ETS, the GRE general test is designed to assess candidates' abilities to think logically and apply the skills necessary to do well in today's demanding graduate school programs, regardless of the subject area.
These abilities are verbal reasoning, quantitative reasoning, critical thinking, and analytical skills.
The test is divided into three sections, which are: 
Verbal reasoning
Quantitative reasoning
Analytical writing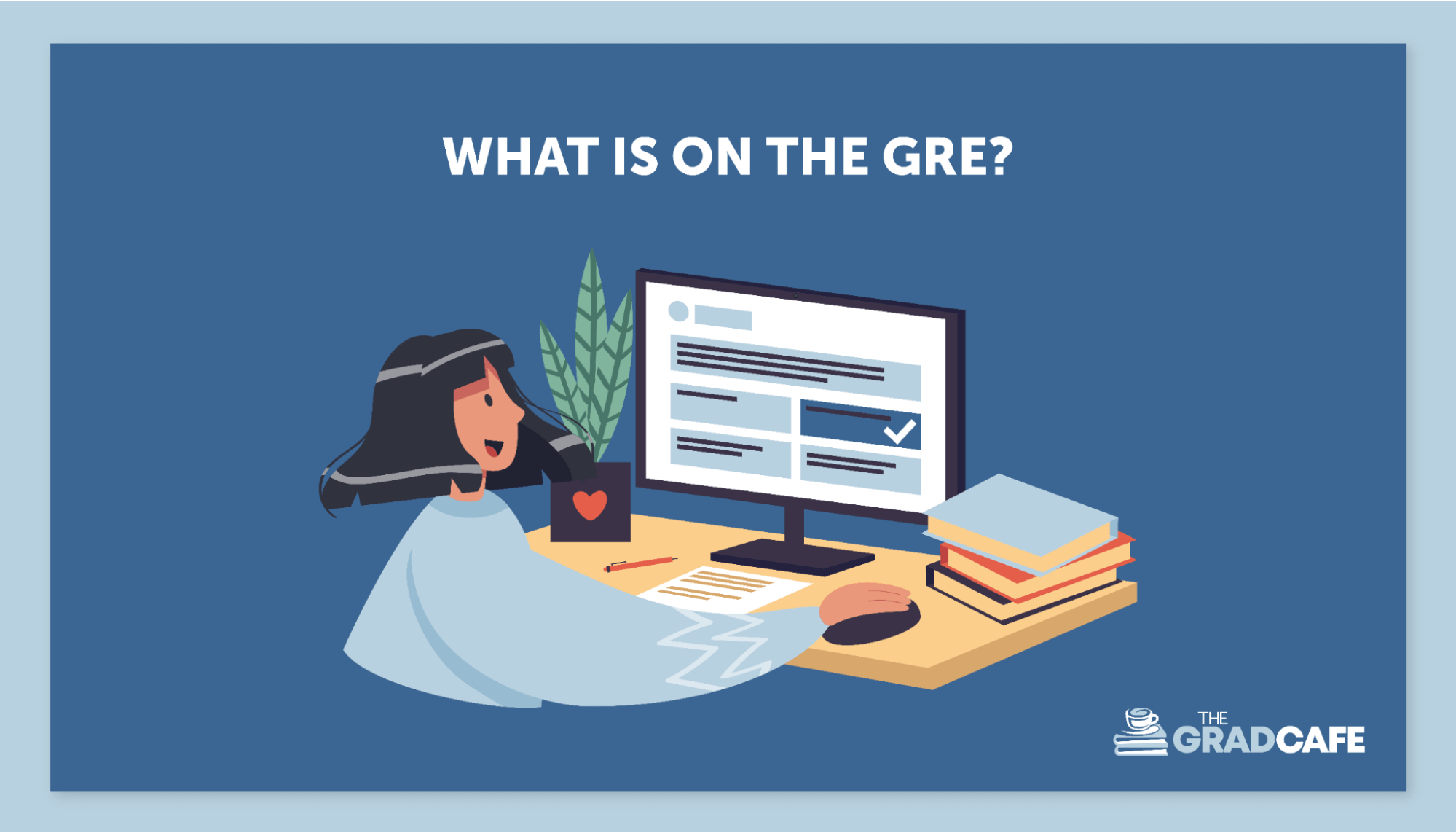 What is the GRE format?
The exam is paper-delivered and lasts approximately three hours and 45 minutes.
A GRE test-taker can either sit the exam at an ETS test center or at home. 
At home, the test is identical, except that you take it on your computer and have to use control software to prevent cheating. You'll also need the supervision of a human invigilator (also called a proctor or exam supervisor).
Candidates with disabilities or health-related needs who wish to take the GRE exam at an official test center will have access to testing accommodations.
The GRE Subject Tests measure achievement in specific subject areas, assuming that candidates are undergraduate majors or have an extensive background in those disciplines.
The GRE Subject Tests used to include the following fields of study:
Biology
Chemistry
Literature in English
Math
Psychology
However, as of April 2021, the Biology and Literature in English Subject Tests have been discontinued.
Structure of the GRE Subject Tests
When considering what is on the GRE, it's important to consider the structure. You'll want to be ready for each section, so there are no surprises on the day of the test.
Here's what to expect from the structure of the GRE Subject Tests:
Analytical Writing: one section with two separately timed writing tasks — 30 minutes per task.
Verbal Reasoning: two 30-minute sections with 20 questions per section.
Quantitative Reasoning: two 35-minute sections with 20 questions per section.
An unidentified unscored section may be included, with a duration of 30 to 35 minutes. It can appear anywhere after the Analytical Writing section and doesn't count toward your final score. But, you won't know which section is the unscored one when you're taking the test.
An identified research section — also lasting 30 to 35 minutes — may be included instead of the unidentified section. In this case, it will appear at the end of the test and won't count toward your final score.
Let's take a look at each section in closer detail.
Analytical Writing section
The Analytical Writing section tests the candidate's reading comprehension, critical thinking, and analytical writing skills.
Note that analytical writing is indispensable for graduate students, serving as a foundation for critical thinking, communication, and success in academia and beyond. It enables the dissection of complex problems and effective articulation of thoughts. Furthermore, it facilitates the presentation of research findings, a key requirement in graduate programs.
This skill is transferable to diverse careers, as it fosters clear and persuasive communication, enhances problem-solving capabilities, and supports collaboration in both academic and professional contexts.
Moreover, analytical writing is vital for academic evaluation and publishing, aids in securing research funding through grant proposals, and continues to be relevant for career advancement by enabling individuals to express their ideas persuasively and lucidly.
The test measures your ability to:
Articulate complex ideas clearly and effectively
Support ideas with relevant reasons and examples
Examine claims and accompanying evidence
Sustain a well-focused, coherent discussion
Control the elements of standard written English.
It consists of two separately timed analytical writing tasks:
Task 1: "Analyze an issue" — 30 minutes
Task 2: "Analyze an argument" — 30 minutes
The two tasks are complementary, and candidates have to evaluate a given issue and argument according to specific instructions. 
You must analyze the issue and develop an argument, providing your reasons and supporting examples.
Below is a sample question of an "analyze an issue" task, taken from the official GRE website:
Teachers' salaries should be based on their students' academic performance.
Write a response in which you discuss the extent to which you agree or disagree with the claim. In developing and supporting your position, be sure to address the most compelling reasons and/or examples that could be used to challenge your position.
And here is an example of an "analyze an argument" task:
Fifteen years ago, Omega University implemented a new procedure that encouraged students to evaluate the teaching effectiveness of all their professors. Since that time, Omega professors have begun to assign higher grades in their classes, and overall student grade averages at Omega have risen by 30 percent. Potential employers looking at this dramatic rise in grades believe that grades at Omega are inflated and do not accurately reflect student achievement; as a result, Omega graduates have not been as successful at getting jobs as have graduates from nearby Alpha University. To enable its graduates to secure better jobs, Omega University should terminate student evaluation of professors.
Write a response in which you discuss what specific evidence is needed to evaluate the argument and explain how the evidence would weaken or strengthen the argument.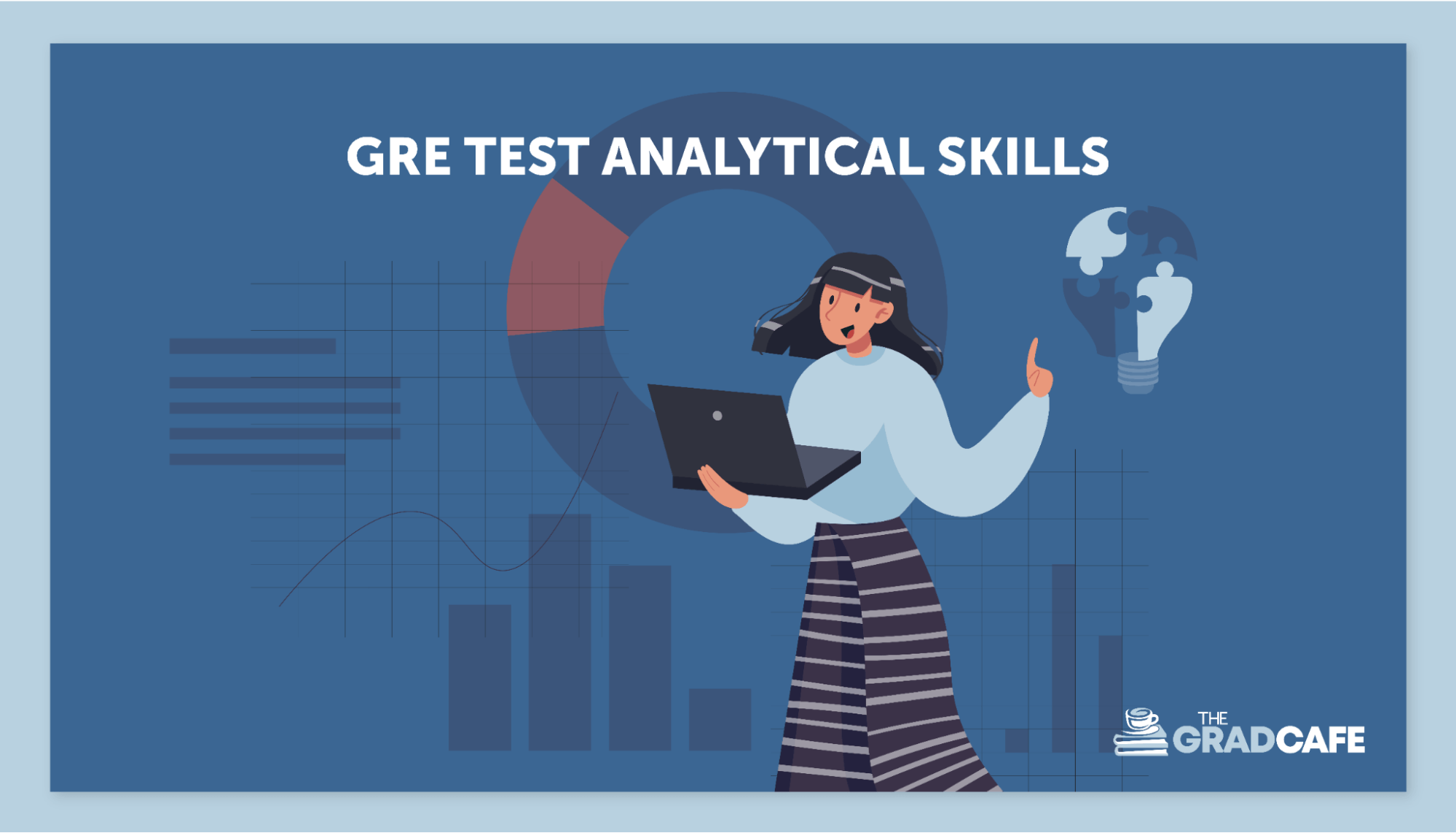 Verbal Reasoning section
The Verbal Reasoning section measures the candidate's ability to:
Analyze and draw conclusions from discourse, reason from incomplete data 
Identify the author's assumptions or perspective 
Understand multiple levels of meaning (literal, figurative, and author's intent)
Understand the structure of a text, select major and minor points, and summarize
Understand the meanings of words, sentences, and texts 
Understand the relationships among words and concepts
This section tests your ability to analyze and evaluate written material, synthesize the information it contains, analyze relationships among component parts of sentences and among words and concepts, and draw conclusions. 
The Verbal Reasoning section contains three types of questions.
1. Reading comprehension
This question tests your understanding of words, sentences, paragraphs, and whole texts, as well as the relationships between different parts of the text.
It requires you to identify and summarize the major and minor points of the text, pinpoint the author's point of view, and draw conclusions.
This question requires active engagement with the text — asking questions, formulating and evaluating hypotheses, and reflecting on links between the text and other texts and information.
2. Text completion
This question tests your ability to absorb, interpret, and evaluate incomplete information to create a whole picture.
It features short passages with words omitted, which you must fill based on the rest of the text to create a coherent, meaningful whole.
Tips for answering:
Read through the text to get an overall sense of it
Identify words or phrases that seem significant
Fill in the blanks with words or phrases that complete the sentence
Start with the ones that are easiest for you to fill, regardless of their order
Once you have filled in the blanks, make sure the sentence is logically coherent and grammatically correct
3. Sentence equivalence
This tests your ability to reach a conclusion about how a passage should be completed based on partial information. 
It consists of a single sentence with just one blank, and you must choose a pair of words that lead to a complete and coherent sentence while maintaining the original meaning.
Tips for answering: 
Don't just look for two words that mean the same thing. 
There are two reasons for this:
The answer choices may contain pairs of words that mean the same thing but do not fit coherently in the context. 
The pair of words that are the correct answer may not mean exactly the same, but all that matters is the resulting sentences mean the same thing.
Quantitative Reasoning section
The GRE Quantitative section tests your ability to:
Understand, interpret, and analyze quantitative information.
Solve problems using mathematical models.
It also tests your basic math skills in arithmetic, algebra, geometry, and data analysis. Some questions are posed in mathematical settings, others in real-life settings. 
Many questions are word problems, which you must translate and model mathematically. You are allowed to use a calculator for this section.
The Quantitative Reasoning section has four types of questions.
1. Quantitative comparison
For this question, you must compare two quantities: A and B. 
You must decide whether: 
A is greater than B (or vice versa)
A and B are equal
Or there is no relation between A and B from the information given
2. Multiple choice questions (only one choice)
You must select only one answer choice from a list of five choices.
3. Multiple choice questions (one or more choices)
You must select one or more answer choices from the list. The question may or may not specify the number of choices to select.
4. Numeric entry questions
You will have to enter your answer either as an integer or a decimal in a single answer box or as a fraction in two separate boxes (the numerator and the denominator).
What is a good GRE score?
The GRE Test score comprises:
A Verbal Reasoning score reported on a scaled score of 130–170 in one-point increments.
A Quantitative Reasoning score reported on a scaled score of 130–170 in one-point increments.
An Analytical Writing score reported on a 0–6 score scale in half-point increments.
If no questions are answered for a specific Subject Test, then you will receive a No Score (NS) for that section. 
Each Subject Test yields a total score on a scale between 200 and 990 in 10-point-increments, although the actual range for any particular Subject Test is usually lower.
The table below shows the average GRE score for each of the three main sections of the GRE (July 1, 2016 – June 30, 2019 data)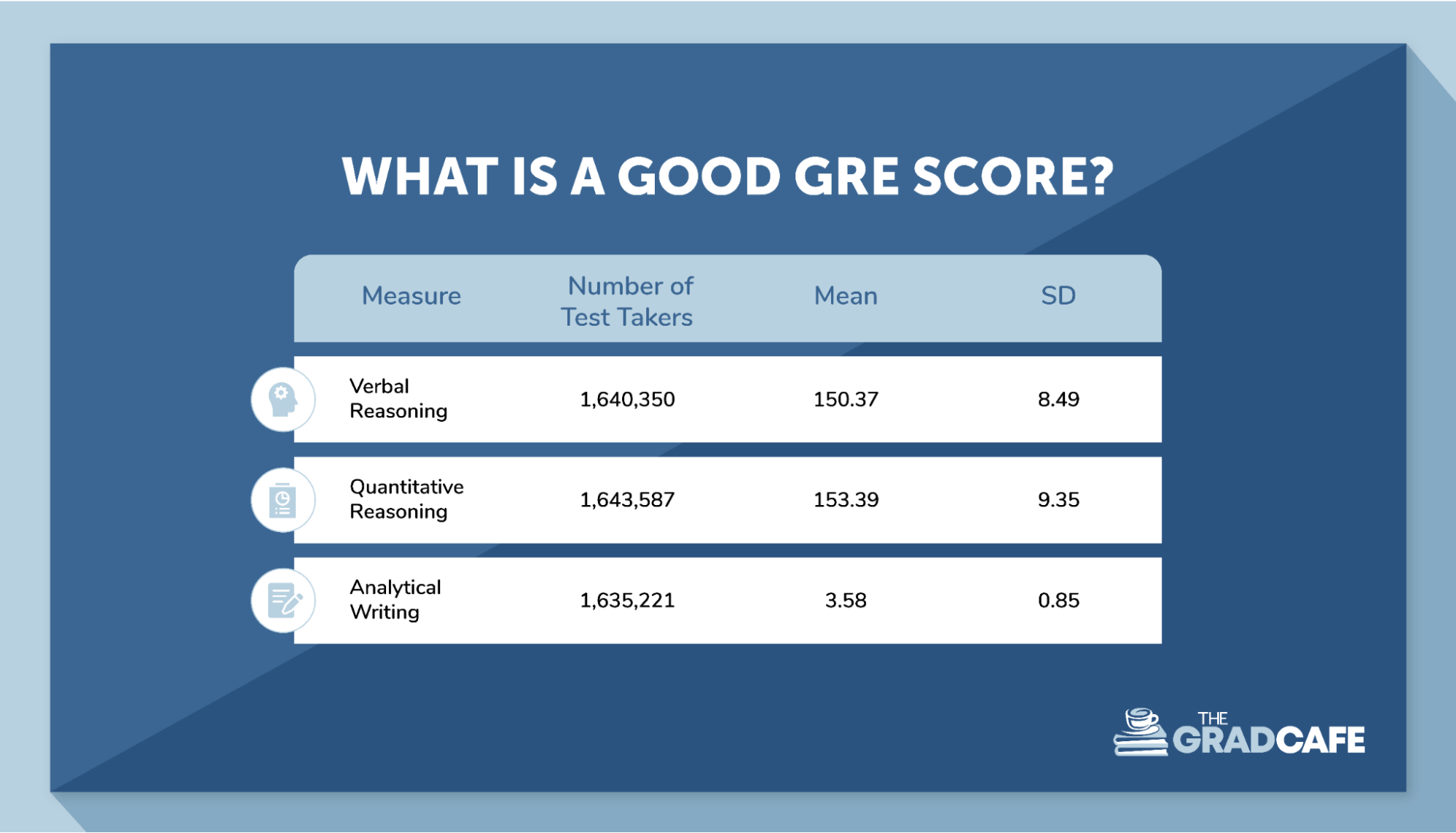 Conclusion
We were delighted to share what is on the GRE. This prominent test causes enormous stress for many prospective grad students, but you don't need to fret. With the right preparation, it's possible to score well and get into the graduate program of your dreams.
If you need extra support with your GRE test prep, consider hiring a GRE tutor or join our community forum to get support from our community experts and other grad students like you. Looking for a more formal introduction to the GRE or want improve your GRE score? Check out Magoosh. They guarantee a score improvement of at least five points.