There are certain essentials that all people should have in their dorm room, from a cozy comforter and mattress topper to a first aid kit, modular drawers, and a shower caddy. These items will make your dorm more comfortable while helping you stay focused on school.
For the most successful college experience, we've compiled our list of the top dorm room essentials.
25+ Dorm Room Essentials for Guys
The most important dorm essentials for guys will set you up for a positive, successful college experience. This list includes recommendations to help make the most of it. Of course, we also have recommendations on dorm room essentials for everyone. Review our recommendations to make sure you have everything you need for the upcoming semester.
Bonus tip: Signing up for Amazon Prime Student can nab you significant discounts on all your purchases.
Bedding Essentials
1. Twin XL Sheet Set
When it comes to college essentials for guys, you'll need 1-2 bedsheet sets. Dorms typically have twin XL beds (your school should provide you with exact details).
Ensure that each set has a fitted sheet, a flat sheet, and at least one pillowcase (though two are better). We recommend natural materials like organic cotton, as they breathe better than synthetic options – ideal for rooms without air conditioning.
Shop around for a combination that suits your personal style and budget, like this easy-care Bedsure dorm bedding set.
2. Comforter
A comforter will be a central focal point in any room, so make sure it matches your unique needs and style. It can transform any cold, impersonal dorm into a more welcoming one.
If you're a hot sleeper, go for a lightweight, breathable option (like this all-season comforter). To express your sense of style, this houndstooth duvet and cover set is another great choice.
3. Pillows
Buying the right pillow goes a long way toward improving your sleep. Experts recommend sleeping with a single pillow to ensure proper spinal alignment (and avoid neck and shoulder pain).
A high-quality, king-size pillow might be a great selection. Not only will it give you a good night's sleep, but it'll also provide plenty of support if you're reading or watching movies on your bed.
4. Mattress Topper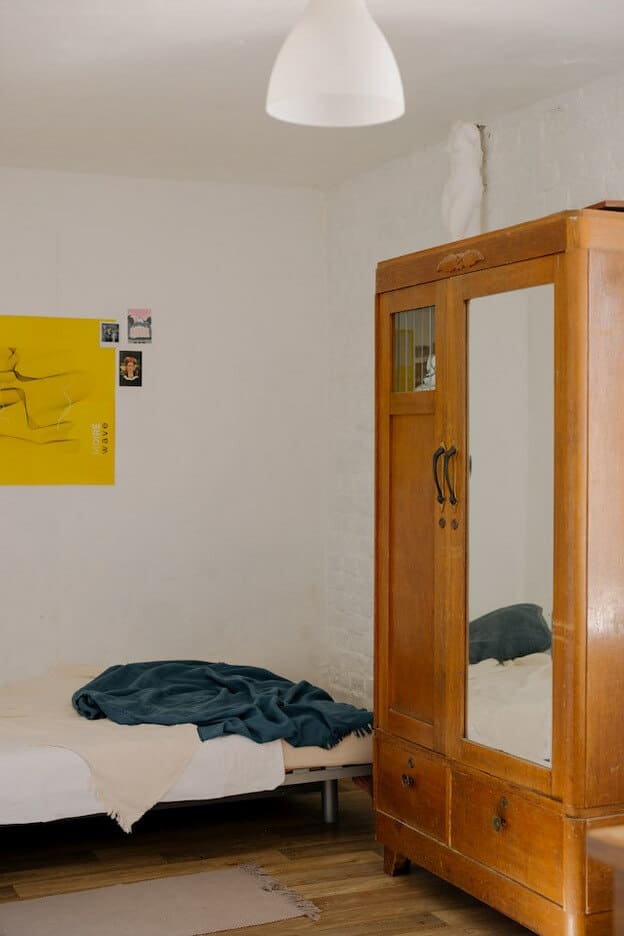 Dorm mattresses aren't known for being comfortable. Most are pretty flimsy, but swapping your mattress isn't really an option.
This makes a mattress topper one of the top college dorm essentials for guys. It will help you get a good night's sleep. Look for a decent-quality foam mattress topper that's at least three inches thick.
Kitchen Essentials
5. Microwave
Even with a meal plan, you may not always want to eat in Commons. A compact counter microwave lets you prepare quick and easy meals in your dorm. Before buying, check that microwaves are allowed in your dorm, as some schools don't allow them (though most do).
6. Mini Fridge
A fridge is essential for preparing meals and keeping drinks cool. You don't need anything too big or too fancy: A compact mini fridge is an affordable option that doesn't take up too much space.
Again, check that your school allows fridges in the dorm, just in case.
7. Instant Pot
Another dorm room for guys essential is an Instant Pot. This handy kitchen appliance can help you save on meal expenses while enjoying home-cooked food from your dorm room.
Although models like the Instant Pot Duo involve a small up-front investment, these devices save you money in the long run (as you won't be tempted to eat out as much). You can also make healthy, balanced meals that will keep you well-fueled during long study sessions and help you avoid the Freshman 15.
8. Water Filter
Staying hydrated is essential for anyone, especially busy college students juggling classes, late-night study sessions, a part-time job, and even hangovers. A dorm room essentials list for guys wouldn't be complete without a water filter.
Look for a simple water pitcher that removes chemicals and heavy metals – аnd be sure to purchase refill filters!
9. Three-Piece Table Set
If you plan on eating at dining halls for most meals, a basic table set of a bowl, side plate, and dinner plate is all you'll really need. Having a sturdy, microwave-proof set is a great option to have handy. Be sure to add a basic flatware set, too.
Note: If you've got roommates or guests, you might want to choose a 12-piece tumbler and dinnerware set.
Bathroom Essentials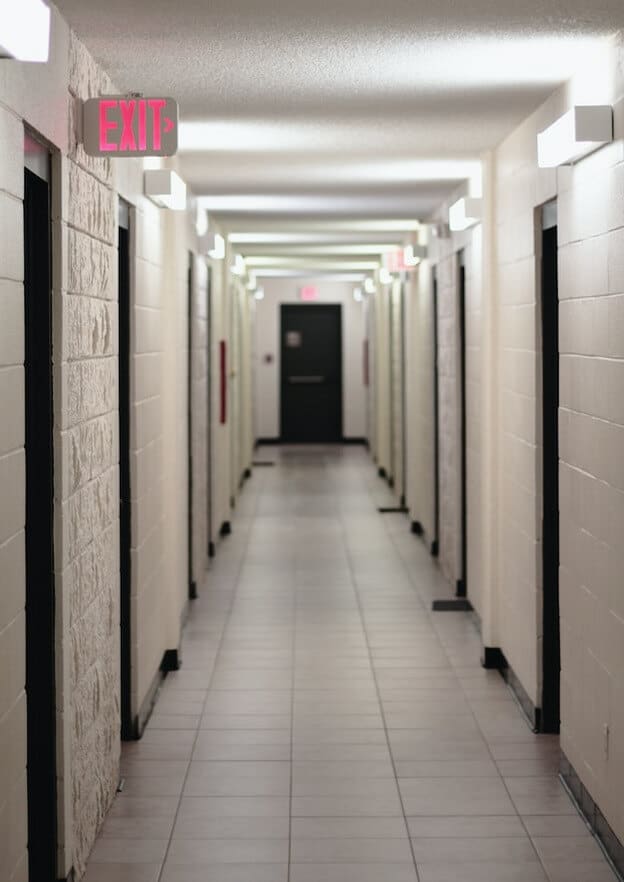 10. Towels
A good set of towels is essential for any college student. At a minimum, you'll need a bath towel, hand towel, and washcloth (though two of each will have you covered on laundry days). It's a good idea to choose a distinctive color to avoid mix-ups.
11. Bathrobe
If you don't want to walk back and forth to the showers wrapped in a towel, a bathrobe is a dorm room must-have for guys. A simple, comfy robe like this Amazon Essentials one is worth the small investment.
12. Shower Sandals
Common showers are a part of college life, but you don't need to embrace all the bacteria and fungi that come with them.
To keep your soles safe, always be sure to slip on a pair of plastic shower sandals.
13. Shower Caddy
A sleek shower caddy will make things much easier by neatly storing all your bathroom supplies in one easy-to-carry bag. It also helps keep your dorm room more organized
14. Grooming Kit
At college, you'll need to keep all of your personal care and grooming accessories handy. At a minimum, you'll require a nail grooming kit and a multi-grooming kit.
Study Essentials
15. Laptop
A laptop (and a shockproof case) is an indispensable piece of equipment for the modern college student. You'll be required to research, access materials, study, and prepare papers as efficiently as possible.
The best laptop goes from lectures to the library to your desk. Our top picks include:
Related: The Best Printer for Students
16. Planner
A planner might not be at the top of your list of things every college guy needs, but trust us:  it's indispensable! The first year of college can be overwhelming as students juggle commitments, classes, appointments, and due dates.
A good planner helps you keep track of classes, appointments, and due dates. Whether you prefer a two-year wall planner or want to stick to a digital planner app, these tools will make it impossible to miss anything.
Related: The Best Desks for Students
Storage Essentials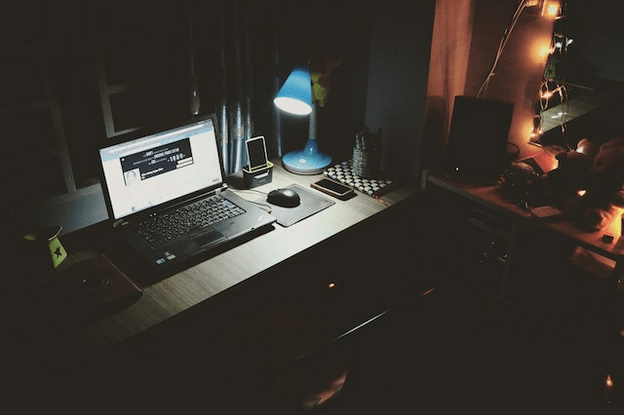 17. Modular Drawers
Dorms typically don't provide much storage space for books, notes, stationery, clothes, and everyday essentials. An easy and affordable way to get some extra storage (without taking up floor space) is with modular drawer units.
18. Storage Boxes
You can never have too much storage space in your dorm! Even with extra drawers, they'll start to overflow as the semester goes on.
Under-the-bed storage boxes go a long way toward organizing your space. Hide stuff you don't use every day but keep it accessible under your dorm bed.
19. Hanging Storage
Another great storage solution is hanging clothes organizers. You can pack a surprising amount of clothing, shoes, and accessories into these compact organizers that hang on your door or in your wardrobe.
20. Removable Self-Adhesive Hooks
Most residency halls don't let you install permanent hooks in their walls, so using self-adhesive hooks is one of the best ways to boost dorm storage space. It isn't just limited to hanging towels and jackets: Use them for bags, keys, string lights, and hanging organizers.
They come in a range of sizes and are surprisingly strong – yet you can remove them without leaving any marks!
Health Essentials
21. First Aid Kit
You never know what could happen in a dorm. A basic first kit contains everything you need to handle common mishaps and emergencies, from burns to cuts to sprains. You can also put your own med kit together, but we recommend a comprehensive kit instead.
22. Hand Weights
One of the easiest ways to avoid the "Freshmen 15" is by squeezing exercise sessions into your dorm room. A pair of adjustable dumbbells takes up a small amount of space and helps you stay fit – without trekking to the gym.
23. Yoga Mat
Yoga is another great way to keep fit and manage stress. Get a non-slip yoga mat and check out endless free yoga tutorials online!
24. Disinfectant Wipes
If we've learned anything from lockdowns, it's that keeping your personal space clean is crucial. Run a disinfectant wipe over surfaces and handles in your dorm room and you'll dramatically cut down on time spent being sick.
25. Cleaning Supplies
Disinfectant wipes are great, but you're eventually going to have to clean your room! Don't forget to pick up a multi-surface cleaning solution (which comes with microfiber towels).
Other Dorm Essentials
26. Entertainment System
Your dorm room is a bedroom, study space, and entertainment area. You may want to have a TV, speakers, or a video game console (like a PS5 or Xbox).
Before the semester starts, coordinate with your roommate to see what they're bringing!
27. Trash Can
It's also important to have a decent trash can in your dorm room, preferably one with a lid and foot pedal. Don't forget XL trash bags to avoid messy, overflowing garbage.
28. Surge Protector Power Strip
With so many appliances and electronics in your dorm, you'll run out of electrical outlets fast. Avoid fighting over outlet real estate by buying a couple of surge protector strips that protect expensive electronics from electrical surges.
28. Floor Fan
Even if your dorm is lucky enough to have air-conditioning, a tower fan is a men's dorm room essential. Putting one next to your bed or desk ensures you'll always stay cool – even during unseasonably hot days. We love floor fans because they require zero table space and reach the height of a standard bed or desk.
29. Laundry Hamper
A spacious laundry hamper will make laundry day much easier and help you avoid losing items as you schlep them to and from your dorm room. We recommend a lightweight hamper with handles.
Related Reading: How to Get Into Grad School with a 2.5 GPA
Wrapping Up
Whether you're a freshman heading to college for the first time or starting grad school, these dorm room essentials for guys will keep you organized and motivated.
If you're a grad student who's wondering how to afford all these essentials, we've compiled a guide to the best part-time and academic jobs for graduate students.