Table of Contents
Disclosure: TheGradCafe is supported by its audience. When you purchase through links on our site, we may earn an affiliate commission at no extra cost to you.
Grad school means a ton of research and coursework. And even though the world has slowly been going paperless, there's no doubt that at some point, you'll still need to print something for school.
What's the best printer for students?
It's easy to buy whichever first printer you find, but it's worth remembering that not all printers are created the same. Each printer has strengths and weaknesses; some can do more than others.
Which printer is right for you? What are the pros and cons of each printer? What are the costs?
Read on about the best printers for students in 2023. This complete buying guide can answer all your questions. Let's get started!
Best Printers for Students: Our Top Recommendations in 2023
How to Choose the Best Printer for Students
If you aren't sure whether a product will be a good printer for students, we've put together this in-depth buying guide to help you decide. Consider factors like these below:
Budget and Long-Term Costs
Naturally, your budget is one of the first things you should consider when shopping around for a printer. Printers tend to be ongoing costs due to ink or toner replenishments, but they can also be a significant initial investment.
There are many affordable printers for students that cost roughly around $100. These printers are usually "basic" with few features, which isn't necessarily bad. However, the problem with this type of printer is that they only tend to run on cartridges. Inkjet cartridges are known to be sold at a significant markup, eliminating any cost savings you may have gotten.
We would say that spending an extra hundred dollars (or even less) for a monochrome laser printer or a refillable tank-type inkjet printer can significantly reduce your printing cost per page. A more considerable initial investment can lead to a more cost-effective solution in the long term.
Size and Dimensions
The next thing you may want to consider is a printer's size. Printers are known to be bulky, except for a few more compact options that were designed to take up less space. If you live in student housing or on campus, the best dorm printer would be a smaller, more compact model.
Type of Printer
There are two main types of consumer printers available today: laser and inkjet. Laser printers tend to be faster at printing pages and cost less in the long run, but they're also usually monochrome. On the other hand, ink printers use cartridges or ink tanks and often print in color.
A third, less popular kind of printer is becoming more popular these days: the thermal printer. Thermal printers have long been used in commercial settings, such as for printing waybills and receipts. Companies have started making large A4-sized battery-powered versions that use thermal paper and can print via Bluetooth (or USB) from anywhere.
*This editor loves the Paperang A4 printer for its convenience, but it's hard to recommend as one of the best student printers because it needs special paper.
Connectivity
The most basic printers will connect to your computer with a single cable (these days, that's USB-A). However, there are printers with varying connectivity options. If you want to be able to print over WiFi or connect and print directly from your phone, for example, look for printers that have these features.
Functionalities and Use Cases
You can also take printer functionalities and use cases into consideration.
For example, you'll probably want a laser printer if you want to print many black and white text pages quickly. Or, if you want a multifunctional printer that can scan, copy, and print, you can buy a 3-in-1printer. And if you want to print in color or print photos, you can consider a printer that does well with photo printing.
Portability
Printers are generally large, bulky machines that sit on a flat surface for their lifetimes. However, printer manufacturers are realizing that some people may need a more portable printing solution, especially if they are always on the go. You can choose a portable printer if you expect to move around a lot. Some even have batteries for wireless printing!
Reliability
There is a bit of a stereotype that printers always stop working at the most inopportune times. And while printers can undoubtedly be problematic at times, choosing a reliable machine can help ensure you don't find yourself in those frustrating situations as often. When selecting the best printer for you, ensure it's from a reliable brand so the machine will last until you graduate — and beyond!
Monthly Duty Cycle
Manufacturers often note a printer's Monthly Duty Cycle in its technical specifications. The MDC is the maximum number of pages the printer can handle in one month. However, you cannot and should not run the printer this much every month as it puts undue stress on the machine and may cause it to break well ahead of its lifespan. Choose a printer that offers enough to cover the number of pages you expect to print, plus a lot of extra overhead to be sure.
A Quick Note on Paper Types and Sizes
Most consumer printers can print US Letter or A4-sized sheets with some adjustment options to help you print on smaller sheets. However, always check if a printer can print in the size you need before you purchase.
Additionally, when it comes to paper types, you may run into "laser" paper and "inkjet" paper. While printers can work regardless of paper type, specially-optimized laser paper can help your laser printers work optimally.
Best Printer for Students to Save on Printing Costs in 2023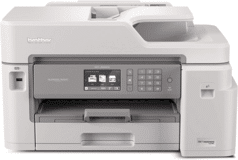 Specifications:
Size and Weight: 21.5″ x 17.2″ x 12.2″; 38.6 lbs
Ink Type: Inkjet, comes with enough ink in the box to last one year (according to Brother)
Connectivity: Wireless, Ethernet, USB, Direct Printing, Printing from mobile
Functionality: 4-in-1; print, fax, copy, scan
Print Speed: 22 pages per minute (black), 20 ppm (color)
Portable: No
Paper Types and Sizes: Up to 11" x 17", capable of borderless printing
If you're looking for a printer that can last you through years no matter what you need it for, the Brother INKvestment MFC-J5845DW might just be it. Truly an investment, this printer is pricier, but it creates wonderfully clear text and image prints. It's a 4-in-1 printer that offers all sorts of connectivity options. It also has excellent ink capacity to go longer between refills. The only downside to this printer is that it's not the best for dorms, as it's really bulky.
Pros:
Multipurpose, can do everything you need from a printer
Great ink capacity
Excellent connectivity options
Automatic 2-sided printing
Touchscreen display
Cons
Very expensive
Large and bulky
2. Brother HL-L2390DW – Best Student Printer: Monochrome Laser Edition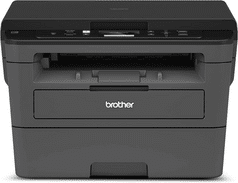 Specifications:
Size and Weight:16.1" x 10.7" x 15.7″; 22.7 lbs
Ink Type: Laser toner; monochrome only
Connectivity: USB, WiFi, Direct Printing
Functionality: 3-in-1; scan, copy, print
Print Speed: 32 ppm
Portable: No
Paper Types and Sizes: Up to legal size for automatic feed; manual feed from 3" x 5" to legal
The Brother HL-L2390DW is a monochrome laser printer that allows for plenty of print cost savings in the future. It's also very speedy, able to print 32 pages per minute. The only problem is you can't print in color. But if that's not a big deal, this 3-in-1 printer will last you for many years! We'd say that this model is the best printer for a college student who needs to print a ton of text.
Pros:
Fast printing speed
Cheap in the long run
Multipurpose
Multiple connectivity options
Cons:
Large and bulky
Monochrome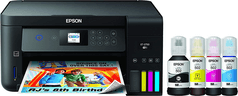 Specifications:
Size and Weight: 14.8″ x 13.7″ x 9.4″; 13.2 lbs
Ink Type: Inkjet comes with enough ink to last two years (according to Epson)
Connectivity: Wireless, Wi-Fi Direct, Ethernet, USB
Functionality: 3-in-1; scan, copy, print
Print Speed: ~10.5 ppm (black); ~5 ppm (color)
Portable: No
Paper Types and Sizes: Up to legal
If you know you'll need to print a ton in black and color, the Epson EcoTank ET-2750 is a great contender for the best all-in-one printer for students. This 3-in-1 printer comes with enough ink to last you two years (at least, according to Epson). It's pretty affordable for its features but can still be a significant initial purchase. However, Epson is known for its reliable printers, and the fact that you can refill the ET-2750's ink tanks makes it a great buy all around.
Pros:
Has an LCD for easier control and navigation
Cartridge-free, cheaper to refill
Automatic 2-sided printing
Cons:
Still an expensive initial purchase
Bulky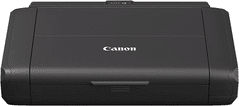 Specifications:
Size and Weight: 7.3" x 12.7" x 2.6" (trays closed); 4.1 lbs no battery (5.1 lbs battery)
Ink Type: Inkjet; cartridges
Connectivity: Wi-Fi, Bluetooth
Functionality: Printing only, but excellent for on-the-go use
Print Speed: ~7.4 ppm
Portable: Yes
Paper Types and Sizes: Up to legal
The Canon Pixma TR150 is the best printer for dorm rooms, thanks to its small footprint. It's small and lightweight — even with the optional battery attached. The portability of the TR150 makes it a great choice for students all around. Of course, the tradeoff is that it's a single-function printer, but that's not a problem for many.
Pros:
Optional (detachable) battery capable of printing as many as 330 pages
Has a small display
Relatively affordable
Portable for mobile printing
Cons:
Not the fastest printer
Print only
Print quality is okay but not stellar
5. Canon Pixma TR8620 – Best Wireless 4-in-1 Printer for Students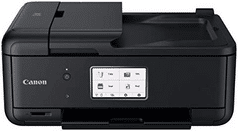 Specifications:
Size and Weight: 17.3" x 13.8" x 7.5" (Closed); 17.4 lbs
Ink Type: Inkjet (cartridges)
Connectivity: USB, Ethernet, Wi-Fi, Bluetooth, PictBridge, Memory Card
Functionality: 4-in-1; print, scan, copy, fax
Print Speed: Up to 15 ppm
Portable: No
Paper Types and Sizes: Up to legal
Canon is well known for its reliable printers, and the TR8620 is no exception. The Canon Pixma TR8620 is definitely not among the best dorm printers due to its size, but if you can get over that, it offers a wealth of features and functionalities to get you through your whole program. This 4-in-1 printer will cover all of your needs at a fraction of the price of the Brother INKvestment MFC-J995DW.
Pros:
Pretty affordable 4-in-1 solution
Plenty of connectivity options, including mobile printing
Automatic double-sided printing
Cons:
Pretty bulky, but less so than other 4-in-1 printers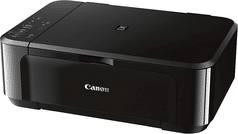 Specifications:
Size and Weight: 17.7" x 12" x 6″; 11.9 lbs
Ink Type: Inkjet (cartridge)
Connectivity: USB, Wi-Fi, PictBridge
Functionality: 3-in-1; scan, copy, print
Print Speed: ~9.9 images per minute (black); ~5.7 ipm (color)
Portable: No
Paper Types and Sizes: Up to legal
If you need a basic 3-in-1 printer, the Canon Pixma MG3620 is a great choice. It's incredibly affordable to buy (especially when you catch it on sale), but the costs may pile up thanks to the cartridges. If you only need to print occasionally, you'll do well with this option.
Pros:
Incredibly affordable, especially when on sale
3-in-1 functionality
Great connectivity
Cons:
Not the most cost-effective if you have to print a lot
7. HP Tango X – Best Smart Wireless Printer for Students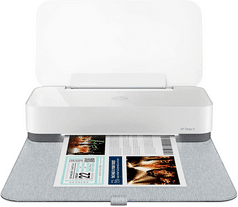 Specifications:
Size and Weight: 15.3" x 24.4" x 10.2"; 7.5 lbs
Ink Type: Inkjet (cartridge)
Connectivity: Wi-Fi Direct, Wireless
Functionality: Print only; copy/scan via mobile app
Print Speed: ~11 ppm (black); ~8 ppm (color); ~20 ppm black draft; ~19 ppm color draft
Portable: Somewhat, but still needs to be plugged in (no battery)
Paper Types and Sizes: Up to legal; borderless printing (up to 5" x 7")
Thanks to its small size and footprint, the HP Tango X is another contender for the best printer for dorm room use. It doesn't have a battery option like the Canon TR150, but it's small and relatively easy to bring around. It has plenty of connectivity options and is wireless overall. One nice extra feature is the ability to scan and copy using the accompanying app (which makes it a bit better than the TR150).
We would typically not recommend HP printers due to their subscription model, but thankfully, the HP Instant Ink subscription seems to be optional for this particular printer.
Pros:
Lightweight, small footprint, great for smaller spaces
Wireless
Pretty fast printing for an inkjet
Cons:
Needs to use ink cartridges
Requires a mobile app for copy and scan functions (and your phone's camera quality limits copy/scan quality)
Frequently Asked Questions
Which Type of Printer Is Best for Students?
Finding an affordable printer for students is essential, but there are other important things to consider. Always consider what you intend to print and how often you plan to print. These considerations will allow you to decide what type of printer suits your situation, whether it's a monochrome laser printer or a colored inkjet printer with refillable ink tanks.
Which Printer Is Good for Homeschooling?
It depends on what kind of course material and schoolwork you plan to print. If it's a lot of research and primarily black and white text, a laser monochrome printer can be more cost-effective in the long term. If it's schoolwork for younger students that will likely involve workbooks and colored images, colored inkjet printers with a lot of ink capacity are the better choice.
Which Printer Is Commonly Used in Schools?
Schools often use monochrome laser printers for their cost-effectiveness and fast, speedy printing (a necessity when printing in bulk). However, many schools also use inkjet printers for colored printing, especially now that many printers have built-in refillable ink tanks for easier refilling.
Which Is the Best Brand of Printer?
There is no single answer to this question, as it generally comes down to preference. However, there are many popular brands out there that are known for the quality of their printers. You can look to brands like Epson, Canon, Brother, and HP for some of the best printers for college students.
Conclusion
Over the years, printer manufacturers have added more features to improve their products' efficiency and convenience. These days, there are countless printers to choose from, and it can be challenging to figure out which one suits your situation best.
We hope this article on the best printer for students has helped you choose the right one for your needs. If you think we missed a product that belongs on this list, please let us know in the comments below!
Still on the hunt for the perfect work machine? Check out this list of the best laptops for graduate students.