I found the very best PhD graduation gifts. Below, I'll discuss each. This article includes specific PhD graduation gift recommendations. I did my best to include a little bit about why new doctors appreciate each, and I link to where you can find them.
Note that The Grad Cafe is supported by our audience, I regularly use affiliate links throughout. That means I could get a small commission when you order something on this list. Thanks for your support!
Ready to discuss PhD graduation gifts? Read on.
You Can't Go Wrong With…
If you're at a loss thinking about what to buy a Ph.D. graduate as a present, you can't go wrong with cash, checks, and gift cards.
There's no denying that PhDs can be incredibly expensive. Just look at the data from EducationData.org, which states that federal graduate student borrowers have $91,148 average loan balances. It doesn't matter if they earned their degree in person or online — debt is debt. Cutting a check for any amount can help a PhD graduate buy what they need (or want). They can also choose to pay the amount toward their debt.
Of course, giving cash or a check isn't everyone's idea of a good present. In that case, you can always give a gift card.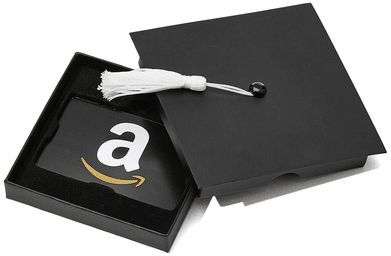 Amazon Gift Cards come in nice packaging, like this graduation gift box.
Amazon allows you to choose your gift card amount, starting from $25 and going all the way up to $2,000. You can also send your gift card digitally if you'd rather skip the box altogether.
On Amazon, you can also choose gift cards from specific brands. For example, if you'd like to give the gift of tech, you can opt for an Apple gift card between $25-$500. And if you're looking for PhD graduation gifts for her, try a Sephora gift card between $25-$250.
Buy a Graduation-Themed Amazon Gift Card
15 Best PhD Graduation Gifts [2023]
Check out these unique, fun gift ideas for a doctoral graduate near and dear to your heart!
Care packages are an excellent yet practical way to show you care. The CRAVEBOX Gourmet Specialty Snack Box is a 50-piece collection of gourmet snack samplers.
Why a PhD Graduate Would Like It:
Unless your recipient is a picky eater, they're bound to like something in this package. After all, who wouldn't want to try new types of snacks? They might even find their new favorite snack in this box!
Of course, you may want to ask about food sensitivities and preferences before choosing a box like this.
Buy the CRAVEBOX Gourmet Specialty Snack Box
2. Presentation Clicker and Pointer – Logitech R500s

The Logitech R500s is a presentation pointer and clicker that works from a 65ft range(20m). It has a red laser and customizable buttons. The R500s connects via a USB dongle/receiver, but it's also universally compatible, including with Bluetooth.
Why a PhD Graduate Would Like It:
PhD graduates, especially ones going into an academic or research-based career, will have to give a lot of presentations. A good clicker like this can make their presentations go more smoothly.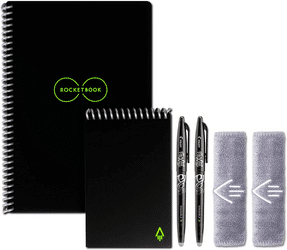 The RocketBook has been around for a while, but it's still a pretty cool product all around. RocketBooks are essentially notebooks with special pages that let you scan and digitally convert notes. They come in various sizes and have reusable pages if you use the Pilot Frixion pen. That's a win for the planet!
Why a PhD Graduate Would Like It:
PhD graduates will likely write a lot of notes in their lifetime. The RocketBook blends old-school handwritten notes with technology, allowing easily scannable and text-convertible notes with the app's OCR (optical character recognition) feature. Some may find this gift a novelty, but it's a great way to help the environment!
Buy the RocketBook Smart Reusable Notebook Set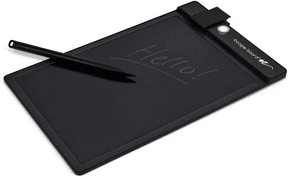 The Boogie Board is a reusable writing pad for quick notes and reminders at work or home. You can use anything to write on it, as long as it has a dull pointy end. This board is good for 50,000 resets (board clears) — endless use!
Why a PhD Graduate Would Like It:
This is one of the coolest gift ideas for PhD graduates because it reduces desk clutter and wasted paper.
Buy the Boogie Board Basics Reusable Writing Pad
5. Mechanical Pencil + Stylus: rOtring 800+

This rOtring mechanical pencil and stylus hybrid lets you switch seamlessly from paper to screen. It's a well-designed writing instrument that prevents writing fatigue thanks to its hexagonal barrel.
Why a PhD Graduate Would Like It:
This mechanical pen and stylus combo is one of the best PhD graduation gifts for students. For many, pencils are the writing instrument of choice. rOtring is a known and reliable pencil brand, so there's no doubt it will provide an enjoyable writing experience — and it's a breeze to use!
Buy the rOtring 800+ Mechanical Pencil and Stylus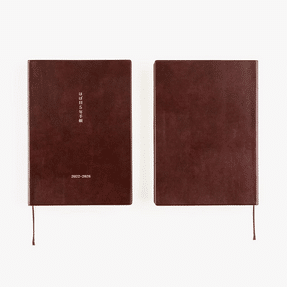 The Hobonichi Techo is a well-known planner/diary loved for its sheer quality and flexibility. The Hobonichi Techo 5-Year Diary allows the user to plan and organize up to five years of their lives.
Why a PhD Graduate Would Like It:
The Hobonichi Techo 5-Year Diary offers PhD graduates an easy way to keep track of their appointments and events — especially if they prefer pen and paper to phone apps.
Buy the Hobonichi Techo 5-Year Diary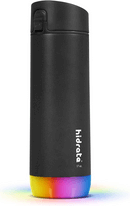 The HidrateSpark PRO Smart Steel Water Bottle keeps you hydrated with its reminder glow. You can even track your water intake through its free app and customize the bottle's glow lights and light patterns. The best part? It keeps drinks cold for up to 24 hours!
Why a PhD Graduate Would Like It:
The HidrateSpark PRO bottle makes a great gift for a PhD graduate, especially if they are so busy that they forget to take care of themselves. Dehydration is no joke!
Buy the HidrateSpark PRO Smart Steel Water Bottle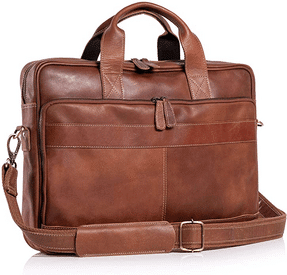 This leather briefcase and laptop bag uses buffalo leather and durable YKK zippers to ensure years and years of use. It fits laptops without being too bulky while still having plenty of room for files, folders, and notebooks.
Why a PhD Graduate Would Like It:
This KomalC leather briefcase is a high-quality bag a PhD graduate can take with them anywhere. It's roomy and protects their laptops and important items without being too bulky or uncomfortable.
Buy the Leather Briefcase and Laptop Bag by KomalC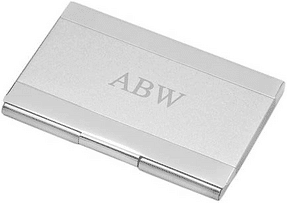 This beautiful two-tone business card case holds up to 15 business cards. It comes with free personalization, allowing three text lines with up to 25 characters for each line.
Why a PhD Graduate Would Like It:
PhD graduates often carry business cards. So why not have a nice, engraved case to keep them all in great condition until it's time to hand them out?
Buy the Custom Engraved Steel Business Card Case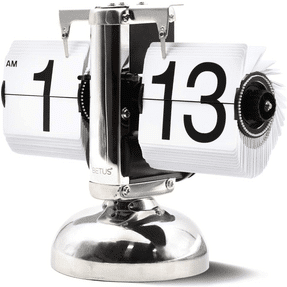 This retro-style flip clock has a minimalistic design while still displaying the time down to the minute. It has a durable stainless steel frame and ABS plastic cards to ensure longevity. However, it has delicate inner mechanisms, so it's not the best gift for someone with cats or young children.
Why a PhD Graduate Would Like It:
This gift is a great conversation starter for your PhD recipient!
Buy the Mechanical Retro Style Flip Clock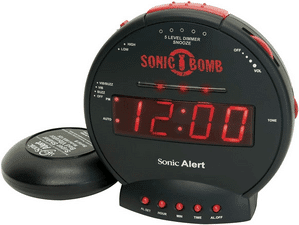 This alarm clock was made for those who sleep through just about any other alarm. It comes with a shaker that users can put underneath their pillow (or anywhere else where it would make a racket) so the vibrations will wake them up when the alarm rings.
Why a PhD Graduate Would Like It:
This Sonic Bomb Alarm Clock with Bed Shaker is one of the best PhD graduation gifts for students who sleep like the dead. This alarm clock might help the recipient avoid tardiness, though their sleeping partner might not appreciate it so much!
Buy the Sonic Bomb Alarm Clock with Bed Shaker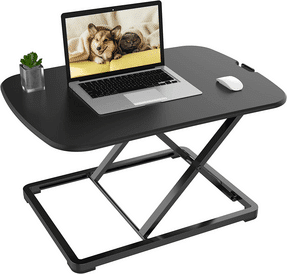 This laptop desk riser is 27×19 inches — a relatively large desk surface when raised. It has five adjustment settings from 1.8 to 15.9 inches. This Flexispot product allows the user to turn any surface into a standing desk. Make sure you also check the Best Desks for Students.
Why a PhD Graduate Would Like It:
Sitting all day while working is detrimental to your health. This laptop desk riser is an excellent choice for PhD graduates who spend way too much time at their workstations. And if they don't want to stand, even the slight elevation of gaze reduces neck strain and back pain.
Buy the FlexiSpot Laptop Desk Riser.
*You can also add the FlexiSpot Anti-Fatigue Mat.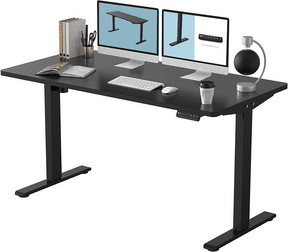 The En1 electric height adjustable desk has a 55×28 inch table top for a spacious work area. It runs quietly while adjusting height smoothly. Users can set the table's height between 28-47.6 inches. It supports up to 154 lbs, which accommodates even the heaviest workloads.
Why a PhD Graduate Would Like It:
The EN1 makes is a great PhD graduation gift for the same reason a laptop riser would — it helps your PhD graduate to stand more often, minimizing stress and back pain. This fully electric desk is also quite convenient, without requiring manual adjustments. What better way to kick off your graduate's high-paying PhD job than a fabulous new desk?
Buy the FlexiSpot EN1 Electric Height Adjustable Standing Desk
*You can also add the FlexiSpot Anti-Fatigue Mat.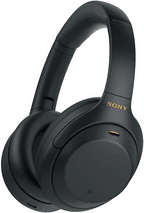 The Sony WH-1000XM4 headphones are legendary for great audio quality, comfort, and portability (they fold up to a smaller profile when not in use). It offers ANC (active noise cancellation) and even has built-in Alexa voice control.
Why a PhD Graduate Would Like It:
If you want to give the gift of peace and focus, this pair of headphones is an incredible choice. While this one's pricey, you can find other ANC headphones that are more affordable. The XM4s also have a newer version, the XM5 (but these don't fold up into a smaller profile).
Buy the Sony WH-1000XM4 Noise Canceling Headphones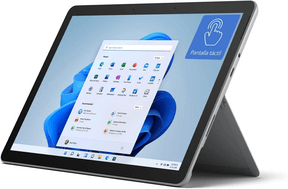 The Microsoft Surface Go 3 is a tablet that can replace a laptop. It runs on Windows, has a touch screen and decent battery life, and works with a stylus. You can also charge it with a power bank if you run out of juice.
Why a PhD Graduate Would Like It:
The Microsoft Surface Go 3 is an excellent and pragmatic PhD graduation gift for students because of its productivity capabilities, including responding to emails and word processing. And, of course, it also works well for entertainment purposes. Save this for a loved one — it's pricy!
Buy the Microsoft Surface Go 3
How Much Should You Spend on PhD Graduation Gifts?
The cost of your PhD gift depends on your relationship with the graduate. It can be anywhere from $10-$300, or maybe even more if you wish — but never spend more than you can afford. Here's a general guide for how much you might want to spend:
Acquaintances: <$30
Friends: $25-$50
Closest friends and relatives: $50-$100
Significant others, children, and close loved ones: $100-$300+
Avoid superfluously expensive gifts for people you aren't close with — that'll just make them uncomfortable!
Conclusion
Finishing a doctorate is no easy feat — even the online PhDs take endless hours to complete. Bottom line? Graduating with a PhD is a cause for celebration! And what better way to celebrate your new PhD-holder loved one than with a thoughtful present?
PhD graduation gifts don't have to be expensive or luxurious. They can be something as simple as a mug or a shirt with a witty PhD-related message. Doctorate graduation gifts can even be sentimental, like an engraved business card case.
If someone you know recently achieved a PhD (or even an MBA), this list of the best graduation gifts for PhD students might offer some gift inspiration.
It can be challenging to come up with ideas for PhD graduation gifts, but there's always a fantastic option out there waiting for you. But remember: if you can't come up with any ideas that feel right, everyone loves cash or gift cards!
Do you have any other PhD graduation gift suggestions? Leave them in a comment below!
Frequently Asked Questions
What Do You Give a PhD Graduate?
The perfect PhD graduation gifts for doctoral graduates depend on your preference — unless the recipient specifically requests something. Cash, checks, and gift cards are popular options but may seem impersonal. Instead, you might give the graduate something pragmatic, like food, or something heartfelt, like a craft. Of course, the 15 suggestions on this list are also great PhD gifts.
What Are Good PhD Graduation Gifts for a University Graduate?
It truly depends — you can give something generic like a mug or shirt with a witty PhD-related saying or something more aligned with your recipient's interest if you know them well.
What Is the Going Rate for PhD Graduation Gifts?
It really depends on your relationship with the recipient. Gifts can cost anywhere from $10-$300 and sometimes even more. If you're more an acquaintance than a loved one, choose something on the lower price end to avoid making the recipient uncomfortable.
Is it OK to Give a Check as a PhD Graduation Gift?
Absolutely! Although some people may find checks or cash impersonal, a PhD graduate could probably use the money. After all, they can put it toward student loans or buy something they really need.
Related Reading: