Few things can compare with the prestige and honor associated with the Harvard name. Most people worldwide know of Harvard University. For many, it's their dream school.
Over the centuries, Harvard has produced 151 Nobel Prize winners, far higher than any other university. There are countless notable alumni, including some of the world's most recognizable names: John F. Kennedy, Barack Obama, Bill Gates, and Mark Zuckerberg.
Unfortunately, this also means that competition is fierce. Getting into Harvard is incredibly tough — and students must meet – and even exceed – the requirements for a chance.
The good news? With determination and hard work, anyone can be one of those few successful. Read on to learn about the Harvard GPA requirements and other factors to help you succeed.
In Summary
The average GPA among successful applications at Harvard is 4.2 weighted and 3.9 – 4.0 unweighted.
The Harvard acceptance rate is 3.41% for the class of 2027.
Early Action applicants saw a higher acceptance rate (7.6%), compared to Regular Decision applicants (2.6%).
Related Reading: How to Get Into Harvard: The Ultimate Guide
What Does the Harvard Class of 2027 Look Like?
There were 56,937 applications during the 2027 admissions cycle, down 7% from the previous year's total of 61,220. A mere 1,942 were successful – making the Harvard acceptance rate 3.41%.
Of these 1,942 students admitted to Harvard:
40.8% were Caucasian
29.9% were Asian
15.3% were African American or Black
11.3% were Latinx
2.7% were Native American/Hawaiian
All 50 states were represented
15.8% came from US territories and abroad
The 2023 Harvard Acceptance Rate
| | | | |
| --- | --- | --- | --- |
| | Total Applications | Total Accepted | Acceptance Rate |
| Early Action | 9,553 | 722 | 7.6% |
| Regular Decision | 47,384 | 1,220 | 2.6% |
| Overall | 56,937 | 1,942 | 3.41% |
The overall 2023 acceptance rate of 3.41% may seem low, but it's a minor improvement over 2022's rate (3.2%). Even with the increase, 3.41% is the second-lowest acceptance rate in Harvard's history.
It appears that Early Action applicants saw more success than Regular Decision applicants. To increase your chances, it's wise to apply via Early Action.
What Harvard requirements do you need to fulfill — and exceed — to be accepted?
What Does It Take to Get Into Harvard?: Admission Requirements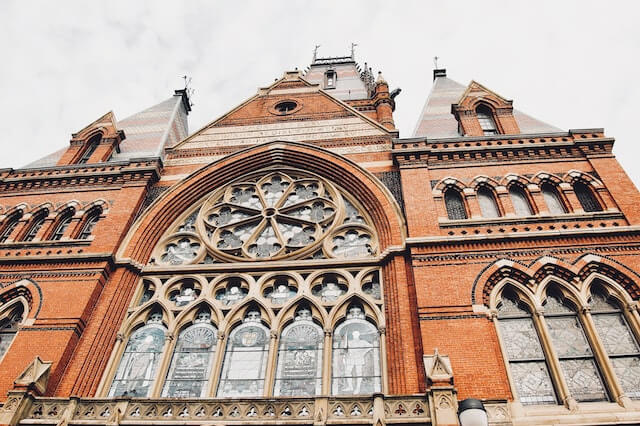 As challenging as the academic requirements are, it's predicted that they'll stay the same in the coming years. And because there are an increasing number of applicants, admissions officers may have to start increasing their own screening standards.
Until that happens, applying to Harvard as an undergraduate involves submitting:
An official application (the Common Application, Universal College Application, or the Coalition Application)
Answers to Harvard's supplemental questions
Mid-year school report (showing your GPA)
Two teacher evaluations
Optional additional materials to supplement your application (e.g., academic samples, artwork, pieces of music)
Standardized tests are optional but not required. Non-submission will not affect your chances of admission.
Tip: To see Harvard's admissions results in real-time, use GradCafe's graduate school admissions results page.
Harvard University states that it considers many factors when admitting students. Its admissions committee is comprised of forty diverse members and each gets one vote. The admissions process looks something like this: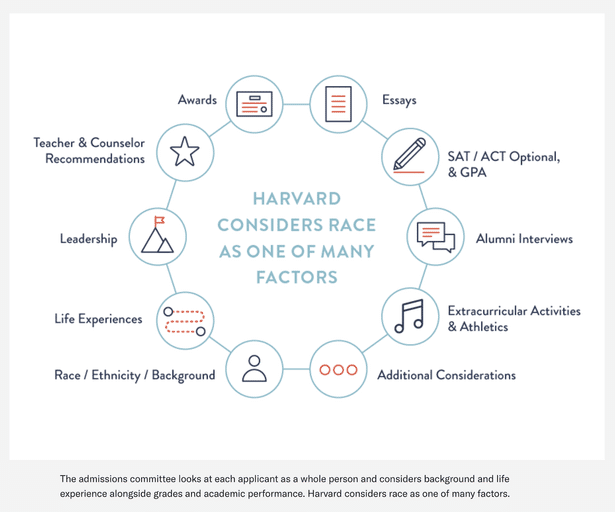 Source: Harvard Admissions
As you can see, academic performance is just one factor in the admissions process. Although students will certainly need to meet the Harvard average GPA requirements and have a strong academic record just to be considered, other aspects are also required.
Even if the Harvard acceptance rate is discouraging, a great GPA and well-rounded application overall might be enough!
1. Harvard GPA Requirements
If you want to attend this prestigious institution, you're definitely wondering what GPA you need to get into Harvard. Like many Ivy League schools, Harvard doesn't explicitly state a required GPA. Their admissions office also says that, "there's no formula for gaining admission."
You can probably apply with any grade point average, but it's unlikely that your application will be successful without an incredibly strong GPA.
As of 2023, most sources say that the Harvard average GPA on the unweighted scale is around 3.9 – 4.0. This translates into a 4.2 weighted GPA. Most Ivy League schools use the weighted scale (which provides extra points for honors or Advanced Placement courses).
If you'd like to increase your chances of acceptance, aim for a weighted GPA of at least 4.0 or higher. Transfer students should aim for 4.2 or higher.
So What's the Lowest GPA to Get into Harvard?
Even though the average weighted GPA for Harvard is 4.2, this is still an average. Successful applicants may have scores that fall well above or below that figure. That means you won't automatically be rejected if your GPA is under 4.0.
Some say that the lowest GPA accepted to Harvard is about 3.0 (weighted). You may still have a chance at admission if the other areas of your application are strong enough, especially because GPA is only one of the requirements to get into Harvard.
What Are Your Chances With Your GPA?
Knowing the average GPA for Harvard, what are your chances of success? The Harvard Common Data Set for 2022 – 2023 reveals the following statistics: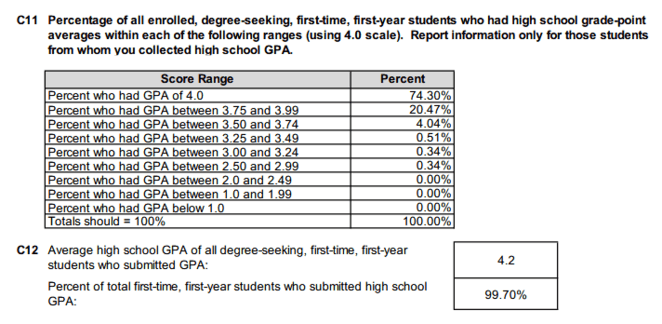 Looking at this information, we can infer that:
A 4.0 GPA (and above) means you have a stronger chance of acceptance.
A GPA between 3.75-3.99 GPA means you have a decent chance of success.
A GPA between 3.50-3.74 makes Harvard a "reach" school.
A GPA between 2.50-3.49 results in an extremely low chance of success.
Anything below 2.50 means you won't be accepted.
Related Reading: How to Get Into Harvard Law: The Ultimate Guide
2. Harvard SAT and ACT Requirements
Harvard suspended the standardized test score requirement up to 2023 due to the challenges brought about by the Covid-19 pandemic. Thus, taking the SAT or ACT is entirely optional. You can submit your scores, but choosing not to won't result in any penalties.
So, what scores are required for Harvard? There is no easy answer to this as, like the GPA, Harvard admissions does not have a set cut-off. However, you can consider the following information for applicants:
An SAT score of 1460: 25th percentile
An SAT score of 1580: 75th percentile
An ACT score of 33: 25th percentile
An ACT score of 35: 75th percentile
What SAT Score Is Required for Harvard University?
Harvard doesn't require certain SAT scores from its applicants and aspirants. However, based on statistics of past applications, a score of 1580 would mean you would be in the 75th percentile (well-above average).
While CollegeBoard discontinued SAT subject tests in mid-2021, it's a good idea to aim for an SAT score of at least 1500.
What ACT Score Is Required for Harvard University?
Harvard doesn't publish any required ACT scores, but a score of 35 would place you in the 75th percentile of applicants.
3. Personal Essay
Besides your GPA and test scores, you must submit a personal essay. This is one area where you make a positive impression on the admissions committee. This should be short, succinct, relevant, and genuine, with a length of around 500-600 words.
There is also an optional supplemental essay that can help to strengthen your application. You can also improve your chances by supplying optional samples of your academic or creative work.
Other than these requirements, your chances are improved with an excellent extracurricular record. Harvard graduate Veronica Wickline says that 25% of the committee's decision depends on your strength in areas outside your academic studies.
What Are My Chances of Getting into Harvard for Undergrad?
The students that get into Harvard demonstrate a mix of academic excellence and extracurricular brilliance. Harvard looks for individuals with overall value and not just academic knowledge. There are no set rules or cut-offs when it comes to GPAs or SATs/ACTs. The case is the same for the GREs.
However, to be a strong applicant, you should have:
A 4.0 GPA (weighted)
A minimum SAT score of 1580 or an ACT score of 36 (especially if you're compensating for a lower GPA).
A compelling personal essay that expresses a clear vision for your future.
Your application should show potential, excellent character, and a promise to contribute something valuable. You can also increase your chances of a successful Harvard application by providing:
Proof of excellence in sports, music, leadership, or other extra-curricular activities.
Advanced courses or studies outside of your high school.
Demonstrating a passion for community service.
Harvard Graduate Programs: Minimum GPA Requirements
It's practically impossible to pinpoint the lowest GPA to get into Harvard graduate programs: Each Harvard College graduate program has its own requirements.
To determine the GPA you'll need to be accepted, reach out to your program of choice for prerequisites. You'll also need strong transcripts that date back to your high school academic career.
Related: Getting into Grad School with a Low GPA
Harvard Grad School GRE Requirements
Another requirement for Harvard grad school is a solid GRE score.
When planning your Harvard graduate school application, discover whether your program of interest requires applicants to take the GRE. Recommended scores may vary, depending on the program. For example, if you're applying to a computer science or engineering-related program, you may want to aim for a higher Quant score.
On average, you should aim to score:
155-166 for the Verbal section
155-170 for the Quant section (many programs look for 160+)
4.5-5.0 for the Analytical Writing section (often considered the least important section)
Related Reading: How to Get into Harvard Medical School
Frequently Asked Questions
What GPA Is Accepted at Harvard?
According to the 2022-2023 Harvard common data set, the average weighted GPA for accepted applicants is 4.2. Most applicants aim for at least 4.0, but higher is better. Because of the holistic admissions process Harvard uses, you may still be able to get in with a lower GPA, but your chances decline the further you get from 4.0.
Will a 4.0 GPA Get You into Harvard?
A 4.0 GPA on an unweighted scale means you have a very slightly improved chance of admission. On the weighted scale, 4.0 is below average. Unfortunately, only meeting the GPA requirements probably won't guarantee your acceptance to the university, so you'll need to ensure that you have a strong application overall.
Does Harvard University Prefer SAT or ACT?
You can apply with either SAT test scores or ACT test scores, depending on your preference. That said, Harvard has made standardized tests optional until 2030.
What Is My Chance of Getting into Harvard University?
Considering that the 2023 admission rate was a mere 3.41%, you'll have to work extremely hard to improve your chances of success. It's not enough to work on your academic performance alone: Consider working on your extra-curricular options, writing an excellent application letter, and applying during the Early Action cycle.
Final Thoughts
Simply put, Harvard GPA requirements will not be enough to be accepted. Your application will need to be strong across a range of areas, like extra-curricular activities, community service, leadership, and advanced courses.
Start preparing early, work hard, and pay attention to all aspects of your application. Though Harvard is a dream for many, you might make it your reality. Good luck!
Our guide on How to Get Into Ivy League Grad School can help you prepare for the admissions process at Harvard and other prestigious institutions.