Table of Contents
Harvard Law School, located in Cambridge, Massachusetts, is an elite law school in the U.S. and one of the most prestigious law schools in the world. As an Ivy League graduate school, Harvard Law is highly selective, and many students who want to go on to careers in law try to gain admission.
The school has many notable faculty members and boasts famous and powerful alumni, including former president Barack Obama, eight current U.S. senators, and sixteen current and former Supreme Court justices.
If you're a prospective student looking to get into Harvard Law, here are the things you need to know.
About Harvard Law
Harvard Law, a part of Harvard University, is one of the most prestigious law schools in the world.
The school was founded in 1817 and is the oldest continually operating law school in the U.S. It also has the largest academic law library in the world, including many articles from the Harvard Law Review.
The school has almost 2,000 students attend each year, including 1,750 J.D. students, 180 LL.M. students, and 60 S.J.D. candidates. The faculty includes more than 100 full-time professors and 150 visiting professors teaching more than 260 courses and seminars.
Students can expect both breadth and depth of study, learning about many different topics in the field of law and being taught by experts who are at the top of their field.
The school also emphasizes its alumni network, which includes more than 38,000 leaders in the areas of government, NGOs, major corporations, nonprofits, and the legal industry.
Diversity (based on out of country applicant)
Average time of admission results released
Total number of degree programs offered

Total # of programs (i.e., – Economics, Psychology)
Total # of degree types (i.e., – PhD, Masters)
Acceptance Rate

Average GPA accepted
Average GRE accepted
Application requirements
Applying to law school can be stressful because most schools have a multifaceted admissions process. To complete the law school admissions, you'll have to submit grades, transcripts, test scores, and other materials as part of your application.
The application for Harvard Law includes:
An $85 application fee (or fee waiver request)
A resume
A personal statement describing yourself, your background, and your reasons for pursuing law
An LSAC Credential Assembly Report
Transcripts for all undergraduate and graduate studies you've completed
Two or three letters of recommendation, with at least one ideally coming from an academic source
Completion of character and fitness questions
An optional additional statement describing how you can contribute to Harvard Law School
Additional information outlining any unusual circumstances affecting your performance in school or on exams
Depending on whether the admissions committee wants to move forward with the process, you may be invited to an interview with an admissions officer.
It's important to submit a complete application with all of the required documents to make sure the admissions committee does not need to ask you for any additional information.
The school also advises that Harvard applicants consider quality over quantity, especially when it comes to things like personal statements and letters of recommendation.
Two strong letters of recommendation from carefully chosen college and personal mentors will be better than three average recommendations from people who do not know you as well. Mentors from your work experience or undergraduate institution would be ideal.
Similarly, a short personal statement that gives strong insight into you and your goals will be better than a long one that doesn't really say much or repeats itself.
Harvard Law School Acceptance Rate 2022
If you're wondering how to get into Harvard Law, keep in mind that HLS is one of the top law schools in the country and so its admissions process is highly selective. HLS' own statistics, the current Harvard Law acceptance rate is 10%: for JD (Juris Doctor) admissions for the class of 2025, the school only accepted 822 students out of a total of 8225 applicants.
The HLS 1L facts page shows that admitted students for the class of 2025 had the following LSAT score spread:
25th percentile: 170
50th percentile: 174
75th percentile: 176
Along with your LSAT score, your GPA will also play a decisive role in whether you'll be accepted into HLS.
For the class of 2025, admitted students had the following GPA spread (out of 4.0):
25th percentile: 3.82
50th percentile: 3.92
75th percentile: 3.99
This means that you will have to score very highly on the LSAT as well as have a very strong GPA in order to get into Harvard Law School.
Who to Ask for Letters of Recommendation
As part of its application process, HLS requires two recommendation letters, and at least one of these must be written by a professor or academic advisor who can vouch for your academic performance. Glowing recommendation letters from reputed faculty members will significantly improve your chances of getting in to Harvard Law School.
Therefore, it is a good idea to build strong relationships with well-known faculty at your school as early as possible. It may even be a good idea to sign up to several classes with such professors to help you establish a relationship with them.
When to Start Preparing to Apply to Harvard Law School
There's no set time to start preparing for HLS, but you should start to lay the groundwork as early as possible. Start looking into HLS admission requirements months, or even years before you want to submit an application, and develop a plan early to help you meet these requirements.
Everything from the subjects you study and the professors you study under to your extra-curricular activities and internships can help you to build a compelling application. You'll also need to have a very strong GPA and excellent LSAT scores, so you'll need to work hard throughout your undergraduate degree to achieve both these things.
Your preparations may also include gaining valuable work and life experience. According to Harvard's own figures, 78% of incoming HLS students left school at least a year ago, while 21% finished their undergraduate degree at least four years ago.
According to Senior Academic Advisor at Knovva Academy and Harvard alumn Marci Johnson:
"In my experience, Harvard is looking for unique leaders with unusual backgrounds who blaze trails where there were none, who follow their own path and who take action to impact the world positively.
I always tell my students that the number 1 factor all schools are seeking, and especially Harvard, is uniqueness. For a fantastic application, lead a fantastic life: innovate to solve problems, find what you care about and take action to positively impact your community, live your life in a daring and creative way, and of course, Harvard will want you to join their community."
This doesn't mean that you can't apply to Harvard Law straight out of college, but it does indicate that most successful applicants took some time between finishing school and getting into Harvard law. Taking a year or more after finishing your undergraduate studies can help you build valuable experience that will give your application the greatest chance of success.
Is There a Mandatory Interview for Harvard Law?
Yes, an interview is a mandatory part of the HLS admission process. Interviews are by invitation and are generally conducted through an online platform.
Once you've submitted your application, the school will notify you by email if you've been accepted for an interview. This is the final step in the application process and, if you impress at interview, you'll be admitted.
Being offered an interview is a great sign: this means that the selection committee liked your application and are satisfied with the information you've provided so far. However, don't take your eye off the ball just yet: it's important to prepare thoroughly for the interview, and put in the same amount of effort you did when preparing the other parts of your application.
How to Apply for Harvard Law School
You cannot apply directly to HLS. Instead, you'll need to apply online through the Law School Admission Council (LSAC) official website. Then, LSAC will transfer your application to HLS. All transcripts, documents, and recommendation letters must go to LSAC along with the application fee. The application for the Fall Term 2023 is already open, and the deadline is 11:59 p. m. ET on February 20 of 2023.
Program information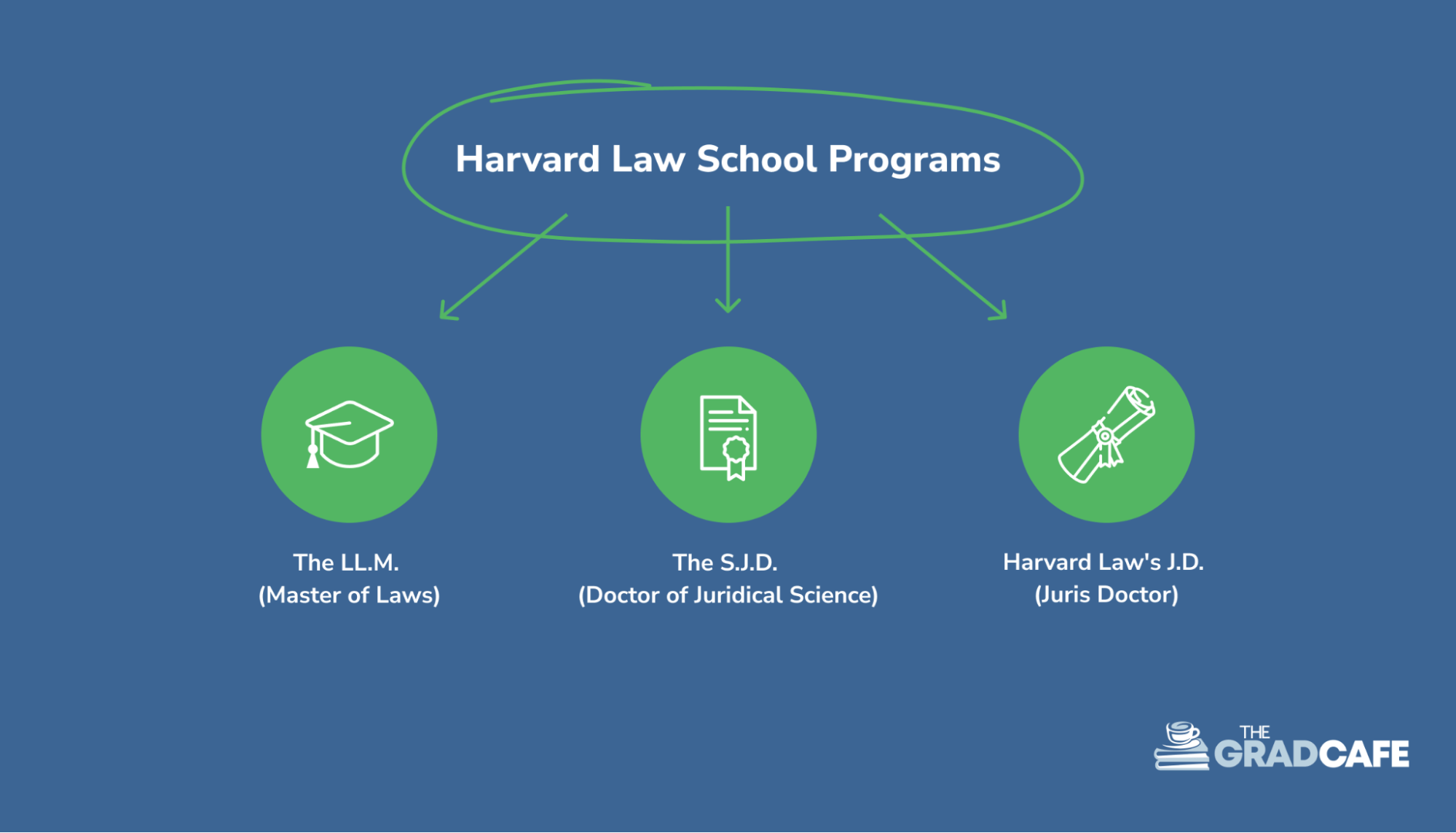 Harvard Law School offers three graduate programs for Harvard students to choose from.
The LL.M. (Master of Laws) program is a one-year degree program designed for students who want to learn more about law after they complete an undergraduate degree.
Harvard typically has about 180 students from 70 countries in this program.
The S.J.D. (Doctor of Juridical Science) program is the school's most advanced degree. It is designed for legal academics who want to do independent study and research.
The program is modeled after top Ph.D. programs and has roughly 70 students.
Harvard Law's J.D. (Juris Doctor) program is its most popular. This degree is for students who want to continue their studies after completing an undergraduate program and are planning on pursuing a career in law.
Harvard Law also partners with other schools at Harvard University to offer special programs that combine more than one degree. These joint degree programs include options such as:
J.D./MBA
J.D./MPP
J.D./MPH
J.D./MUP
J.D./Ph.D.
Students can also cross-register into certain courses at other schools in the area, such as MIT and the Fletcher School.
How to boost your odds of getting into Harvard Law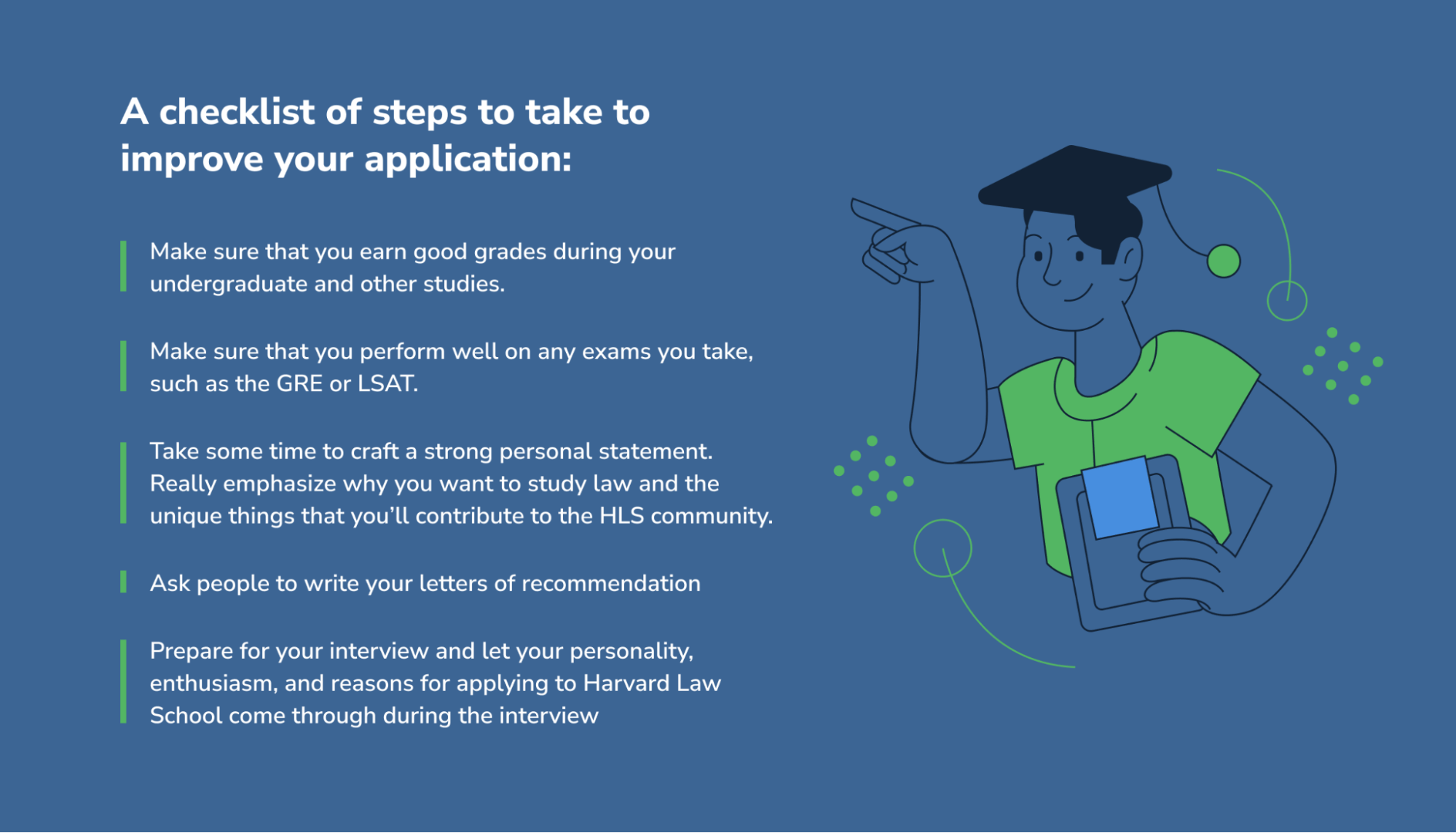 Getting into any graduate program can be difficult, so it's important to submit the best application that you can.
Of course, the first thing that you can do to improve your chances of getting accepted is to make sure that you earn good grades during your undergraduate and other studies. You can also make sure that you perform well on any exams you take, such as the GRE or LSAT.
Good grades and test scores won't guarantee you a spot at Harvard Law School, but they're a good start.
Harvard Law's application process gives applicants a lot of opportunities to let their achievements, personalities, and aspirations come through.
Take some time to craft a strong personal statement. Really emphasize why you want to study law and the unique things that you'll contribute to the HLS community.
Also, make sure that you ask people to write your letters of recommendation who will do so carefully. A letter from someone who knows you well and can call out your specific strengths will have a much stronger impact than a generic one, even if it's positive.
If you make it to the interview portion of the process, make sure you prepare for your interview.
The interviewer is more concerned about learning about you and how you can contribute to the school and less about you having a perfect technical experience or the ideal interview set up for a Zoom call.
Let your personality, enthusiasm, and reasons for applying to Harvard Law School come through during the interview, and it can help increase your chances of being accepted.
Courses that Can Help You Get into Harvard Law School
What do you need to get into Harvard Law other than the general requirements? One of the important tips is that HLS looks for students with a diverse range of backgrounds and fields of study. Though not a deal-breaker, having undergraduate studies in a broad range of disciplines, such as science, economics, mathematics, philosophy, history, instead of just those focused on a vocational track, can help your application stand out.
Conclusion: How to Get into Harvard Law
Harvard Law is a prestigious and selective law school that can serve as a valuable springboard into a career in law.
If you're looking to get into one of its programs, put in the time and effort to submit a great application that showcases your strengths. You might be lucky enough to get an acceptance letter.
Want more information about graduate schools like Harvard Law School? Check out The GradCafe to learn more about grad school admissions.
Frequently asked questions
Is Harvard Law difficult to get into?
If you want to know how to get into Harvard Law School easily, it's important to realise that there are no shortcuts and there's no substitute for hard work. Just like Harvard Medical School, it is difficult to get into Harvard Law School: with an acceptance rate of just 10%, you'll need a stand-out application, including an excellent GPA and LSAT scores. Having said that, planning early and working systematically to fulfill HLS' application requirements will give you a good chance of your application being accepted.
What GPA do you need for Harvard Law?
With tough competition for a large number of strong applicants every year, Harvard Law School GPA requirements are pretty high. For the class of 2025, the median 50% of admitted students had GPAs between 3.79 and 3.96 out of 4.0.
What is the #1 law school in America?
Different organizations rank law schools based on distinct criteria. Currently, some lists rank Yale University Law school in the first position. However, sites like College Gazette ranks Harvard Law School as the best law school in the country. It depends on the exact criteria used, but HLS consistently ranks very high on such lists and is widely regarded as one of the best in America.
Should you visit Harvard Law School to increase your chances of admission?
If you want to get into Harvard Law, it's important to work hard to prepare a very strong application. Though it's not mandatory, visiting the HLS campus, attending the information and Q&A sessions, and participating in a guided tour of the campus can be very valuable. You'll be more informed and familiar with the campus, which will make you more confident as part of the application process. It will also demonstrate your interest in HLS which may strengthen your application.