The Graduate Records Examination (GRE) is a standardized test that many graduate schools in the United States use to assess applicants. The test aims to measure the verbal reasoning, critical thinking, analytical writing, and quantitative reasoning of test-takers.
Taking the GRE is an essential step for anyone who wants to pursue education after getting a bachelor's degree.
Getting a good score can help you get into a good school, so preparing for the exam is essential. Knowing what is on the exam and how long the exam will take can give you a leg up over other students taking the test.
This article will tell you everything you need to know about how long the GRE is and how to prepare to take the test within the allotted time.
The short answer to "How long is the GRE?"
The GRE lasts for a total of about three hours and 45 minutes. It's divided into six sections. There are two written sections and four sections that cover verbal and quantitative reasoning.
Each written and verbal reasoning section lasts for 30 minutes, while the quantitative reasoning sections last for 35 minutes.
The test will also include a 10-minute break and a 30 or 35-minute unscored experimental section — we'll give you more details on this in the next section, if you're unfamiliar with it.
How long it takes you to complete each section will depend on many factors, including your preparation. While you can't move ahead during the exam, taking less than the allotted time on each section gives you an opportunity to check your work, which is an advantage.
If you run out of time, you'll end up with unanswered questions, lowering your score. So it's important to budget your time wisely.
To get a better idea of how long the GRE will take, let's look at the individual sections.
What are the sections of the GRE?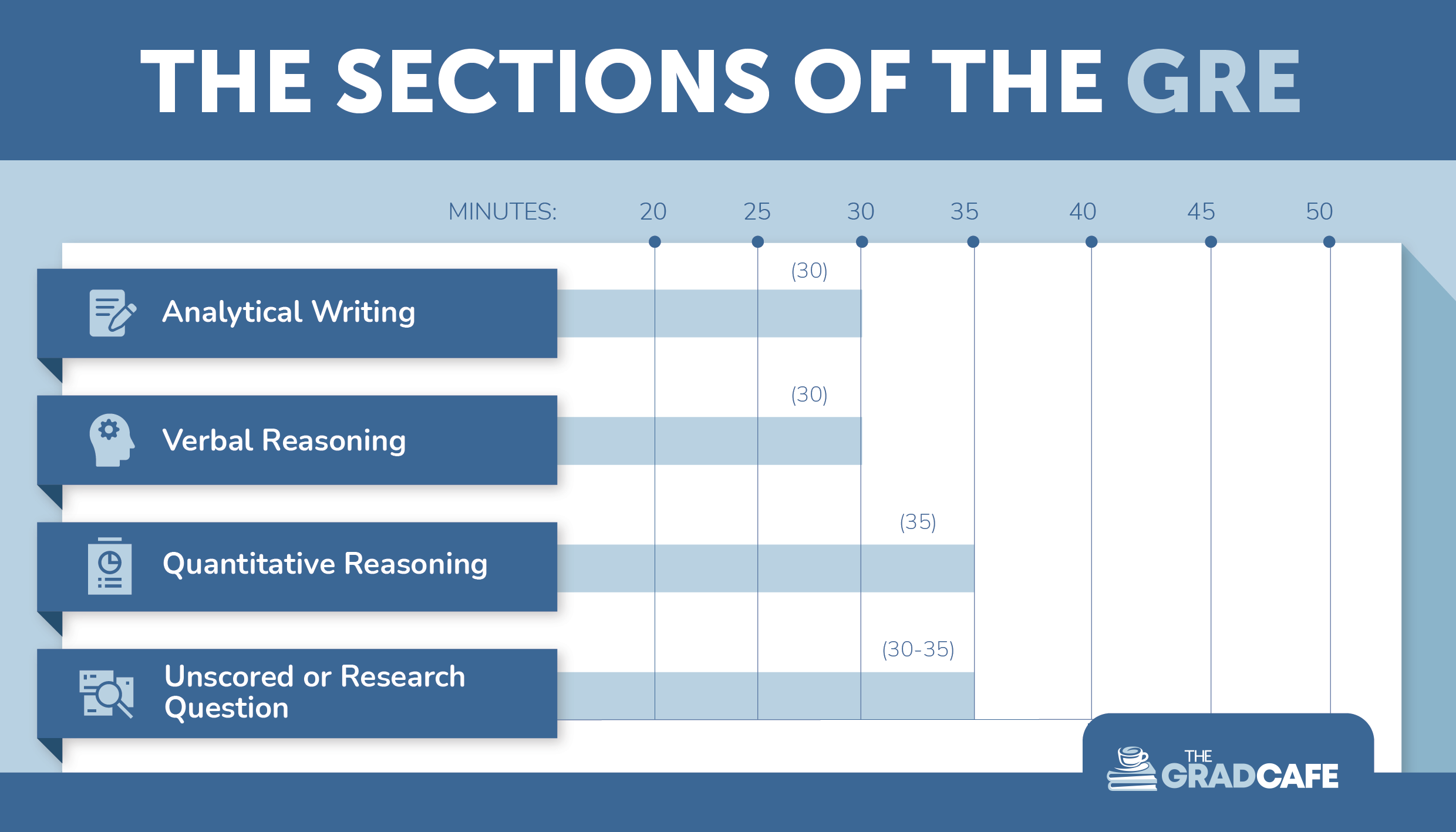 The GRE is divided into four sections:
Analytical writing
Verbal reasoning
Quantitative reasoning
An unscored section
Analytical Writing
The analytical writing portion includes two written essays based on prompts provided in the exam. You may be asked to analyze an issue or argument.
If you are asked to analyze an issue, you'll read a statement or claim about a general topic. You'll then have to write a response about whether you agree with the statement or claim and to what extent.
You'll have to explain your reasoning and provide examples or evidence that supports your position.
An example analytical writing prompt that Educational Testing Services provides is: "a nation should require all of its students to study the same national curriculum until they enter college."
The goal of this portion of the exam is to determine:
How clearly and effectively you can articulate your ideas
How well you can support your positions with evidence
Your control of the English language
Your ability to sustain focused, coherent writing
Each of these written sections of the exam lasts for 30 minutes.
Verbal Reasoning
The verbal reasoning portions of the GRE include three types of questions:
Reading comprehension
Text completion
Sentence equivalence
Reading comprehension questions ask you to read a passage and answer three types of questions based on it.
Question types include:
Multiple-choice questions with one correct answer
Multiple-choice questions with more than one correct answer
Questions that ask you to select the sentence within a passage that fits a description
Text completion questions give you a passage with blank spaces. You then have to fill those blanks in using words from a given list.
Sentence equivalence questions provide a single sentence with a single blank space. You have to choose two words from a list to fill in that blank. The words you choose should cause the sentence to make sense and to mean the same thing regardless of which word you place in the blank.
These questions look to measure your ability:
To analyze and draw conclusions from text, discussions, and incomplete data
To infer the viewpoints or biases of an author
To separate important and minor points in text
Each of the two verbal reasoning sections lasts for 30 minutes.
Quantitative Reasoning
The quantitative reasoning portion of the GRE contains four types of questions:
Comparison questions
Multiple-choice with one correct answer
Multiple-choice with more than one correct answer
Numeric entry questions
Comparison questions will ask you to compare two quantities and determine which is larger or if they're the same size. These quantities can be based on algebraic equations and geometry.
For example, you might be asked to decide whether (x2 +1) or (2x – 1) is larger.
Both forms of multiple-choice will have you answer questions based on algebra, geometry, or word problems that involve math.
Numeric entry problems are math problems where you must determine the answer and enter it manually. There is no list of options that you may choose from.
There may also be multiple-choice or numeric entry questions that are based on data provided in table or chart form.
Each of the two quantitative reasoning question sections lasts for 35 minutes.
Unscored Section
The GRE includes an unscored, experimental section that can take the form of an additional verbal or quantitative reasoning section on the test. That means you may have three verbal reasoning sections or three quantitative reasoning sections in your exam.
The experimental section is not scored, but your test will not indicate which section is unscored when you're taking the exam. You must take every portion of the test seriously because you will not know whether any given section is scored or not.
The GRE uses these unscored sections to test the difficulty of questions that it will include in the scored sections of future exams.
If the unscored section of your exam is verbal, it will last 30 minutes. If it is a quantitative section, it will last 35 minutes.
To learn more about what's included in the GRE, check out our comprehensive article.
How long are the GRE subject tests?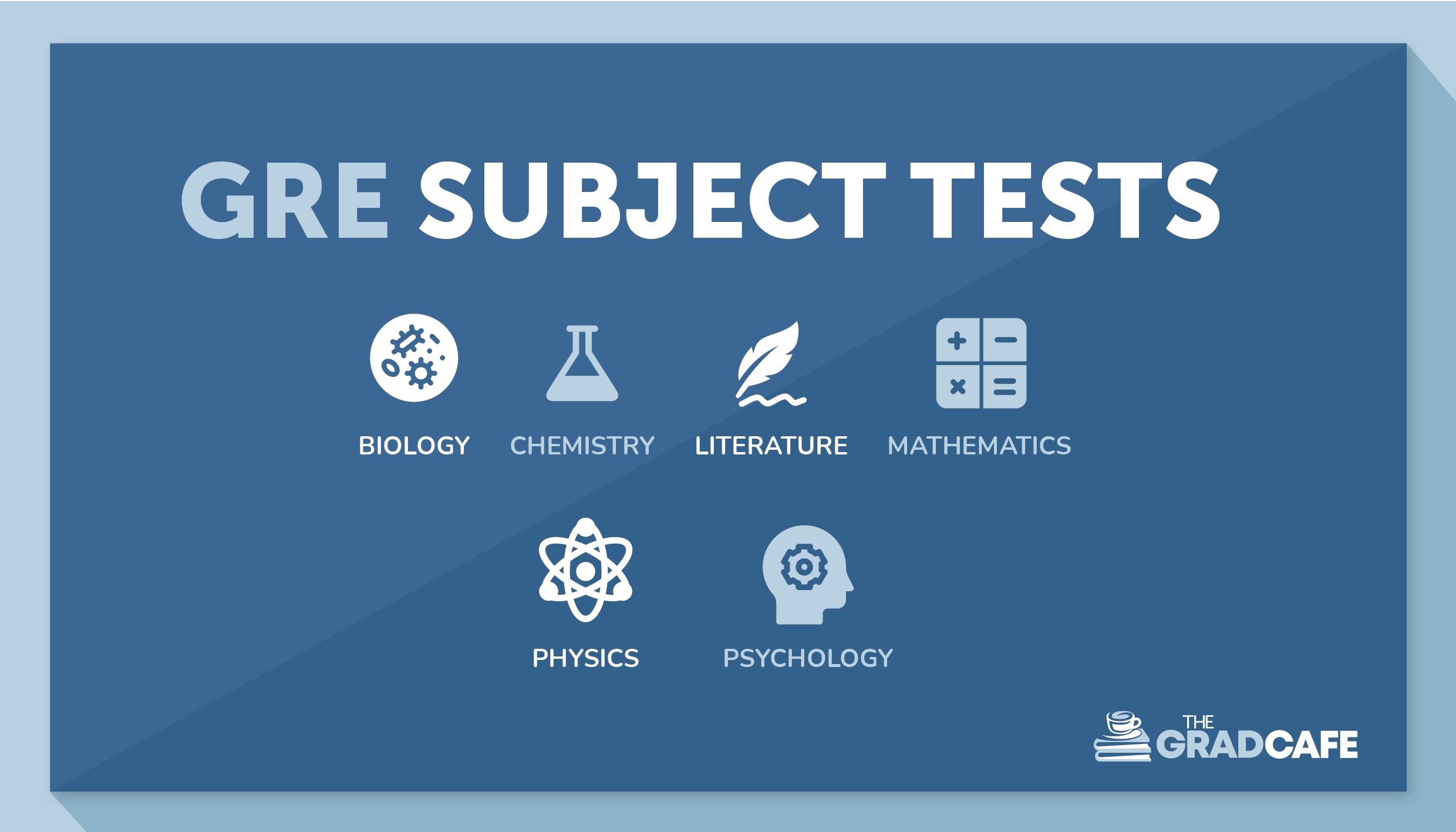 A GRE subject test lets students showcase their knowledge in specific areas, such as biology, chemistry, literature, math, physics, and psychology.
These exams are primarily composed of multiple-choice questions, though the number of questions that appear will depend on the subject. For example, the biology exam includes roughly 188 questions, while the math test has about 66.
Like the general test, each of the GRE subject tests is broken into multiple sections. For example, the biology test is composed of three sections: cellular and molecular biology, organismal biology, and ecology and evolution.
ETS (Educational Testing Service) publishes the exact breakdown of each test on its website, which gives test-takers some opportunity to prepare.
Regardless of the subject test that you're taking, the exam will last for two hours and 50 minutes.
How long does it take to score the GRE?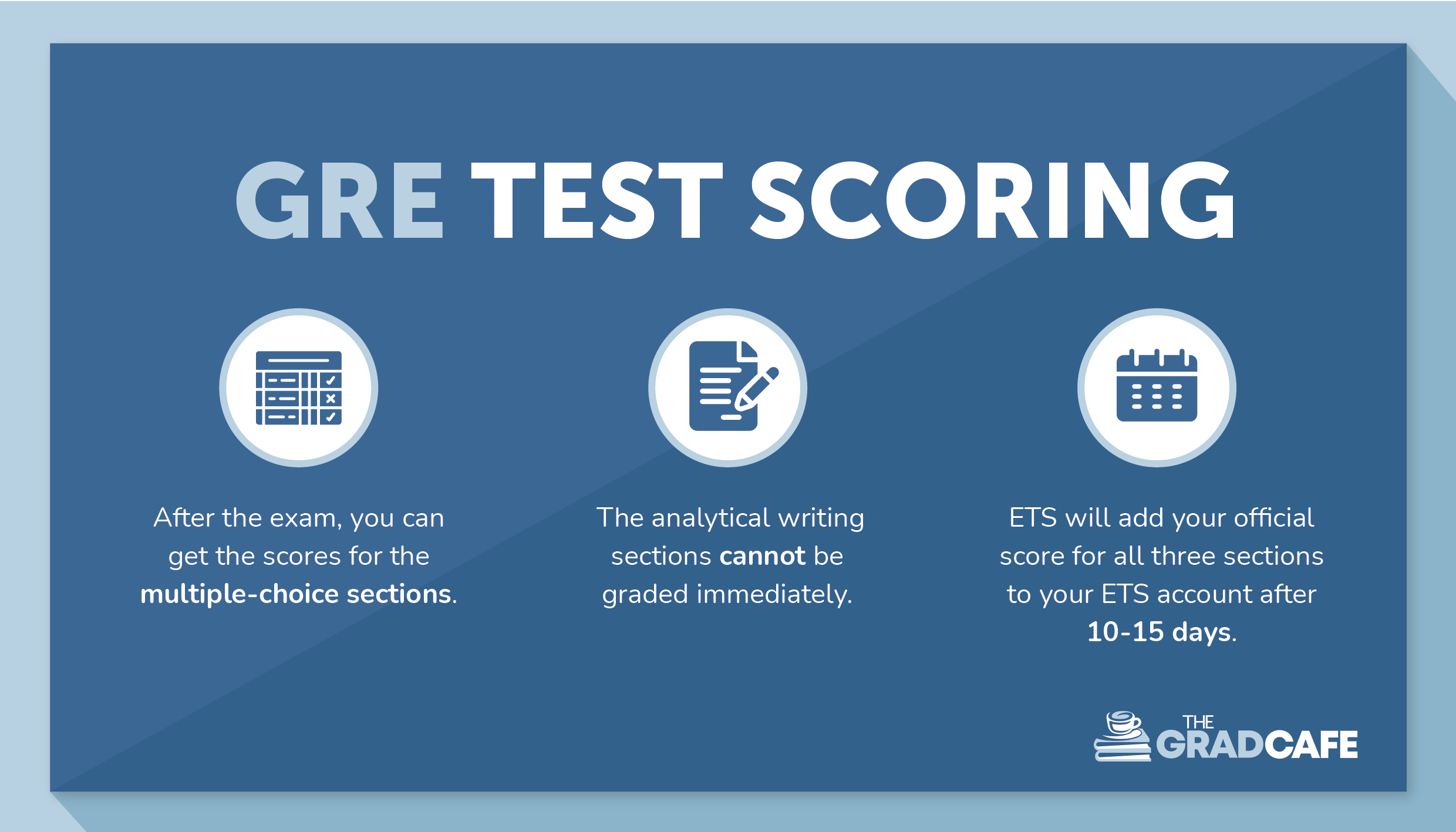 Once you've finished taking the GRE, you'll probably be anxious to get your test score.
One of the great things about the GRE is that you can get your scores for the multiple-choice sections of the exam almost immediately at the test center. The scores you see right away are unofficial because the exam may be curved based on other test-takers' performance.
The written portion of the exam cannot be graded automatically, so you can't view your score for the analytical writing sections immediately.
About 10 to 15 days after you finish taking the GRE, ETS will add your official score for all three sections to your ETS account. This will let you view your results and print official copies of your score report.
Once you receive your official scores, you can send them to the graduate program or programs that you're applying to.
How to prepare for the GRE and take less time on test day
Each section of the GRE is timed, meaning you have to work fairly quickly while you're taking the test. You can't move forward or backward during it, so once a section is over, you can't change your answers.
The faster you can finish each section of the exam, the more time you'll have to go back and check your work. If you run out of time before finishing a section, you'll have to leave the remaining questions blank.
That means that preparing for the GRE is essential, as it will help you get more answers correct and move through each section of the exam more quickly.
One of the best GRE prep strategies is to take practice tests.
Taking practice tests will let you test your knowledge and familiarize you with the format of the exam. The more familiar you are with how the test looks and feels, the easier it will be to take the real test on exam day.
You can get free GRE preparation materials, including practice questions, from ETS, the company that offers the GRE. There are also preparation materials and practice tests available for purchase. Many experts recommend starting test prep two or three months ahead of test day.
Conclusion
If you want to pursue an education beyond a bachelor's degree, the GRE is one of the first steps on that path.
Taking the test can be stressful, but with some knowledge of how the test works and how long it takes, you can prepare for the exam and give yourself the best chance of earning a good GRE score.
Taking the GRE is just one step on the road toward getting a graduate degree. If you need help with financing further education, check out our guide on how to pay for graduate school.