There are loads of things you can do to build your resume and get into a great college. But, that journey is usually going to start with a comprehensive entrance exam.
Every year, millions of students take standardized tests like the ACT or SAT — and like it or not, the score you get on those tests will dictate which colleges you can or cannot get into.
That's a lot of pressure.
But fortunately, there are several immersive test prep providers out there that can help students boost their scores. One of the market leaders is Method Test Prep.
This guide will explain what Method Test Prep (MTP) is, how much it costs, alternatives to Method Test Prep, and how to know if Method Test Prep is right for you.
What is Method Test Prep?
Method Test Prep (MTP) is a New York-based education solutions provider that offers a range of products and services to school districts and individual families.
Founded in 1999, Method Test Prep's solutions focus almost exclusively on self-paced SAT and ACT prep options — and MTP offers both in-person and online services.
These services range from online practice-tests for individual students to one-on-one tutoring, in-person classes at Method Test Prep's Long Island Center, and a self-paced online study platform.
MTP also works with over 1,000 schools across the US and abroad to provide bespoke test prep services that can be integrated as bite-sized lessons into normal classroom curriculums.
In terms of why a student might choose Method Test Prep, the provider says that students can expect to raise their SAT score by 150 points or raise their ACT score by 3 points by engaging with one of MTP's study programs or products.
Higher test scores not only make it easier to get into the college of your choice, but they could also have a serious impact on the amount of scholarship funding you're eligible for.
What does Method Test Prep offer?
One of the main reasons that so many schools and students use Method Test Prep is because it offers such a wide range of testing solutions and products.
Students can choose between tutoring, classes, self-paced practice tests, and more. Better yet, in most cases, students can choose to kickstart a Method Test Prep program either online or in-person.
Because MTP has so many different test preparation and study solutions available, we'll quickly walk you through the options.
Tutoring
One of Method Test Prep's top services is tutoring. Students can choose from either one-on-one tutoring or small-group tutoring — and the tutors provide each student or group with custom lessons and strategies that are designed around their own specific learning style.
Method Test Prep's tutoring services can be delivered both online or in-person — and again, the focus here is on SAT and ACT prep. That being said, MTP also offers a range of subject-specific tutoring sessions designed to supplement in-school instruction.
Tutors can help students prepare for regular class tests or finals, midterms, Advanced Placement (AP) or International Baccalaureate (IB) exams, Regents, and more.
Method Test Prep's tutoring services are split into a two-tiered system.
Those are:
Elite Tutors
Premier Tutors
The Premier tutors are MTP's top-level professionals. According to MTP, they've each done thousands of hours' worth of tutoring with hundreds of students. As a result, you've got to pay extra for this experience level.
Classes
Method Test Prep offers several courses, ranging from hyper-focused exam timing sessions to an Advantage Class composed of either 12 or 18 hours of live instruction. Just like its tutoring programs, Method Test Prep delivers both online and in-person classes.
Method Test Prep's in-person courses are ideal for students who benefit from a traditional classroom setting. Both ACT and SAT prep courses are available in-person at MTP's testing center in Mineola, New York.
These classes include a combination of teacher instruction with guided practice and simulated exams. Each course is meant to help students build critical reading, grammar, and math skills to improve test scores.
Even if you choose to go for in-person classes, you'll still be granted access to Methodize. Methodize is Method Test Prep's bespoke ACT & SAT prep software.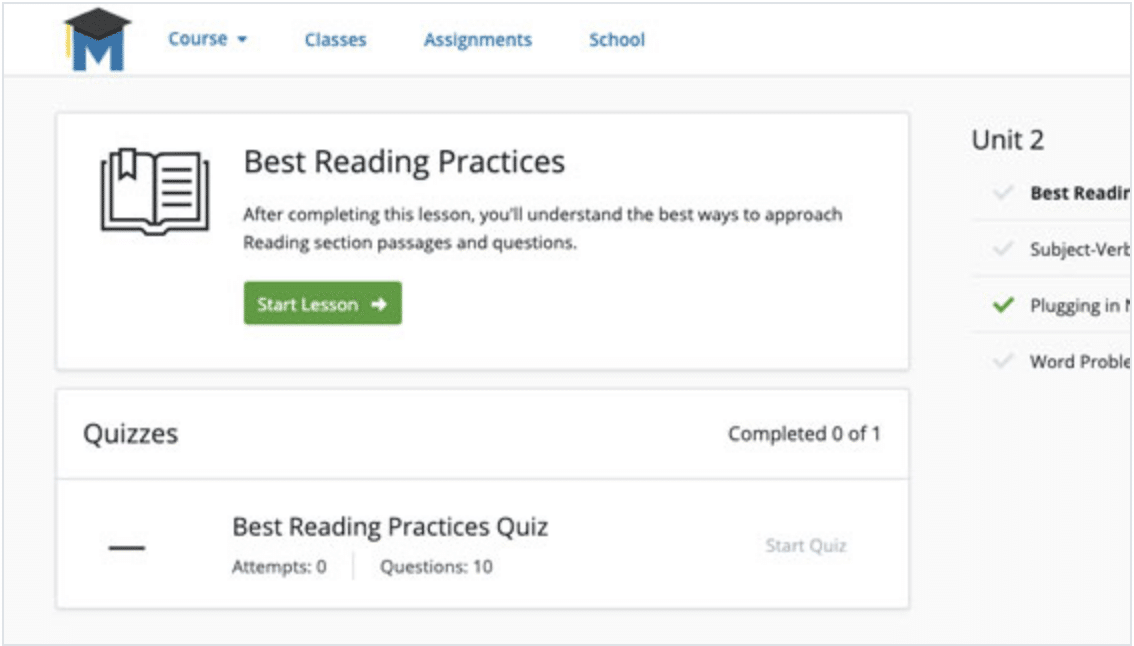 Online classes by Method Test Prep vary pretty dramatically in terms of subject matter and structure. You can choose anything from online classes designed to help you prepare for timed tests, AP tests, or even a foundational course in creative writing.
Method Test Prep's top-tiered online class is called an Advantage Class. This gives you a choice of either 12 or 18 hours of live ACT or SAT instruction, covering both content and strategies for all the respective exam sections.
Although each class is live, you can access recordings, so you never have to worry about schedule conflicts.
Self-Paced Practice Tests
You may find you've got a pretty good grip on your fundamentals — but you just need some practice. That's why Method Test Prep offers both online and in-person practice tests for you to take at your own pace.
These online tests are delivered via MTP's Methodize platform. Methodize includes a total of 25 hours' worth of prep for both the ACT and SAT — which you can then spread out over as long or as short a time as you'd like.
Method Test Prep offers access to Methodize for the duration of a student's high school career for a one-off fee. That means they can continue to go back and work through its lessons and practice tests until they graduate.
Methodize also includes loads of other content and videos students often find helpful in addition to a handy Vocab Builder and on-demand quiz section. Topics MTP covers include things like "The five biggest mistakes students make on the SAT and ACT."
You can also take in-person tests with Method Test Prep at its center in Mineola, New York. These tests are a bit more full-on and let you take full-length SAT or ACT exams under stringent, test-like conditions to help you prepare for the real thing.
How much does Method Test Prep cost?
One of the top reasons that parents, teachers, and students go for Method Test Prep is that it offers different solutions for different budgets. Method Test Prep's cost varies pretty dramatically based on the service you require and your exact educational needs.
To help you get an idea, we'll walk you through all of Method Test Prep's current program costs.
Tutoring
Method Test Prep has a two-tier tutoring system. The cheaper tier is called "Elite Tutors," and the more expensive tier is called "Premier Tutors."
Professionals in MTP's Elite Tutors category range from $60-$90 per hour. This exact price goes up or down based on the tutor and their experience level.
Tutors from Method Test Prep's Premier Tutors category range from $120-$240 per hour. MTP's Premier Tutors are the most experienced and longest-serving. A lot of these professionals have multiple degrees, and several come from the Ivy League.
Online Classes
Just like Method Test Prep's tutors, the cost of its online courses varies based on what it is you're looking for.
Method Test Prep currently offers eight online classes:
Test Prep Time: $15 per session
Practice Test: $25 per test
Power Classes: $100-$300
On Demand: $35-$180
Creative Writing Course: $180
AP Classes: $99
Advantage Classes: $325-$499
Advantage Plus Tutoring: $1,099
For reference, the cost of MTP's Advantage Classes depends on whether you'd like a 12-hour course or an 18-hour course. The 12-hour-course currently costs $325, while the 18-hour-class costs $499.
Similarly, the price of MTP's Power Classes changes based on how much instruction you need. If you want to do a course on one SAT or ACT subject, the cost is $100 per subject. If you want instruction on every single subject within the tests, the cost is $300.
In-Person Classes
If you struggle with online learning and perform better in-person, Method Test Prep offers in-person classes at their test centers in New York.
Most of these courses are designed specifically to get students ready for the SAT or ACT. Classes generally meet twice per week over six weeks.
Self-Paced Test Prep
Method Test Prep offers self-paced test prep in the form of its virtual learning platform, Methodize.
The cost of Methodize is $249. This price includes unlimited use of Methodize for both ACT and SAT prep until you graduate from high school.
Practice Tests
If you'd like to sit for a one-off practice test with Method Test Prep, you can choose either an online practice test or an in-person practice test.
An online practice test costs $25 per exam.
An in-person practice test with MTP costs $65 per exam.
If you're booking an in-person test, be warned that you must provide 24 hours' notice if you need to reschedule. If you fail to show up for a practice test without giving MTP at least a day's notice, you won't get a refund.
Test Prep Time
Test Prep Time is an intensive 30-minute-class designed to help you master certain areas or strategies for the ACT or SAT.
Test Prep Time classes cost $15 per half-hour class. Alternatively, you can take out a monthly pass that gives you unlimited access to all Test Prep Classes for a month.
What are the alternatives to Method Test Prep?
Method Test Prep is an incredibly popular education solutions provider for those students in need of SAT and ACT help. But the truth is: Method Test Prep is not the only exam prep company out there.
Quite a few providers are specializing in ACT and SAT online prep that could be worth checking out. But to help you wade through the sea of competition, we'll quickly break down three of the top Method Test Prep alternatives.
MasteryPrep
MasteryPrep offers practice tests, online teaching, and in-person prep classes designed to help you get ready for the ACT, SAT, Aspire, WorkKeys, TSIA2, and PSAT.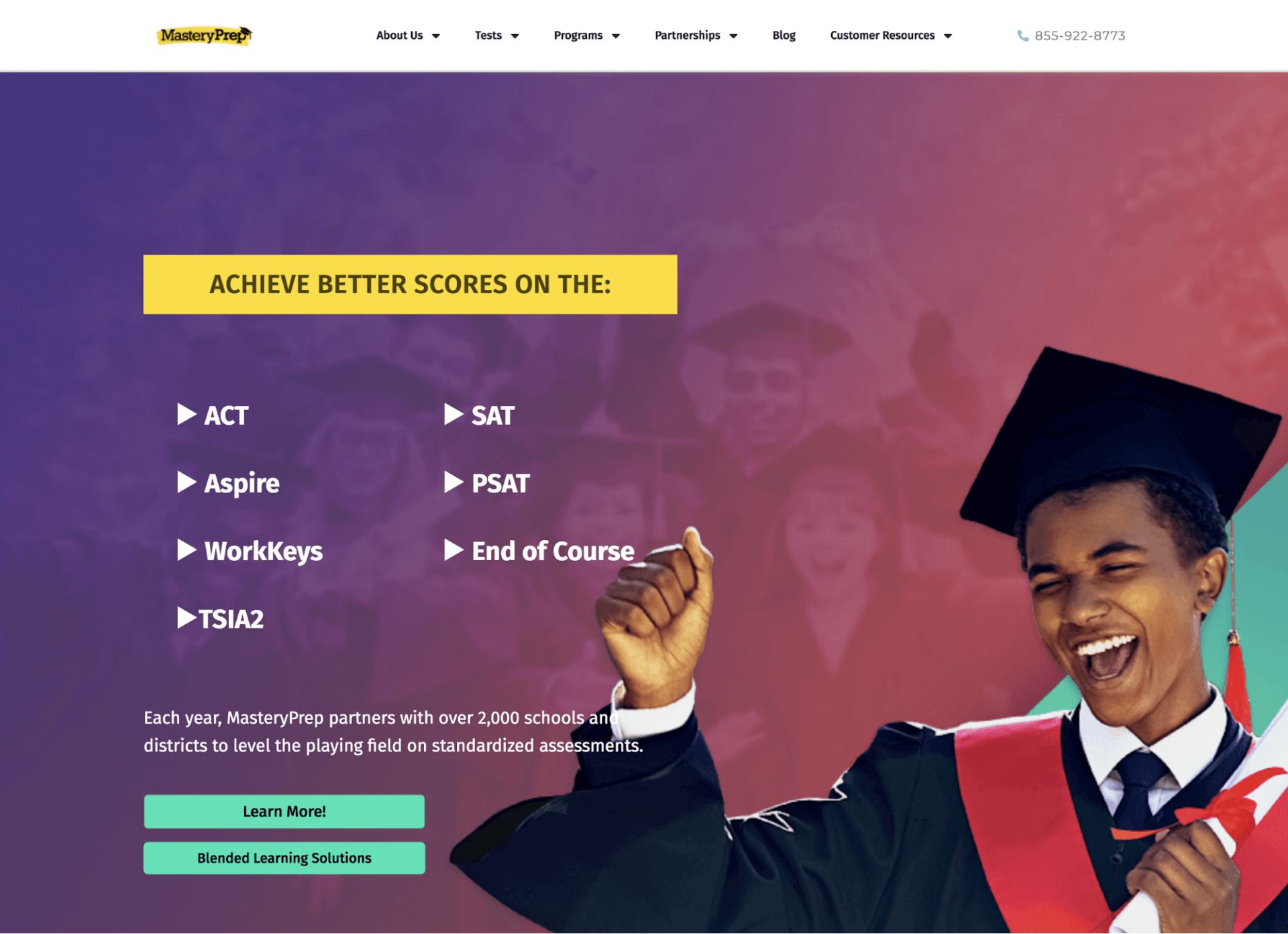 According to MasteryPrep, the business has worked with more than 2,000 schools and districts to boost the test outcomes of over 200,000 students.
One of MasteryPrep's top pulls is its range of "Boot Camp" courses. These Boot Camps consist of six hours of intensive, in-person workshops led by experts.
Each Boot Camp covers all aspects of the test you're prepping for. In terms of success rates, MasteryPrep reports that Boot Camps have been known to raise a student's composite score by over 1-point.
Magoosh
Magoosh is another popular online test prep company. It specializes in getting students ready for the GRE, GMAT, ACT, SAT, LSAT, MCAT, TOEFL, IELTS, and Praxis.
Magoosh's online test prep platform enables you to take full-length practice tests with estimated score predictions.
But what really makes it stand out is its video and text explanations for each practice question — as well as statistical performance feedback by question type. This is incredibly handy if you need help identifying the areas you need to work on.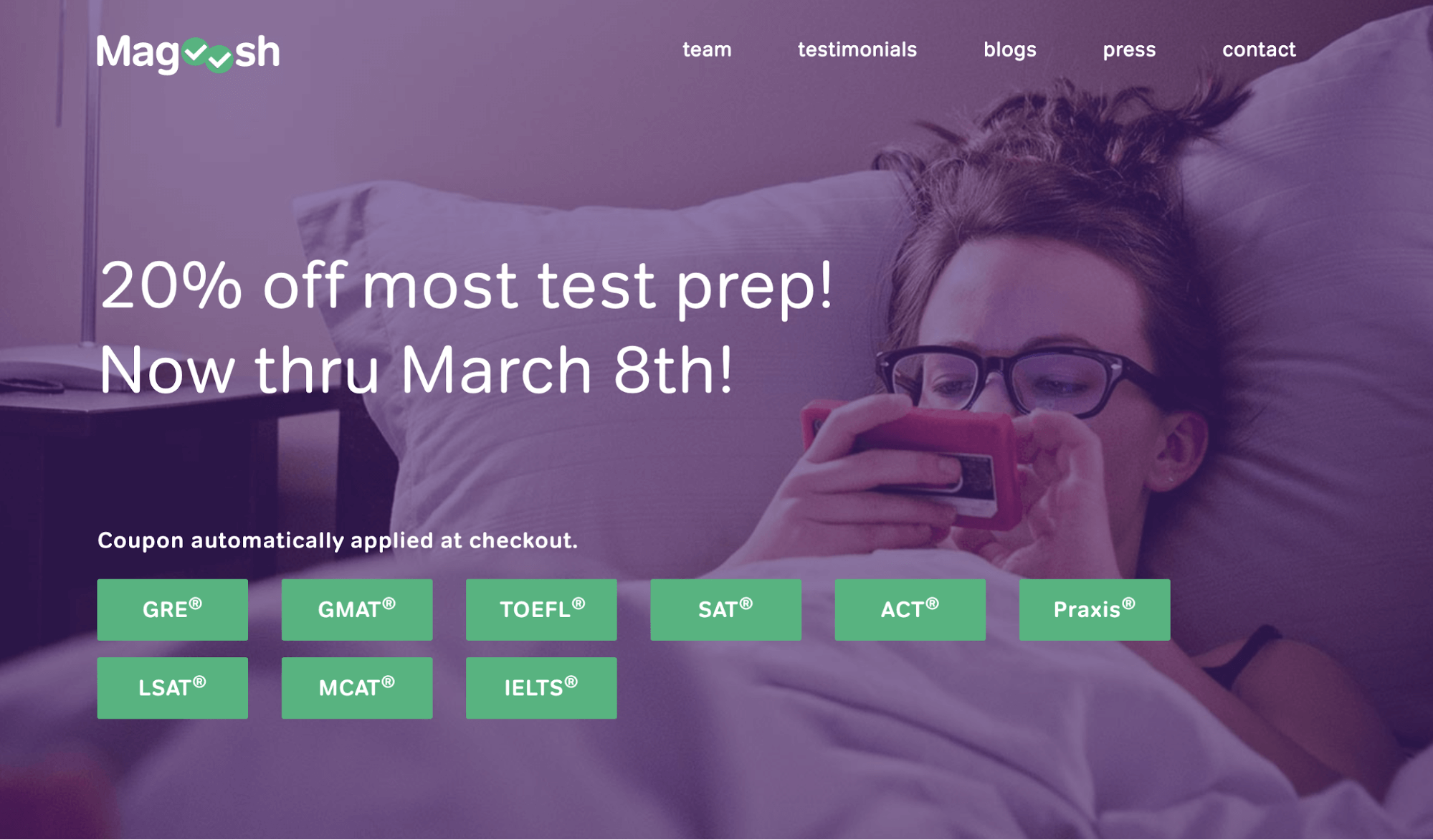 According to Magoosh, the platform offers a guaranteed score improvement for students retaking their exams of up to four points for the ACT or your money back.
Testive
Testive is another Method Test Prep alternative that focuses on helping students get ready for the ACT or SAT.
Testive offers different tiered plans depending on the kind of support you need. You can choose from self-paced Coaching, Coaching Plus, or an intensive four-to-six-week Bootcamp that includes two weekly one-to-one video chat sessions with a dedicated coach.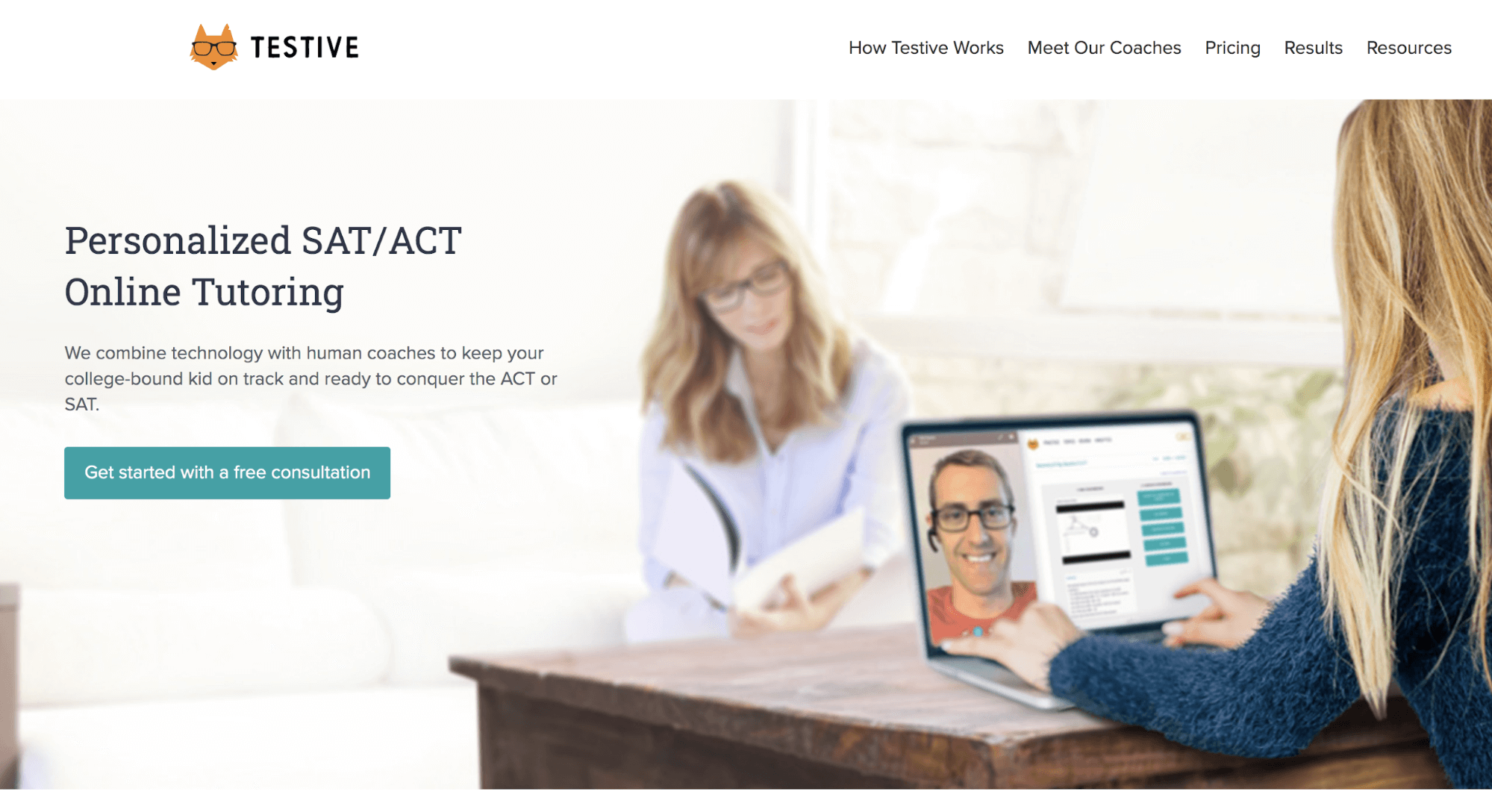 The average Testive Coaching program lasts for four months, but your options range from two-to-five months.
Is Method Test Prep right for me?
No two students are alike. Each individual has different needs and different areas for improvement. That's why it's important to shop around and think carefully before you choose a test solutions provider to help you get ready for a big exam.
It can't be denied that Method Test Prep is a competitive solutions provider. It offers a wide range of solutions, and it caters to a wide range of budgets. Prices start from just $15. You can scale your services and costs based on your needs and what it is you're trying to prepare for.
It's got a pretty good success rate, but don't forget that there are alternatives worth exploring. Competitors include MasteryPrep, Magoosh, and Testive. Some of these platforms might cater better to your style, needs, or budget.
Just remember to look at all of your options and ask plenty of questions before you start hitting the books.
Want to find out more about test prep options? Check out TheGradCafe.