Table of Contents
The University of Oxford is one of the most prestigious schools in the world, making the admissions process highly selective for aspiring students. People from all around the globe prepare from a young age with hopes of getting admitted into the university.
With so many students to compete against, your application has little room for error. This article will provide you with everything you need to know about the University of Oxford and its admission process, from GPA and letters of recommendation to the interview. 
Before we dive into how to get into Oxford, let's take a look at Oxford's history. We'll tell you about the accolades associated with the school and why it's in such high demand for students.
About the University of Oxford
Located in Oxford, England, the University of Oxford is one of the world's leading universities. Oxford is known as a premier research institution that produces top-tier graduates and scholars from around the world.
The school was founded in 1096, making it one of the oldest universities operating today.
The university's rich history makes it a legendary and iconic destination for some of the most skilled students and faculty in academia. In addition, the university's alumni base is vast due to its established history as a renowned institution.
Oxford is made up of 39 different colleges and six permanent private halls that function as independent components of the school, controlling their own admission processes, guidelines, and programs.
Instruction styles include lectures, hands-on learning experiences, labs, and more.
To understand more about the University of Oxford, take a look at some of the institution's core data points:
2022: 23,819
2021:

24,338

2020:

23,414

2019:

23,026

2018:

21,516

2017:

19,953
Diversity of applicants in 2021 (based on out-of-country applicants)
UK students:

59.2%

EU students:

8.8%

Non-EU students:

32.1%
Average time of admission results released
Total number of degree programs offered
Total # of programs (i.e., – Economics, Psychology)

:

53

Total # of degree types (i.e., – PhD, Masters):

Four – bachelor's, master's, diplomas, doctorates
Average GPA accepted:

3.8

Average GRE accepted:

160+
The University of Oxford is very competitive. You'll need to have a plan to make your application complete and memorable so that you stand out from the pack.
Let's walk through key elements of the application process from start to finish.
What Is the Acceptance Rate for Oxford?
The University of Oxford's acceptance rate is around 15% – 17.5% for undergraduate programs and 30% for graduate students. 
In the UK system, you'll need a first-class undergraduate degree with honors to get into Oxford as a graduate student. But if you're a US student, what are the Oxford GPA requirements? The minimum University of Oxford GPA is around 3.7 out of 4.0. So, a 3.0 or lower GPA for Oxford won't cut it.
How Oxford University's acceptance rate compares to other top institutions:
| | | |
| --- | --- | --- |
| University | Location | Overall Acceptance Rate |
| Stanford University | California | 4% |
| Harvard University | Massachusetts | 5.4% |
| Princeton University | New Jersey | 6% |
| The University of Chicago | Illinois | 6% |
| Brown University | Rhode Island | 7% |
| Hyogo College of Medicine | Nishinomiya, Japan | 7.2% |
| Duke University | North Carolina | 8% |
| London School of Economics and Political Science | London, UK | 8.9% |
| RWTH Aachen University | Aachen, Germany | 10% |
| National Autonomous University of Mexico (UNAM) | Mexico City, Mexico | 10% |
Oxford's acceptance rate for international students is comparable to its general acceptance rate, which is reflected in its diverse student population. Around 45% of the university's student body and 65% of its graduate students are from outside the UK, with students coming from more than 160 countries.
Oxford University International Students by Country

USA

1,900

China

1,672

Germany

696

Canada

479

India

434

Hong Kong (SAR)

380

Australia

338

Singapore

329

Italy

291

France

247

Netherlands

165

Other countries outside the UK

5029

Total international students

11,960
Source: Oxford University Student Statistics, December 2021
Oxford's Undergraduate Application Requirements
If you're wrapping up high school and want to apply to Oxford, you've come to the right place.
But first, you need to be aware of the requirements for Oxford University and subsequent deadlines. One scheduling mistake can make or break your application.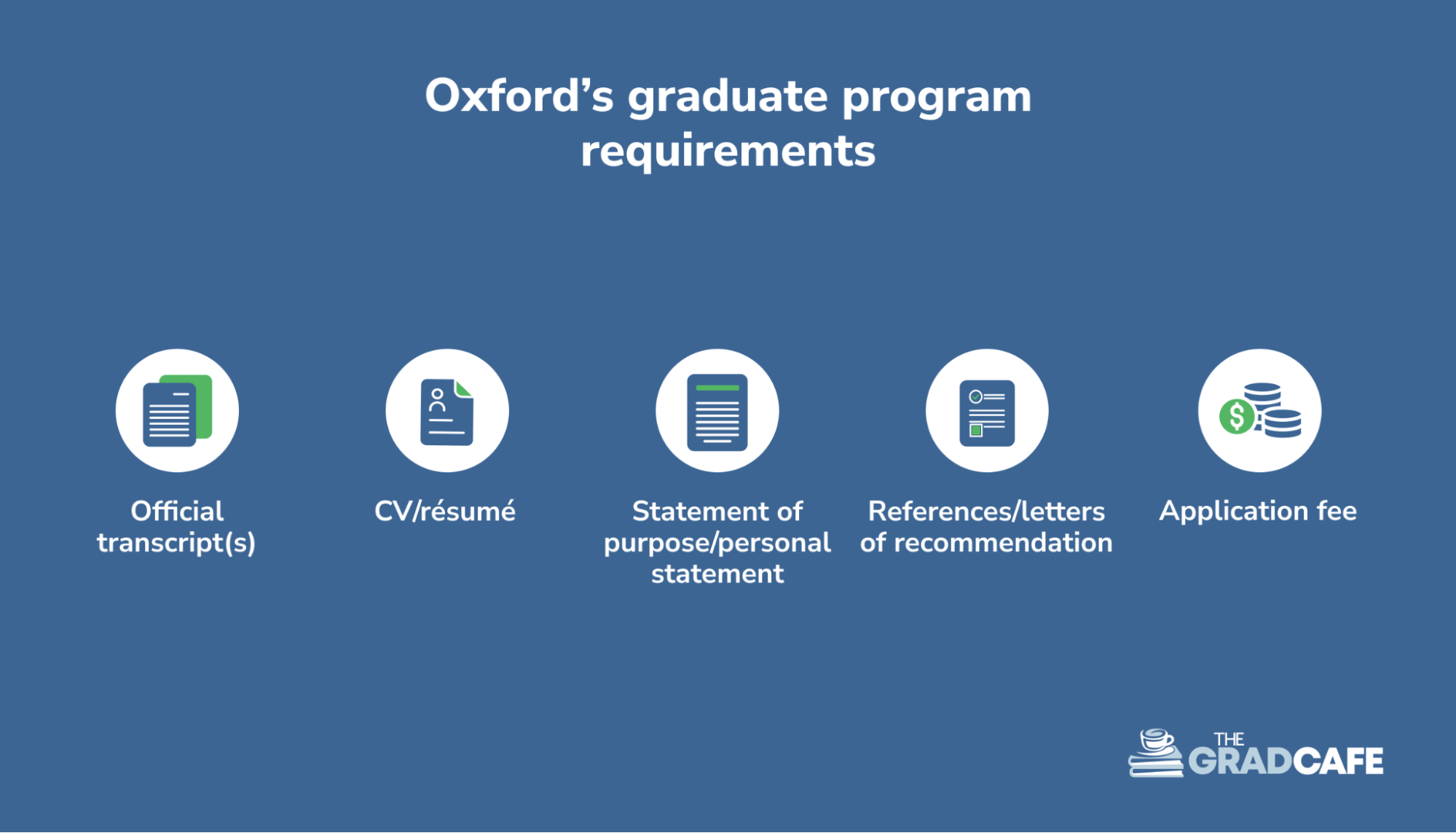 Oxford, like most universities, requires various supporting documents and credentials with the application, including: 
Strong grades
Applicants should have an "A" average in their International Baccalaureate, A-level, International Course Equivalents, or Scottish Higher classes.
Personal statement
This formal essay introduces you to the review board. Share information about yourself, your aspirations, and past successes.
As you write, maintain inspiration about what motivates you. You might even have a specific prompt or sample questions to answer in your personal statement.
Admissions test results
You will need to take an admissions test as a part of the application process. Each major receives a distinct test — just check Oxford's admission test webpage to find out more information. 
All applicants must register for the admissions test by September 30.
Written work
Written work demonstrates your analytical, logical, and writing skills. You might include sample essays and assignments from your high school education or any other personal written materials. 
Only certain courses require written work, so check to see what you should include when you begin the application process.
Starting Your Undergraduate Application Process
Let's face it: the application process is overwhelming. It's stressful trying to perfect everything in time for various deadlines.
But like everything in life, your Oxford application can be done one step at a time.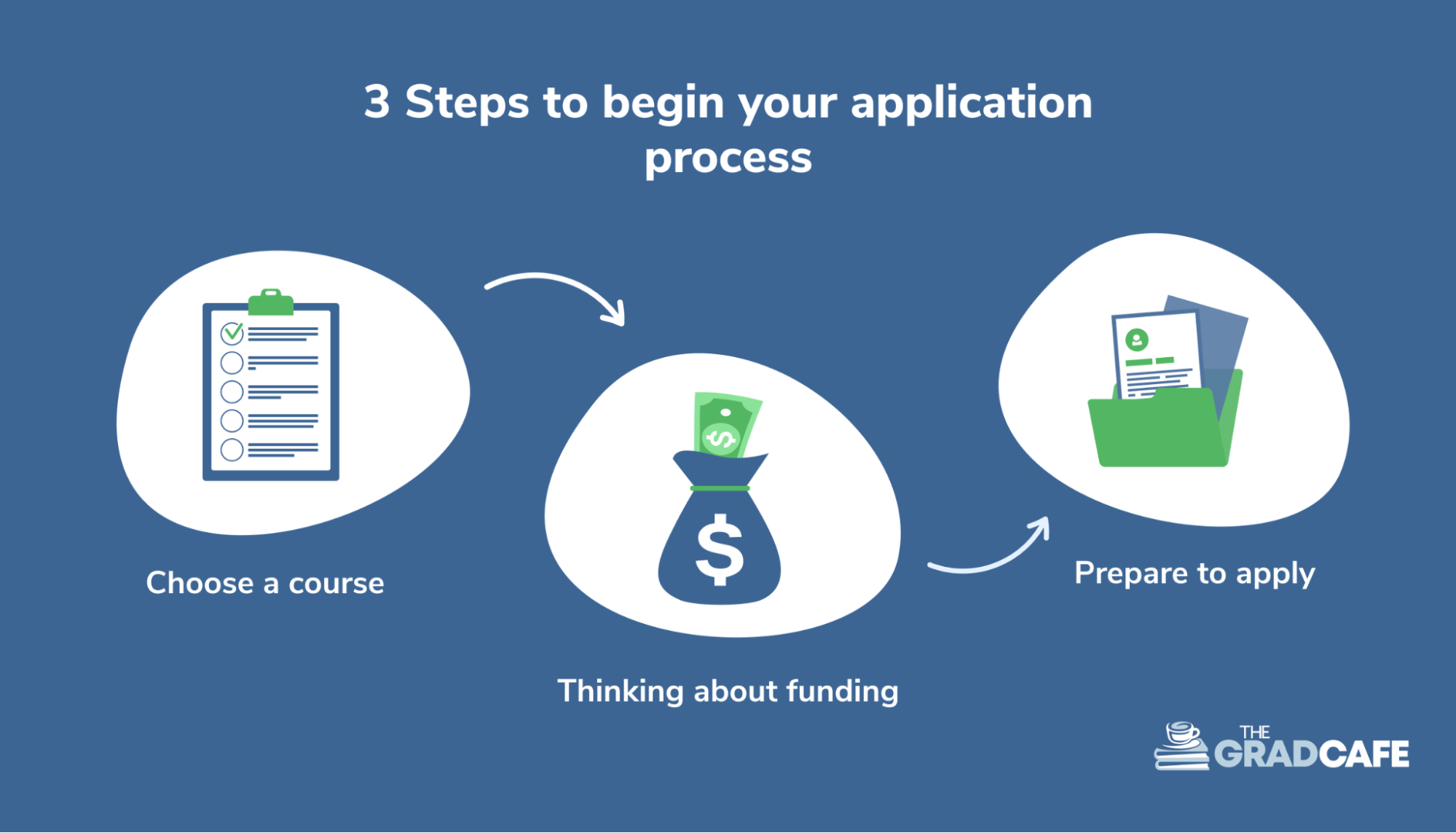 The University of Oxford recommends breaking down your application process into three broad steps:
Choose a course
Think about your aspirations after graduation and narrow courses down accordingly. If you're thinking about business, ensure you take prerequisite math courses in your first year. Each course has a different application process. 
You can also apply to more than one course, but you'll need more time to fill out an entirely different application.
Think about funding
Worried about saving enough for tuition? Oxford has funding sources and scholarships for you to consider. Plus, UK students can apply for government funding through loans or living cost subsidies. 
Prepare to apply 
Course? Check. Funding? Check. Now you're almost set to apply. Consult your chosen course's admission requirements and prepare your application accordingly. Now's the time to dot every I and cross every T. 
And before you submit? Get a peer, teacher, or mentor to review your submission documents. They'll likely have fresher eyes to catch a mistake. 
But have you already earned an undergraduate degree? Let's take a look at Oxford's graduate program and what you need for acceptance. 
Oxford's Graduate Application Process
Much like the undergraduate application process, Oxford's graduate process is extensive. Whether you're going to graduate school for an Oxford MBA or a different degree, your application must meet every requirement. 
If not?
Oxford will automatically reject incomplete applications. 
Requirements for your application vary by course, but most Oxford graduate applications require the following components:
Official transcript
Your previous institution can send official transcripts directly to Oxford. These transcripts demonstrate your success and grades for your undergraduate education. 
CV or resume
Your CV or resume showcases your professional endeavors, providing a glimpse at your work history, awards, and accolades.
This is your opportunity to not only show your skills but also how you used them to achieve success and drive value for businesses or organizations.
Personal statement
As stated above, your personal statement is a chance to share your story, motivations, and career objectives. Your graduate program application personal statement should be no longer than 1,000 words.
Letters of recommendation
Each applicant should provide three letters of recommendation from an academic. You might ask a former professor, dean, or faculty member for the letter. 
Application fee
Most programs require an application fee. 
Luckily, the fee will be phased out by the 2024-2025 school year to make the application process more accessible for all students. In previous years, the application fee was £75.
However, you might be wondering how to pick the right Oxford graduate course for you. Let's explore some ways to narrow it down.
Selecting Your Graduate Course
Oxford offers over 365 graduate courses from various disciplines to choose from.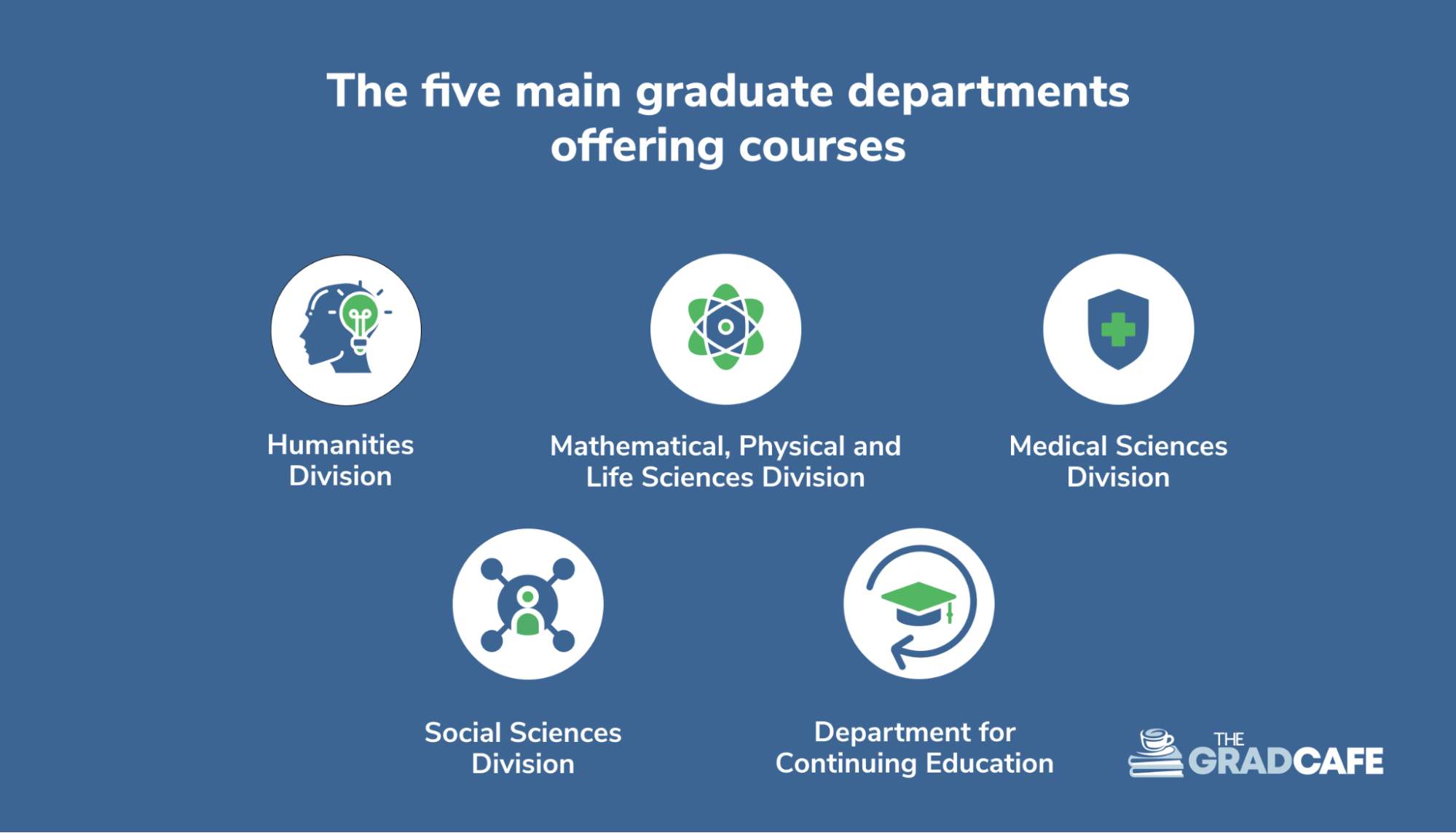 The courses fall under five distinct departments:
Humanities 

Mathematical, Physical, and Life Sciences 

Medical Sciences 

Social Sciences 

Continuing Education
The application process differs on a course-by-course basis. Review each individual course page to understand specific requirements. That way, you'll be prepared when the deadline approaches.
Additionally, Oxford graduate students will be assigned an academic supervisor to oversee their journey through the graduate program.
How Do Students Apply to Oxford as an American?
Here's a step-by-step guide on how to get into Oxford as an American:
Lay the groundwork.

With a highly competitive admissions process, preparation is key. You'll need to demonstrate a strong academic record as well as excellence in extracurricular activities.
Check the admissions requirements.

Review requirements well before the application deadline.
Gather your application materials.

You'll need to submit academic records, a personal statement, and letters of recommendation. Check specific course requirements to ensure you don't miss anything. 
Pull together your standardized test scores.

All US applicants must submit either SAT or ACT scores. The Oxford University SAT score minimum is a minimum of 1400. Likewise, Oxford looks for applicants with three or four AP exam scores of 5.
Submit the application form.

All UK universities use the centralized UCAS application system. Visit the UCAS

website

to fill out and submit the form.
Attend the interview.

This is the final step of the application process, and only certain applicants reach this stage. The students with the strongest applications are invited to attend an interview with Oxford staff, usually tutors of your chosen subject.
Tips For Getting into Oxford
There is no data on the specific Oxford acceptance rate for US students, but we can assume it's comparable to the overall admissions rate, which is highly competitive. Like other world-renowned educational institutions, Oxford's requirements are fairly tough.
Follow these helpful tips to stay organized and improve your chances for acceptance: 
Work hard to get the best grades and test scores.

Although academics aren't everything, Oxford certainly will look at your GPA and SAT/ACT scores.
Read widely.

Stay up-to-date on industry literature and news for your chosen course. This will help you channel knowledge and passion into your application. 
Don't overlook the importance of the UCAS application form.

Be clear and concise while highlighting your achievements and qualities. Proofread and double-check your application to catch any errors.
Write a winning personal statement.

Use your personal statement to convey your drive, goals, and passions for your chosen subject. Try to show your individual personality as much as possible, too. 
Ask the right people for letters of recommendation.

Choose people who attest to your academic history and personal qualities in letters of recommendation. 
Prepare thoroughly for the admissions tests.

Take admission test courses and chat with an academic advisor to prepare as much as possible. 
Let your personality shine through in the interview.

Your academic and extracurricular achievements have gotten you this far. Now, it's time to connect with the admissions committee on a personal level.
Understanding Oxford's Colleges
Oxford has 39 colleges and six permanent private halls, each with assigned faculty, specialized courses, and like-minded students.
These colleges make a large university feel smaller, providing tight-knit communities of learners and doers. This creates a culture and community for students to grow and develop together.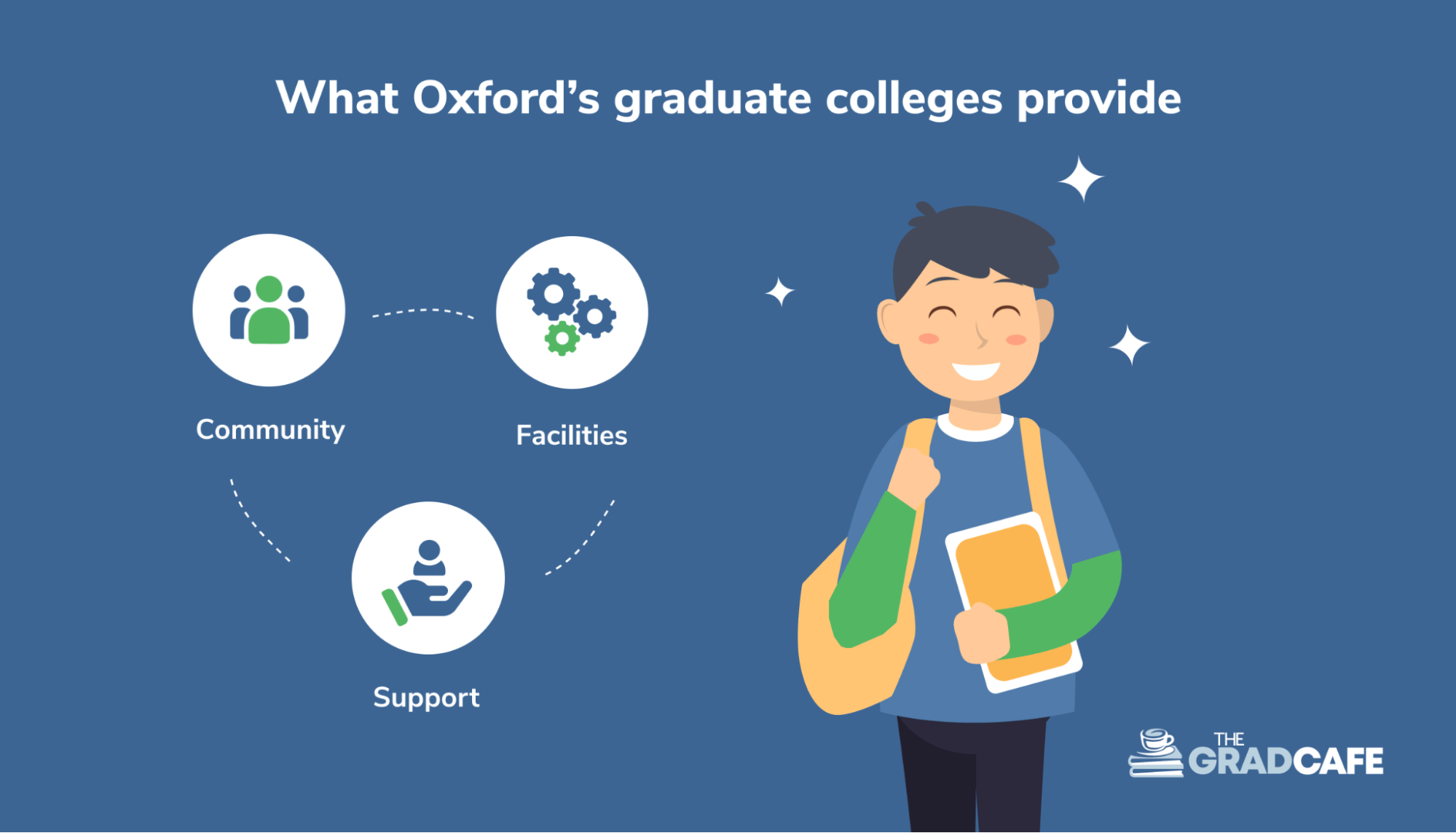 Oxford highlights its colleges as a way to provide students with three critical value points: community, facilities, and support. With a tight-knit community, the colleges foster valuable interactions between students and gather new perspectives.
The top-notch and varying facilities set Oxford colleges apart from one another. Oxford offers support to students through tutors, engaged faculty, financial aid, and other resources.
Let's take a look at four of Oxford's most noteworthy colleges: Kellogg, St. Catherine's, St. Anne's, and St. Hugh's.
Kellogg College
Kellogg College was founded in 1990 in an attempt "to make graduate study more open and accessible." Graduate students completed the first program through the new college during the graduation ceremonies in 1992.
Kellogg College is the largest graduate college at Oxford, with the most international students and areas of study.
Students at Kellogg College come from more than 90 countries, creating a memorable learning community with a variety of perspectives, backgrounds, and unique individual experiences.
St. Catherine's College
St. Catherine's College is one of the newest colleges at Oxford for both undergraduate and graduate students at the university. The college's mission is "the pursuit of academic excellence and the enhancement of creative thinking."
Despite being a "new" college, its history dates back to 1868, when it was originally founded as the "Delegacy for Unattached Students." The goal of this delegacy was to create a place that didn't exclude people based on the high costs of college admissions.
The college was officially founded in 1962, and it is now nicknamed "St. Catz."
St. Anne's College
St. Anne's College has over 800 students, making it one of the largest colleges at Oxford. This college encapsulates many disciplines, including the arts, humanities, social sciences, mathematics, physical, life, and medical sciences.
The college was founded in 1879 and has been distinguished as a comprehensive college at the University of Oxford since 1952.
St. Anne's emphasizes "forward-looking and outward-facing" research, encouraging students to take a collaborative approach to making new discoveries.
St. Hugh's College
St. Hugh's College, another one of the university's largest colleges, spans 14 acres of Oxford's campus located in North Oxford. The college was originally founded in 1886 by Elizabeth Wordsworth. More than 800 students attend the college every year.
The college offers all of Oxford's graduate programs, graduating prominent alumni with backgrounds in the arts, law, and politics.
Conclusion
Getting into the University of Oxford isn't easy — but it's not impossible. Just follow each program's guidelines and keep our tips in mind. From there, you'll learn how to get into Oxford in no time. 
Take your time completing your application and ensure you include every required document. Curious about other colleges and programs? Learn about remote study options through our guides to the best online master's degree programs and top online PhD programs.
How To Get into Oxford University: FAQs
What GPA Do You Need to Get into Oxford?
US students will need a GPA of at least 3.7 out of 4.0 to get into Oxford.
Is Oxford Better than Harvard?
Oxford and Harvard are both world-renowned institutions with high standards of education. A qualification from either is sure to be well-regarded. The only way to separate the two universities would be to look at the specific program and faculty in your field or specialty of choice.
See our guide to how to get into Harvard for more information.
How Hard is it to Get Into Oxford?
Oxford's admissions process is pretty tough, with a mere 15-17.5% acceptance rate. You'll need to demonstrate a strong academic record, excellence in extracurriculars, and a passion for your chosen subject.