Table of Contents
With more than 23,000 students and 250,000 alumni, Cornell has one of the best employability rates in the U.S. The school boasts more than 60 Nobel laureates, Turing Award winners, and dozens of Olympians.
Translation: you can't do much better than Cornell University.
Every year, thousands upon thousands of prospective students from all over the world try to get into an Ivy League school — and while most applications fall short, Cornell University has one of the highest acceptance rates in the Ivy League.
But just because Cornell has a higher acceptance rate than other Ivy League schools doesn't mean it's easy to get into.
This guide explains everything you need to know about how to get into Cornell, what GPA and standardized test scores you need to get accepted, the Cornell application process, Cornell's acceptance rate, and more.
About Cornell University
Before we talk about how to get into Cornell university, let's explore precisely why so many prospective students want to study there.
Cornell University was founded in 1865, and it's a private Ivy League university located in Ithaca, New York.
Don't make the mistake of confusing Cornell University with Cornell College, which is a small private liberal arts college in Mount Vernon, Iowa. Interestingly, however, the founders of both Cornell University and Cornell College were related.
Cornell University is exceptional for many reasons, but one of the points that makes Cornell stand out is that it's one of the only private land grant universities in the U.S.
But what is a land grant university?
Simply put, a land grant university is a higher education institution based in America that was given federal land to establish agricultural or mechanical colleges in the 1800s. These gifts were made possible by the Morrill Acts of 1862 and 1890 — with beneficiaries including Rutgers University in New Jersey and Kansas State University.
A lot of land grant universities have since moved on to become public research institutions. But a few institutions like Cornell have remained private.
However, Cornell isn't just unique because of the land that it's on or the laws that helped create it.
Cornell University has a student body of more than 23,000 students. Around 14,700 of those students are undergraduates, and 6,200 are graduates.
Cornell's student population is split between seven undergraduate colleges and schools. Unlike some big Ivy League universities, each individual college and school at Cornell maintains its own programs, academic requirements, and faculties.
But no matter which college students graduate from, everybody receives a degree from Cornell University.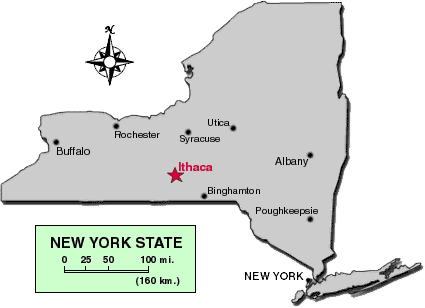 Image Courtesy Cornell University
Although Cornell is famous for its sprawling Ivy League campus in Ithaca, New York, the university also has two satellite campuses.
One satellite campus is based in New York City. The other satellite campus is in Education City, Qatar — where a number of western universities have successful international campuses in operation.
If you're looking for history and pedigree, Cornell has that, too.
Cornell University's impressive list of alumni includes 61 Nobel laureates, four Turing Award winners, and one Fields Medalist.
The university also awarded the world's first journalism degree, the U.S.'s first veterinary medicine degree, and the first-ever doctorates in electrical and industrial engineering.
Undergraduate application requirements
Cornell University is one of the best colleges in the U.S., so it should go without saying that Cornell admissions are pretty selective.
If you want to be eligible to get into Cornell as an undergraduate student, you'll need to fulfill numerous prerequisites and requirements. Interested in perfecting your application? Be sure to read our guide on how to write a memorable letter of intent for grad admissions. This can help you stand out from an increasingly qualified pool of applicants.
That being said, it's also worth noting that Cornell has one of the highest undergraduate acceptance rates of anywhere in the Ivy League.
To help give you a rough idea of what you've got to achieve to get into Cornell, let's delve into the school's 2020 admissions figures.
Cornell Tuition and Fees
The tuition you'll pay at Cornell varies depending on whether you're a resident of New York state. Undergraduate residents pay $41,958 compared to $62,456 for non-residents. Along with tuition, every student has to pay the following fees:
Student activity fee: $310

Health fee: $434
In addition to these expenses, students living on-campus also pay:
Housing: $10,426

Meals: $6,662
Apart from these expenses charged by the university, students have to cover other costs associated with their studies, such as books, educational supplies, and transportation.
Thus, the total cost estimate, including tuition and all other expenses, for an undergraduate student at Cornell is:
| | | |
| --- | --- | --- |
| Cornell Total Cost | Living On-campus |         Living Off-campus |
| New York Resident | $62,798 | $53,896 |
| Non-New York Resident | $83,296 | $74,394 |
Cornell Scholarships and Financial Aid
These costs may seem steep, but you can reduce this considerably with the help of Cornell scholarships, grants, loans, and work-study opportunities. A first-year student at Cornell receives an average grant of $43,250. Cornell scholarships and grants are purely need-based: the university does not have any provision to offer scholarships or aid based on merit, athletic achievements, or other qualifications.
For students who previously received aid from another Ivy League institution, Cornell strives to provide aid based on similar terms.
Financial aid available to students at Cornell is made up of:
Cornell Scholarships and Grants: These are provided by funds from university endowments and alumni gifts, along with a general fund. Cornell students automatically become eligible for scholarships and grants when they apply for financial aid. The university then awards aid based on the students' external funds, loans, and work-study benefits.

Federal/ State Scholarships/ Grants: There are various federal and state grants and scholarships available, each with their own eligibility criteria, including:

Federal Pell Grant

Federal Supplemental Educational Opportunity Grant (FSEOG)

Iraq and Afghanistan Service Grant

Children of Fallen Heroes Scholarship

Empire State Diversity Honors Scholarship

New York State Enhanced Tuition Award (ETA) Program

NYS Excelsior Program

New York State Tuition Assistance Program (TAP)

Senator José Peralta New York State DREAM Act

NYS Science, Technology, Engineering and Mathematics (STEM) Incentive Program
External Scholarships: The university also helps students identify external scholarships from non-profit institutions, organizations, or companies.

Veteran Benefits: There are a range of education and training benefits available for veterans and service members, their spouses, and family members.

Federal Work-Study (FWS): Students can pick up some part-time work while studying to meet part of their education expenses. The standard expectation from work-study is around $2,600 and is funded by Cornell and the FWS program. Unlike most institutions, Cornell also offers a summer work-study option.

Loans: Students from families with an annual income of less than $60,000 don't have to take out a loan to pay in their financial aid package. All other students must face a loan liability proportionate to their annual income.
What is Cornell's acceptance rate?
Universities like Cornell calculate their annual acceptance rates by taking the total number of students that were accepted and then dividing that figure by the number of prospective students that applied in the first place.
Cornell's acceptance rate varies each year. Let's look at the 2021 Cornell admissions data the university published for its "Class of 2025" to give you an idea of your odds of acceptance.
For the 2021–22 academic year, a total of 67,380 people applied to go to Cornell. Of that applicant pool, only 8.7% of students were accepted — and only 5.6% of applicants ultimately enrolled for the fall semester.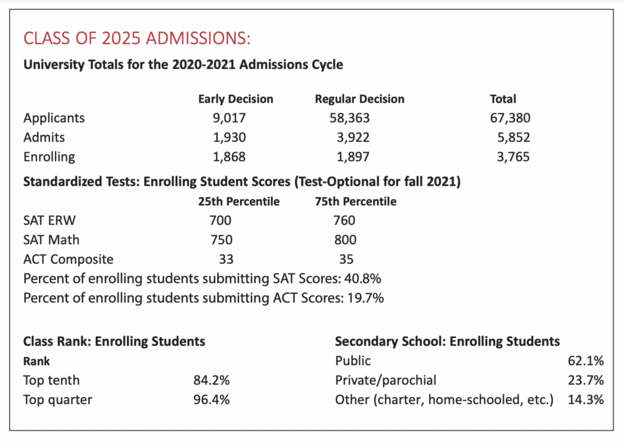 Image Courtesy Cornell University
While 8.7% may seem low, it's actually a pretty generous acceptance rate if you look at some of Cornell's Ivy League competitors.
What do you need to get into Cornell?
What GPA do you need to get into Cornell?
When you're applying to a school like Cornell, the first measure of performance you're going to need to consider is your grade point average (GPA). A GPA is the number that tells people how well you performed in all of your previous classes on average.
As far as the GPA requirement for undergraduate admissions is concerned, it goes without saying that Cornell is very competitive. But it's important to bear in mind that there's no formal GPA requirement to get in.
That being said, you do need to shoot high. As a point of reference, 83.7% of the students who enrolled at Cornell for the 2020–21 academic year finished high school in the top 10% of their class.
As a result, anything below a GPA of around 3.8 will probably be a long shot.
Don't let that discourage you from applying if your GPA is a little bit lower. But if you've underperformed in a few of your high school classes, you'll need to make up for the performance in other places on your application, like in standardized test scores.
What SAT score is needed for Cornell?
Just like Cornell's GPA requirement, there's no published minimum SAT score that applicants must achieve to get into Cornell.
However, with an acceptance rate of around 8.5%, you'll need to show a high GPA and SAT/ACT scores. According to the US News & World Report, 50% of students accepted into Cornell have an SAT score of 1400-1540 or an ACT score of 32-35.
But if you want a rough idea of the SAT scores you'll need to get in, all you need to do is comb through Cornell's 202 admissions data.
Last year, the total average SAT score of a new Cornell student was 1,510. In the math section, Cornell's incoming freshmen scored 780 on average. In the evidence-based reading and writing section, the average accepted scores were around 730.
In terms of whether you should choose to submit SAT scores, it is of interest to note that 72.6% of last year's freshman class sent in SAT scores either on their own or in addition to ACT scores.
What ACT score is needed for Cornell?
Last year, 35.8% of accepted applicants opted to send in their ACT scores either in addition to SAT scores or on their own. But, Cornell's admission officers don't favor one test type over the other. Both the SAT and ACT are treated equally.
If you're considering sending in an ACT score as part of your undergraduate application, the average ACT score for Cornell's most recently accepted cohort was between 32–35.
Again, Cornell is keen to emphasize that there are no score cutoffs for standardized tests.
The undergraduate admissions team wants to see applications from a range of backgrounds and interests, and so your ACT score or SAT score isn't necessarily going to make or break your chances of getting into Cornell.
But if you want to maximize your chances of acceptance, try to shoot for high standardized test scores.
Who Gets into Cornell?
Although Cornell has the highest acceptance rate of any Ivy League University, this doesn't mean anyone can get into Cornell. As we've seen above, the application process is highly competitive and you'll need a strong GPA, SAT and/or ACT scores.
However, there is no hard-and-fast rule: a quarter of successful Cornell applicants had a GPA and/or SAT/ACT scores below this range. Cornell doesn't judge applicants based on academic performance alone: the school also values character and personal traits.
The primary attributes that Cornell looks for are:
Intellect: Cornell wants students who challenge themselves with high-level courses and demonstrate their passion for learning.
Character: They look for qualities like honesty, empathy, initiative, and open-mindedness, which should be well-expressed in your personal essay.
Involvement: The school also seeks candidates with demonstrated community involvement, interest in extracurricular activities, and leadership.
Passion for Cornell: Finally, the selection committee looks for students who can express why Cornell is the best place for them and how it will help them achieve their career goals.
Geographically, students from the following regions make up Cornell's student cohort, based on the class of 2025:
New York: 31.7%
Mid-Atlantic States: 18.6%
Western States: 12.2%
New England States: 9.7%
Midwestern States: 6.5%
Southeastern States: 6.2%
Southwestern States: 4.4%
International: 10.5%
And the ethnic makeup of the student population is as follows:
White: 50.5%
Asian American: 30%
African American: 13.7%
American Indian: 2.2%
Hispanic: 17.4%
Among the class of 2025, 27.9% belong to underrepresented minorities and 53.1% are students of color. The male-female proportion of the students is 45:55.
How do you apply to Cornell?
If you want to apply to Cornell as a prospective undergraduate student, the process is fairly straightforward.
First, you'll need to complete and submit the Common Application. Alongside the Common Application, you'll need to include your school report, a counselor recommendation, and two teacher evaluations.
Then, you must submit a midyear report as soon as your mid-year grades are available, as well as an official high school transcript.
Cornell's undergraduate application fee is $80, which you'll need to pay at the point of submission.
Finally, you need to complete the Cornell University Questions and Writing Supplement, as well as anything that's required by the particular undergraduate college or school you're applying to.
For example, you may be required to send in a portfolio, submit a specific design, or pass an interview.
If you're serious about getting into Cornell, it's crucial that you follow the application process correctly and make sure you submit everything on time.
Is Cornell your number one college choice? You might want to apply for an early decision.
Early decision applications are reviewed in the fall, and successful applicants are normally notified by mid-December. If you want to apply for an early decision, your application must be in by November 1.
How Do You Know if Your Child Should Apply to Cornell Early?
Cornell offers an Early Decision option for admission, with an early decision application deadline of November 1, much earlier than the regular admissions application date. At Cornell, an early decision is binding, so once you pursue this option, you cannot apply to other universities. Furthermore, once your early decision application is rejected, you cannot apply for regular admission.
Therefore, you should only go for early admission if you've done your research on other colleges and are certain Cornell is your first choice. If you're interested in early decision, be sure to start preparing early.
Cornell Application Deadlines 2022-23
Cornell University's application deadlines for first-year students for the 2022-23 school year are:
Early Decision 2022-23: November 1, 2022
(Result announcement: December)
Regular Decision 2022-23: January 2, 2023
(Result announcement: April)
Transfer admission – Spring semester: October 15, 2022
(Result announcement: November)
Transfer admission – Fall semester: March 15, 2023
(Result announcement: May/ June)
What are Cornell Supplemental Essays?
Most universities require you to submit an essay as part of your application, which generally covers your motivations for studying at the institution and how it fits with your goals for the future. However, some universities, like Cornell, have an additional supplemental essay requirement where you explain why you chose that specific school and why you think you are the right fit.
Cornell University has a number of colleges across various disciplines, and each college has a specific supplemental essay prompt. The aim of the essay is to demonstrate how well you know the school and why you are a deserving candidate. The selection committee uses the supplemental essay to evaluate your intellect, imagination, enthusiasm, character, interest in the major, previous experience, and dedication to the discipline.
For example, the SC Johnson College of Business at Cornell may supply the prompt: "What kind of a business student are you? How can the business school at Cornell help you achieve your goals based on your interests and ambitions?" Cornell's college of business has two schools: one focusing on economics and management, and the other hotel management.
In essence, your essay should convince the selection committee that you're the ideal candidate to study business management at Cornell.
A strong essay could:
Demonstrate your interest in business and management from an early age. Use real examples such as involvement in co-curricular activities, events you attended, or your experience working with the family business, and be sure to explain what you did exactly, and what the results were.
List activities related to the discipline which you actively participated in, the challenges faced, how you overcame them, and your achievements.
Express your special interest in any specific sub-discipline, such as international business management, and activities you are currently involved in related to the subject.
Show your knowledge of the business school at Cornell, the facilities it offers, and how you believe the school can help you reach your career goals.
A strong supplementary essay is essential to show the selection committee that you are the right fit for the school, and can help to compensate for a less than stellar GPA or SAT scores.
Graduate Application Requirements
Now that we've covered how to get into Cornell as an undergraduate student, let's break down how to get into Cornell as a graduate student and Cornell graduate school GPA requirements.
If you want to get into Cornell University Graduate School to pursue a master's degree or a PhD, the application process you'll need to follow is different.
However, the Cornell university graduate school acceptance rate is similar to that for undergrads, with a Cornell phd acceptance rate of around 10%, so you'll need to put together a strong application in order to be successful.
To help you get started, we'll boil down each element of the graduate application process — as well as all of the different colleges and schools within Cornell that award grad school degrees.
Standardized testing requirements
Standardized test scores aren't just an undergraduate admissions requirement. A wide range of Cornell graduate programs also require students to submit standardized test scores as part of the application process.
The number one test result that applicants will need to submit to get into Cornell University Graduate School is the Graduate Record Examination (GRE).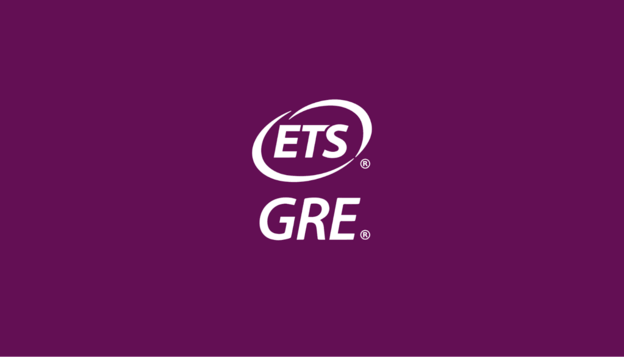 On the flip side, some graduate courses require the Graduate Management Admission Test (GMAT) rather than the GRE.
There is a range of degree programs that will accept either the GRE or the GMAT. These include subjects like real estate, labor relations, and policy analysis. If you're applying for a course in one of these areas, you can pick whichever test you want.
Just like ACT and SAT results, Cornell doesn't publish a cutoff GRE or GMAT score. Any standardized test scores you submit will be considered as part of your wider application — which means that it's okay if you fail to land a perfect GRE score.
But if you want to get into Cornell as a grad school student, you're definitely going to need to do pretty well on the GRE or the GMAT, as the Cornell master's acceptance rate is fairly low.
How do you apply to a graduate program at Cornell?
Although the graduate application process at Cornell is different from the undergraduate application process, it's equally straightforward.
To apply to Cornell as a graduate, you need to submit Cornell's online application form. This application must include details of your program's required standardized test scores, letters of recommendation, and an academic statement of purpose.
In addition to your academic statement, some programs require a personal statement.
You'll also need to enclose all of your transcripts.
Depending on where you're from and how you've been educated, you may need to send in International English Language Testing System (IELTS) or Test of English as a Foreign Language results to prove you meet the language requirements for your course.
Finally, graduate applications need to include an application fee of $105.
Let's look at some specific colleges at Cornell and how you can apply to them.
College of Agriculture and Life Sciences
Cornell's College of Agriculture and Life Sciences (CALS) offers research-focused degrees in 30 fields of study ranging from agriculture and food production to applied economics.
If you'd like to apply to the College of Agriculture and Life Sciences as a master's student, you'll need to submit your application directly to the Cornell University Graduate School. You can't apply directly to CALS for graduate programs.
College of Architecture, Art, and Planning
Cornell University's College of Architecture, Art, and Planning (AAP) offers degrees across a wide range of specializations.
Most of the master's programs at Cornell AAP are administered centrally through Cornell's grad school. As a result, prospective applications need to submit directly to the Cornell University Graduate School.
That being said, there are three unique departments within the AAP that have their own specific requirements and application deadlines. These departments are Architecture, Art, and City and Regional Planning (CRP).
College of Arts and Sciences
Cornell College of Arts & Sciences offers more than 40 majors to choose from, and the college's impressive list of alumni includes over 50 Nobel laureates.
Just like most of the grad programs at Cornell, prospective students can't submit their applications directly to the college. Instead, you need to file your application directly to the grad school.
Cornell SC Johnson College of Business
Cornell SC Johnson College of Business was founded in 1946, and it's responsible for awarding all of Cornell's business-focused degrees.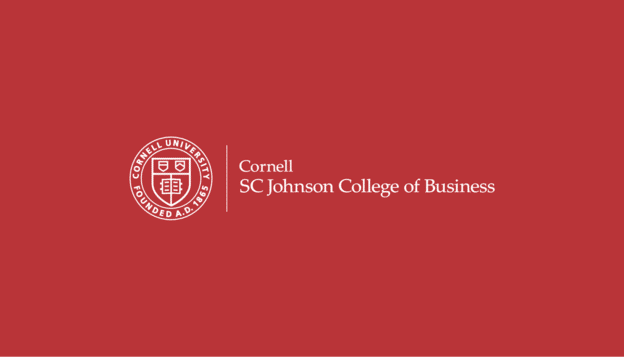 The college is home to 58 full-time faculty members, and it boasts an endowment of more than $210 million.
To apply to the Cornell SC Johnson College of Business, you'll submit your application centrally to Cornell's grad school.
College of Engineering
Founded in 1870, Cornell's College of Engineering is consistently named one of the world's leading engineering and technical institutions.
Applications to the Cornell College of Engineering need to be submitted directly to the Cornell University Graduate School. If you're wondering how hard it is to get into Cornell engineering, you can find the full application requirements for first-year applicants to the school here.
College of Human Ecology
Cornell's College of Human Ecology offers graduate degrees in subjects like human development, nutritional sciences, apparel design, public affairs, and more.
The college also plays home to the Cornell Institute for Public Affairs and the Sloan Program in Health Administration.
Just like Cornell's other grad school programs, aspiring human ecology students need to send their applications centrally rather than to the college itself.
School of Industrial and Labor Relations
Founded in 1945 as the New York State School of Industrial and Labor Relations (ILR), the ILR offers degrees in subjects like human resource management, labor management, conflict resolution, and social statistics.
If you want to apply to the ILR as a master's or Ph.D. student, you'll need to send your application directly to the Cornell University Graduate School.
Bonus Tips for Getting into Cornell
The selection process at Cornell is competitive, so it's important to take the time to prepare a strong application if you want to be accepted.
Here are some tips that could help you to be successful:
Start preparing early: check and double-check the application guidelines and necessary requirements well ahead of the deadline to make sure you have plenty of time to get everything in order.
Decide whether you want to go for early admission, which can be a good option if you're set on Cornell and you are reasonably confident that your application will be accepted. Remember that the early admission deadline for the 2022-23 academic year is November 1, 2022.
Play close attention to the personal essay and supplementary essay, as these are important parts of getting into Cornell. The university itself advises that you be sincere and authentic in your essays. Don't give the answer you think the university wants to hear, but instead let your unique qualities shine through.
Fun Facts about Cornell University
Here are some interesting yet not widely-known facts about Cornell University:
The chicken nugget was invented by Robert Baker, a professor at Cornell.
Cornell has a 'Wilder Brain Collection' that preserves the brains of notable individuals.
There is an underground tunnel in Cornell.
Cornell has a garden full of plants that are poisonous to livestock.
The socks belonging to the university's founder, Ezra Cornell, have visited space.
Frequently Asked Questions
What GPA do you need to get into Cornell?
Although your GPA is an important element of your application to Cornell, the university has neither stipulated a GPA cut-off, nor has it published the average GPA of students who are admitted. Having said that, having a GPA of 3.9, along with meeting other eligibility criteria, can improve your chances of getting into Cornell.
Is Cornell really hard to get into?
Cornell has an approximate acceptance rate of 10%. Although this is the highest acceptance rate of any Ivy League university, it's still pretty competitive. You'll need to put together a strong application, have decent GPA and SAT/ACT scores, and write compelling essays in order to be accepted.
What majors is Cornell known for?
Cornell University has a number of colleges and schools across disciplines such as engineering, arts, ecology, business, science, and agricultural studies.
The most popular majors at Cornell are:
Agricultural Sciences
Business
Engineering
Environmental Science
Architecture
Computer Science
Biology
Physics
Information Technology
Economics
Sociology
What is the lowest GPA Cornell has accepted?
Since Cornell doesn't publish the GPA of accepted students, we can't be sure of the lowest accepted GPA. However, we do know that accepted students generally have a GPA of 3.8 or more. So if you're wondering if you can get into Cornell with a 3.7 GPA, the answer is probably, as long as the rest of your application is compelling enough.
Wrapping Up
With an undergraduate acceptance rate of more than 10%, Cornell has one of the Ivy League's highest acceptance rates — but that doesn't mean getting into Cornell is easy.
You need to put in a lot of hard work, do your research, and make sure you fulfill all of the application requirements if you want to be considered for a place at Cornell.
Do you want to learn more about how to get into Cornell? You've come to the right place. Check out our guides to applying for grad school, how to get into an Ivy League grad school, and how to get into Oxford.
Want to see real-time grad admissions results to Cornell University? Check them out on GradCafe and add your results too!