Table of Contents
Stanford is one of the top universities in the world. Ranked #6 in the United States, you can expect fierce competition if you want to get into its undergraduate school or one of its graduate degree programs.
If Stanford is your school of choice and you want to maximize your chances of getting in, this guide on how to get into Stanford can help.
About Stanford University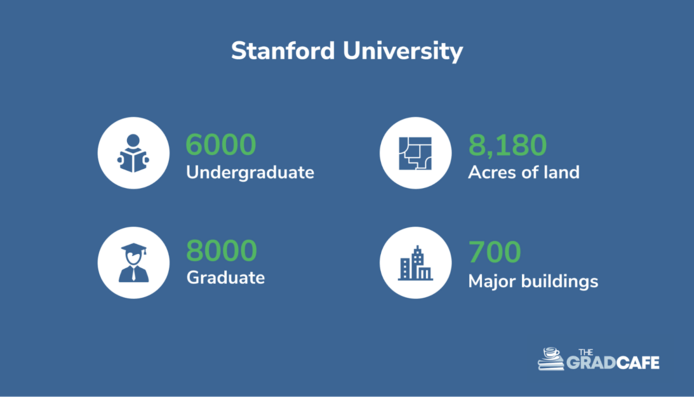 Stanford University was founded in 1885 by Leland and Jane Stanford. It accepted its first students in 1891 and now has more than 6,000 undergraduate and 8,000 graduate students studying at the school.
Located in the San Francisco Bay area, Stanford is right next to one of the world's top tech hubs. Students get to enjoy the amenities of the Bay area while also taking advantage of the school's large campus, which includes 8,180 acres of land and almost 700 major buildings.
The university is composed of seven different schools, each focused on a different topic such as law, medicine, business, or education, meaning students can study nearly any topic they desire at Stanford.
Stanford also has significant financial resources at its disposal, with an endowment of $28.9 billion, the third-largest in the United States. This lets it provide significant amounts of financial aid.
The average freshman receives $52,030 in scholarships from Stanford, meaning almost any student can study at Stanford, regardless of financial ability.
Financial Aid at Stanford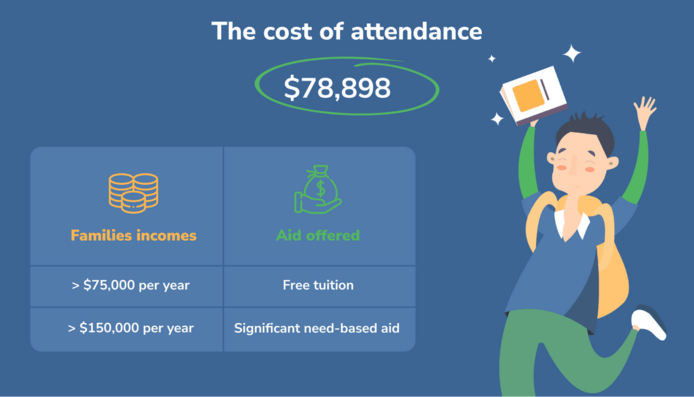 Attending Stanford can come with a hefty price tag, but the financial aid program at the school makes attendance affordable for almost every student.
Stanford estimates that the cost of attendance for most students, including tuition, fees, room and board, and other associated costs, is $78,898. This includes $55,473 in tuition payments.
Most financial aid is need-based and can significantly reduce the cost of attendance.
For example, students from families with incomes below $75,000 per year can expect to pay no tuition. Most students from families with incomes under $150,000 per year receive significant need-based aid which can greatly reduce tuition costs.
Graduate students can expect significant support as well. Each school has its own aid program and many graduate students receive grants and stipends that can help them cover tuition costs and living expenses while they study.
How Hard Is It to Get Into Stanford?
You probably know by now that Stanford is one of the most challenging universities to get into.
Although Stanford itself doesn't advertise its acceptance rate, it publishes its applicants and admits each academic year. For the class of 2025, Stanford received 55,471 applications, from which they chose 2,190 admits. These numbers put the year's admission rate at just under 4%.
It's tough to pinpoint a Stanford PhD acceptance rate. Nevertheless, you can be sure that most, if not all, of Stanford's graduate programs are highly competitive and can be incredibly challenging to get into. Some of the more competitive graduate programs also have few openings available, upping the ante even further.
It may feel disheartening, but don't lose hope just yet!
What Does Stanford Look For in Freshmen?
So, what does it take to get into Stanford? The institution uses its holistic process for admissions, which means it considers each part of your application to consider you for admission.
Stanford generally considers four main aspects: academic excellence, intellectual vitality, non-academic interests (extra-curricular activities), and context.
Context means Stanford will consider all your accomplishments and credentials in the context of your past, background, educational opportunities, and responsibilities.
The Average Accepted Student's Academic Profile
To get into Stanford, your grades need to be perfect — or as close to it as they can be. The average GPA for admitted Stanford students leans toward 4.0.
In the below table of admissions statistics for the fall of 2016, you'll see the overwhelming majority (58%) of applicants had a GPA of 4.0 or higher. Those with 3.7-3.99 comprise 28% of the applicants, while applicants with GPAs below 3.7 only make up 14% of the total. Additionally, applicants who earned a GPA below 3.7 only made up 4% of 2020's admitted class.

If your GPA isn't quite up to par, don't worry — getting into Stanford is still a possibility, especially if you manage to get high scores for your SAT/ACT.
Stanford's admissions statistics for the class of 2025 show that you'll need at least 1470 on your SAT or 32 on your ACT on the low end, but it would certainly benefit you to aim higher.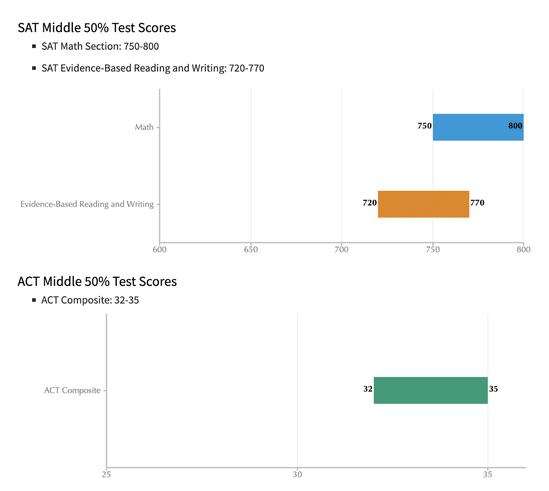 NOTE: Stanford doesn't consider only your grades. The institution also takes the difficulty of the subjects you take into consideration. For this reason, having straight As in relatively easy subjects will not benefit you much on your Stanford application. Challenge yourself with more difficult choices, such as AP/IB classes.
Additional Factors
Beyond your academic performance, Stanford will also consider your extra-curricular activities, experience (if any), and past volunteerism.
Focusing on your academics alone will not guarantee admission to this prestigious university.
You don't need to excel or be exceptional in your extra-curricular activities, but you do need to excel or be remarkable in something, known as your spike. Your spike can help you stand out and show Stanford why you would be a good choice for admission.
What Does Stanford Look For in Grad Students?
Graduate students at Stanford must meet the high academic standard required by the institution. Requirements may vary from program to program, which is why it is best to inquire with your program of choice to get the most accurate information.
You must meet every program's required GPA if any.
As a quick example, you can look at Stanford's Graduate School of Business' statistics for the entering class profile, which states that the average GPA is 3.78.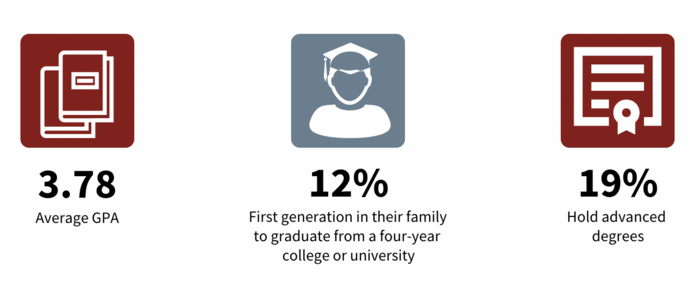 You must also be able to meet or even surpass the average applicants' GRE scores for your program.
To give you an idea, Stanford's admitted Computer Science master's students had average GRE scores of 166 (Quant) and 162 (Verbal). Admitted Ph.D. students earned 168 (Quant) and 165 (Verbal).
Stanford also considers other factors, such as your previous work experience and accomplishments, your personal statement, and the quality of your recommendation letters.
What Do You Need for Applying to Stanford University?
Undergraduate Application Requirements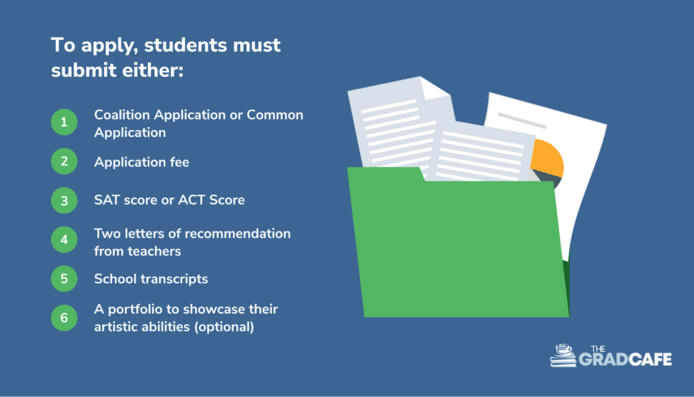 To apply, students must submit either the Coalition Application or Common Application. Along with these documents, the students must submit an application fee, an SAT score or ACT Score, two letters of recommendation from teachers, and school transcripts.
Students may optionally submit a portfolio to showcase their artistic abilities. Students who submit an arts portfolio do not have to study the arts and students who wish to study arts aren't obligated to submit a portfolio.
Graduate Application Requirements
Stanford operates eight different graduate schools, each focused on a different discipline and some with unique application requirements. Stanford's professional schools, including the Law School, Medical School, and Graduate School of Business have unique applications. The university's other graduate schools use the same application.
To be eligible for admission, students must have a bachelor's degree or equivalent. Applicants also have to submit transcripts, letters of recommendation, and a statement of purpose describing their reasons for wanting to pursue a graduate degree in their chosen field.
How to Apply to the Prestigious Stanford University
Whether or not you've spent your entire time in high school preparing for this moment, come senior year, it's time to apply! Now that you're aware of the requirements to get into Stanford, it's time to learn more about the application process.
Who actually gets into Stanford? The lucky few that get accepted are often the ones who have put a lot of time, effort, and preparation not just into their application, but also into their high school careers. If you'd like to track the Stanford admissions results in real time, you can do it through GradCafe.
Important Deadlines to Remember
When applying to Stanford, there will always be deadlines to remember. It is vital that you take note of these deadlines and keep them in mind, so you do not miss any of them.
Missing these deadlines means you can no longer apply to Stanford for the current academic year.
If you can start submitting your materials sooner, do so, so that you have enough time to address any issues that may arise from your initial submission.
UNDERGRADUATE Deadlines
Deadlines for Stanford's Restrictive Early Action Application
October 15 – applications with art portfolios
November 1 – standard deadline for the restrictive early action application
September is the last test date for taking the ACT. October is the latest possible date if you want to sit for your SATs.
Deadlines for Stanford's Regular Decision Application
December 1 – applications with art portfolios
January 1 – standard deadline for the regular decision application
December is the last possible date for your SAT/ACT.
GRADUATE PROGRAM Deadlines
If you are entertaining the thought of applying to Stanford as a graduate student, it's best to refer to this page to find the specific deadlines for your program of interest. It's worth noting that this page does include deadlines for applications with financial aid and those without.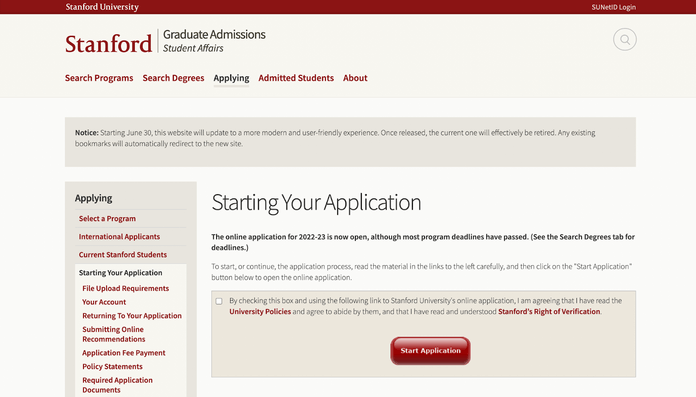 Find out your program's deadline and start planning your application as early as possible to provide yourself with enough time to request recommendation letters and address any issues you encounter along the way.
When to Start Prepping to Apply as a Freshman
Some people may think that it's not necessary to prepare for college until their senior year. That's not technically wrong since most of the preparation for a college application indeed does happen within a student's senior (and maybe a bit of their junior) year.
However, when it comes to applying to any of the Ivy League schools and — you guessed it — Stanford, you'll wish you spent your whole high school career preparing.
When preparing an application for Stanford University, the earlier you get started, the better off you'll be. Starting during or even before your first year can help set you up for success.
If you are reading this in your junior or senior year, all is not lost; there are still some things you can do to give yourself the best possible shot at Stanford admission.
If you struggle with planning everything on your own, you may seek help from college admissions counselors.
What to Do When Starting Early
Starting early is the best way to set yourself up for success. You can begin by putting together a plan which includes your academic, extra-curricular, and spike goals. This list will allow you to track your progress and see whether it aligns with your plans so you can adjust the course as needed.
You can also start taking some preliminary SATs/ACTs to help you identify what you need to improve upon and show you what strengths you can continue building on.
As you go through your high school career, adjust your goal plan by adding actionable steps to help you maximize your chances of admission to Stanford (this also works for any other competitive university).
What to Do When Starting During Junior/Senior Year
Starting your Stanford application preparation during your junior or senior year in high school puts you at a disadvantage if you haven't been maintaining excellent grades.
Considering the high academic standards at Stanford, you'll need a competitive GPA to increase your chances of acceptance.
Starting in your junior/senior year doesn't afford you many opportunities to improve your GPA overall. However, you will still have time to improve other areas of your application, such as your spike, SAT/ACT scores, extra-curricular activities, and volunteerism.
If you're starting later, you can still put together a plan. However, instead of focusing on improving your GPA, your plan will instead emphasize keeping your grades up as you prepare for taking the ACT/SAT.
NOTE: For the 2021-2022 and 2022-2023 application cycles, Stanford has declared that SAT/ACT scores will not be mandatory. You can apply without them, but you can also choose to take the exams and self-report your scores. Students who do not take the standardized tests will not be at any disadvantage, but you can choose to self-report scores if you believe you have earned scores high enough to boost your chances of admission.
The Freshman Application Process
Stanford has two options for application. There's restrictive early action, the early application. Then there's the regular decision, which is the standard time to apply.
So how do you know which one is more suited to you?
Restrictive early action applications are most suited to those who feel they've earned good enough SAT/ACT scores and already have a well-rounded application. Additionally, this type of application is best for you if you already know Stanford is your "dream" school and your top pick for schools with early action applications. Do not apply at this time if you aren't sure about Stanford being your dream choice because their policy states that their early action application requires exclusivity.

There are some exceptions to these rules, which you can find on their website.
Note that if you choose to apply to Stanford on early action, you can still apply to other universities on their regular decision plans.
The regular decision application is what you may know as Stanford's traditional process. This is the better decision for you if you aren't 100% sure about Stanford being your top pick or if you are still working on improving your grades, spike, and standardized test scores.
Applying via the Common or Coalition App
Stanford accepts Common Applications or Coalition Applications.
Preparing your application through these two services is straightforward and intuitive.
NOTE: While you prepare your Common or Coalition application, there will be essay prompts and questions from Stanford for you to answer. Writing several drafts of your answers to these prompts may benefit you before submitting your application. This is also usually where you can put your personal statement, so ensure you do your best to explain what you are passionate about and show Stanford what makes you tick.
Upon completing your application, you can pay the $90 application fee (non-refundable) or request a waiver of this fee.
Then, submit your SAT/ACT scores (via self-reporting or having them sent to Stanford). You must also include all the relevant requirements during the final submission.

After you submit your application, it's time to wait. At this time, someone may contact you for an interview.
Not all who apply get invited to an interview. But if you do get invited, it may be a good idea to sit for it — even if it is optional. This interview, conducted by a volunteer Stanford alumnus, will help show the admissions office why you are a good choice.
The Graduate Application Process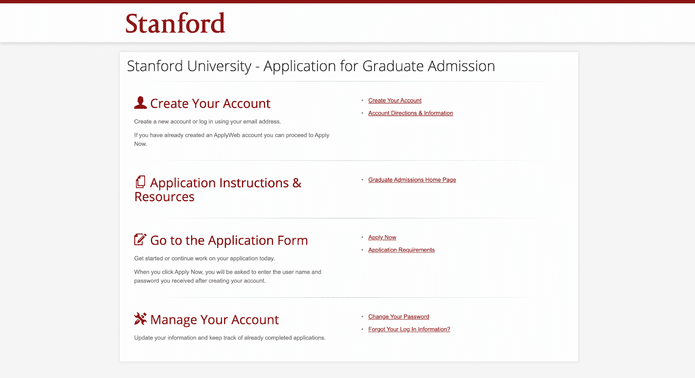 Graduate admissions at Stanford are handled by the institution itself. You may visit this link to start your application.
It's possible to start working on your application as soon as Stanford's applications open for the coming academic year, even if your desired program's deadline has passed.
You can continue working on your application through Stanford's website whenever you need.
NOTE: Typically, the graduate application process will involve at least one interview, with many programs requiring multiple.
Best Tips on How to Get Into Stanford University
There's no universal answer for how to get accepted into Stanford. However, there are a few tips to remember that can help improve your chances.
If you are applying as an undergrad, having a high baseline academic performance can increase your chances. Aim for a GPA as close to 4.0 as possible while taking a selection of challenging subjects.
Your standardized test scores must be near perfect. Aim for at least a 1450 in your SATs or a 32 in your ACTs. If you are applying for grad school, check with your program of choice to see what scores to aim for in your GREs. Prepare for these exams through self-study or prep programs and take some mock exams.
Don't focus solely on your academics — if you are applying as an undergrad make sure you have extracurriculars and a "spike" figured out. Grad school applicants, on the other hand, can focus more on relevant work experience and accomplishments that show your strong interest in the field.
Whether you are applying as an undergraduate or graduate student, focus on your personal statements and essays. Ensure you submit the best possible essays you can. Write as many drafts as it takes to reach your best outcome (you can even ask for feedback if you'd like).
Your recommendation letters make a significant impact on the success of your application. Take the time to choose your recommenders and ensure you give them enough time to write your letters!
Frequently Asked Questions
What GPA do you need to get into Stanford?
Although Stanford doesn't necessarily have a GPA requirement, those who apply typically fit an academic profile. In the Stanford class of 2020, you'll see that an overwhelming majority (58%) of the applicants had a GPA of 4.0+. A smaller 28% of the applicants had a 3.7-3.99, and only 14% had a GPA below 3.7. Grad school applicants may have lower GPA averages, though the numbers still tend to be relatively close to 4.0.
Is Stanford really hard to get into?
Although Stanford isn't a part of the prestigious and renowned group of schools called the Ivy League, it certainly does provide education at a level entirely on par with them. Because of the high standards of education at Stanford University, it does hold the status of being one of the most difficult universities to get into.
The high academic standards at the school mean the requirements are also incredibly high, requiring near-perfect standardized test scores and practically a 4.0 GPA.
Excellent test scores and transcripts aren't enough either since Stanford's top-quality applicants are a dime a dozen. You must also find your "spike," or how you stand out among all the applicants.
It's also important to remember that Stanford doesn't look solely at academics — it also ensures that applicants are high-quality individuals who can make a significant impact on the world. And for this reason, Stanford will also look at your extracurriculars and volunteerism/charity work, if any.
Graduate students have similar requirements, although the standardized test score requirements may vary depending on your program of choice. Grad school admissions also take additional factors into consideration, such as your relevant work experience (if any) and any accomplishments you have achieved since earning your bachelor's. It's tough to pinpoint a specific Stanford grad school acceptance rate, but it's worth mentioning that graduate programs at Stanford tend to be highly competitive.
Can I get into Stanford with a 3.5 GPA?
The average academic profile of accepted undergraduate students at Stanford typically leans toward a 4.0 GPA, with a pretty high average. For the class of 2020, only 14% of applicants had a GPA below 3.7, and out of all of those applicants, only 1% were admitted. Applicants with a 3.7 GPA and below comprised 4% of the admitted freshmen of 2016.
Suddenly, having a 3.5 GPA feels like you're probably worlds away from getting accepted to your dream school. However, having a lower GPA doesn't entirely mean there's no chance for you to get admitted — you might still be able to get in, but under some conditions.
Stanford uses a holistic approach when considering applications. It looks at all of your credentials and not just your GPA. So, if you'd like a chance to get admitted with a 3.5 GPA, there are some things you can do.
First, you'd have to have an extremely high (near-perfect) ACT or SAT score, so prepare as well as you can and retake the tests if necessary (Stanford will superset your scores). Then, you can focus on your spike and show Stanford how else you stand out among the other applicants. You can also pick up more extra-curriculars and do more charity work.
If you are a graduate student, the chances of you getting admitted with a 3.5 GPA increase, especially if you already have plenty of relevant experience or accomplishments after earning your bachelor's degree. However, even admitted graduate students at Stanford have a pretty high average GPA.
Of course, with so many applicants and so few accepted, you should always ensure your personal statements and recommendation letters will help you shine.
Does Stanford accept B students?
The chances of Stanford accepting a B student are pretty low, especially considering the high academic requirements at the university.
There may be a chance of you getting accepted through Stanford's holistic admissions process, provided you are exceptional in every other aspect of your application.
However, if you are typically an A student who earned a few Bs due to some struggles, those few Bs won't likely affect your overall application.
Grad programs tend to be somewhat less demanding when it comes to academic performance. For example, Stanford Graduate School of Business' entering class has an average GPA of 3.78. You may get in with less-than-stellar academics as long as the rest of your application meets the mark.
Is Stanford still requiring the SAT in 2022?
During the 2021-22 and 2022-2023 Stanford admissions cycles, Stanford won't be requiring SAT or ACT scores for transfer or first-year applicants. Stanford understands the continuing difficulties presented by the COVID-19 pandemic, including applicants' limited access to testing worldwide. For this reason, the institution is extending its test-optional policy to 2023.
However, Stanford says students can continue to self-report their scores if they take standardized exams. Students unable to take the exams will not be at any disadvantage.
Conclusion
Stanford is a highly competitive school, but it's competitive for a good reason.
It's hard to beat the education you get at Stanford, which is on par with many of the schools in the Ivy League.
We hope that this guide on how to get into Stanford helps you during your application process! If you're applying to a prestigious graduate school like Stanford, it's understandable to be stressed about admissions decisions.
For more advice, check out our tips to boost your grad school admissions odds.