Table of Contents
It's sometimes difficult to find time to further your education and career with an on-campus PhD program. You may already be aware of online grad programs, but did you know that reputable universities all over the country offer PhD studies online? It's not surprising that many of these are offered by institutions in the second-largest state in the USA: Texas.
Read on for the top 10 online PhD programs in Texas. Many of these Texas PhD programs are fully online and asynchronous, letting you maintain that crucial balance between work, personal commitments, and study.
The 10 Best Online PhD Programs in Texas
| | | |
| --- | --- | --- |
|   | Institution | Program |
| 1 | Texas Tech University | Doctor of Education in Agricultural Education |
| 2 | Baylor University | (DNP) Doctor of Nursing Practice – Family Nurse Practitioner Track |
| 3 |  Texas A & M University – College Station | Doctor of Philosophy in Plant Breeding |
| 4 | Sam Houston State University | Ed.D. in Instructional Systems Design and Technology |
| 5 | Lamar University | Doctorate in Educational Leadership with Concentration in Global Education Leadership |
| 6 | Texas A & M University – Commerce | Doctor of Education in Educational Administration |
| 7 | West Texas A & M University | Doctorate of Education in Educational Leadership |
| 8 | Abilene Christian University | Doctor of Education in Organizational Leadership |
| 9 | Texas Women's University | (DNP) Doctor of Nursing Practice |
| 10 | University of Texas at Tyler | PhD in Nursing |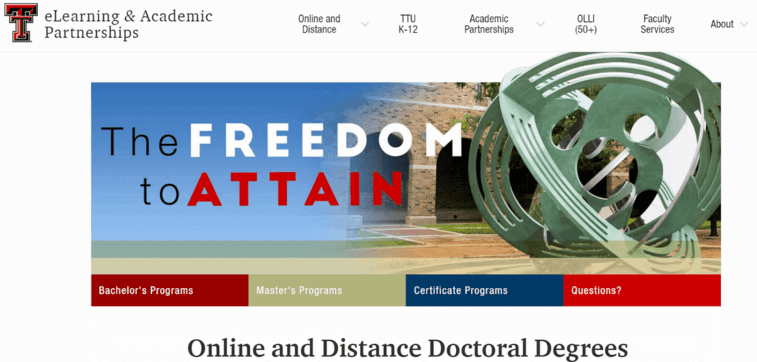 Graduation rate: 63%
Acceptance rate: 70%
Retention rate: 85%
Texas Tech University, located in Lubbock, was founded in 1923. It has eight sites across the state and first launched online learning programs in 1996. Today, it offers around 80 fully online programs to its students.
Its online Doctor of Education in Agricultural Education program aims to build on the knowledge and experience gained in your undergraduate and graduate studies to develop a comprehensive understanding of agricultural education. Agricultural communication is also a focus of the program, along with methodologies of statistics and research. It requires a minimum of 50 credits.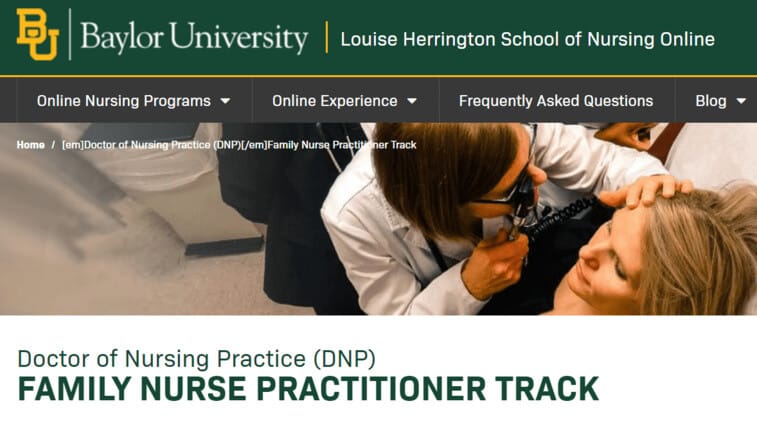 Graduation rate: 79%
Acceptance rate: 68%
Retention rate: 89%
Baylor University, located in Waco, is a privately run and nationally ranked Christian university chartered in 1845. It is the oldest continuously functioning university in the state, follows a cohort model, and is known for interdisciplinary research excellence across 12 academic divisions.
Its online DNP program has a family nurse practitioner track that has been designed to develop nursing leaders with a focus on patient care for underserved populations. Registered nurses with a BSN or MSN are eligible to apply for the program, specializing in care at the individual, family, and community levels.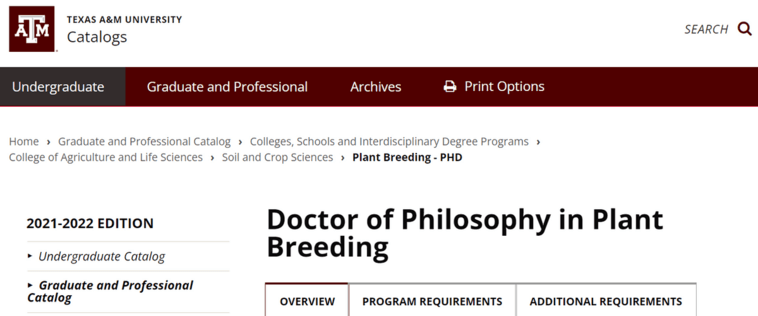 Graduation rate: 83%
Acceptance rate: 63%
Retention rate: 92%
The Texas A & M University started in 1876 as the state's first public higher learning center. Its main campus in College Station currently teaches 69,000 students and offers 92 doctoral research programs in a range of fields.
The university's online doctorate in Plant Breeding prepares students to become geneticists with in-depth expertise in crop production and improvement. Upon completion of the program, graduates can find positions as professional plant breeders in government agencies and non-government organizations.

Graduation rate: 58%
Acceptance rate: 92%
Retention rate: 76%
Sam Houston State University was founded in 1879 and is located in Huntsville. It is the third oldest public university in Texas and has around 20,000 enrolled students. The institution offers around 170 programs in all, of which 10 are doctorates.
Their EdD program in Systems Design and Technology is entirely online and is designed to help educators develop analytical approaches to different learning environments. In this 60 credit-hour program, students will learn how to design instructional materials and methods suitable for a range of purposes, as well as how to integrate technology in these approaches.

Graduation rate: 37%
Acceptance rate: 83%
Retention rate: 64%
Lamar University falls under the Texas State University system. It was founded in 1923 and currently has 17,000 enrolled students. Located in Beaumont, the university offers over 100 degrees and has some of the lowest fees and tuition in Texas.
The university's Doctorate in Educational Leadership is a fully online Texas PhD program, not requiring any on-campus sessions. An accelerated program, it allows students to earn their PhD in a minimum of eight semesters. However, to achieve this, students must study 12 months out of the year and get involved in Global Leadership group activities.

Graduation rate: 43%
Acceptance rate: 60%
Retention rate: 66%
Texas A & M University-Commerce offers more than 40 nationally recognized programs and is known for having some of the lowest tuition fees in the state. Its programs cover diverse fields of study, including education, business, engineering, agricultural sciences, and the humanities. The institution was established in 1889, making it the fourth oldest university in the state.
Its Doctor of Education in Educational Administration online program is designed for K-12 educators. Two cohorts are accepted every year, but the admission process is competitive, with the selection committee looking for high levels of academic achievement.

Graduation rate: 44%
Acceptance rate: 58%
Retention rate: 67%
The West Texas A & M University, located in Canyon, was established in 1910 and offers more than 100 programs, including a few doctoral programs. The university houses several agricultural and cattle research centers. While a majority of the institution's students are Texans, students from all over the world attend the college.
Its online Doctorate of Education in Educational Leadership has two tracks: one for rural school systems and the other for higher education. The program focuses on leadership roles in a rural setting, equipping its graduates to respond to the sociopolitical, cultural, and economic needs of rural education.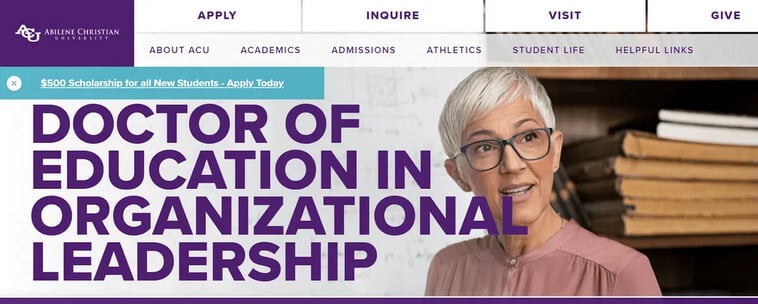 Graduation rate: 66%
Acceptance rate: 63%
Retention rate: 77%
With seven schools and colleges, Abilene Christian University is one of the largest private universities in the Southwest. It's located in Abilene and was founded in 1906, and offers about 120 programs of study to more than 5,000 students. It has a Christian faculty and takes international students from around 50 countries.
The university's online Doctor of Education in Organizational Leadership program is designed for working professionals. This is a highly flexible, asynchronous program that allows learners to maintain a balance between work, family, and study while giving them the skills necessary to transform their communities, workplaces, and schools.

Graduation rate: 48%
Acceptance rate: 94%
Retention rate: 73%
Founded in 1901 in Denton, Texas Woman's University is the country's largest learning center for women. It is known for its healthcare, education, nursing, arts, and business programs, and has around enrolled 15,000 students.
Nursing professionals with a master's qualification are eligible for the university's DNP program. The program is designed to build on students' previous knowledge through specialized subjects such as genetics, policy analysis, informatics, and healthcare organization. The program focuses on integrating evidence-based learning into the healthcare environment.
10. University of Texas at Tyler (PhD in Nursing)

Graduation rate: 43%
Acceptance rate: 92%
 Retention rate: 62%
This university situated in Tyler offers a range of courses across disciplines such as nursing, business, education, arts, and science. Established in 1971, this public university has six colleges and offers around 90 programs.
Its PhD in Nursing is almost entirely online, with the only on-campus requirement being a workshop in late spring. The program is centered around culturally sensitive research and designing innovative healthcare and global health solutions. This transitional program is suitable for BSN and MSN professionals.
Cost of an Online Doctorate in Texas vs Nationwide
If you're considering online doctorate programs in Texas, there's a pretty good chance that one of the first things that came to your mind was cost. Specifically — how much would a PhD program in Texas cost? Would you save money by enrolling in a Texas university, or would it be better for you to simply choose one of the cheaper programs elsewhere in the United States?
One thing is for certain: earning your PhD online means you can choose a program anywhere in the country (and sometimes even out of the country). But before you decide, let's take a look at costs.
According to the Education Data Initiative, the average cost of a doctorate degree is $114,300. Another report by the National Center for Education Statistics states that grad students can spend as much as $19,749 each year on average for their studies.
However, these costs include both in-person and online doctorates. Additionally, your actual costs can depend on a few things — which school you choose, what program you go for, whether you pay for in-state or out-of-state tuition, and so on.
When it comes to Texas online doctorate programs, costs may vary depending on the school, how many credit hours are required for the program, and more.
According to Texas Tech University's tuition estimator, in-state online tuition will set you back $361 per credit, plus fees. Texas A & M's cost per credit for a graduate degree is $848.89 for in-state and $1,378.40 for out-of-state — but this doesn't include the distance learning differential fee and other fees. Abilene Christian University's online PhD, listed above, comes in at $767 per credit.
Costs in Texas are about average compared to other states. Choosing to earn your PhD here won't put you at a significant disadvantage in terms of cost, but you may still want to consider other programs and universities nationwide. There are many institutions (such as UMass-Online) that charge the same fee whether your are in or out-of-state.
Related: Top 10 Best Online PhD in Psychology Programs
Texas Online PhD FAQs
What Online Doctoral Programs are Available in Texas?
Though many of the online doctoral programs in Texas are in the disciplines of education and nursing, some universities and colleges also offer online doctoral programs in other fields such as public health, humanities, management, social work, and engineering.
Are Texas Online PhD Programs Cheaper?
Generally, tuition fees are the same regardless of whether you study online or on-campus. However, once you consider expenses like accommodation and commuting, as well as not being able to continue working, an on-campus PhD will probably cost you much more in the long run.
Start Your Online PhD in Texas Today!
Texas' many colleges and universities offer a range of online doctorates. Although the most common fully online doctoral programs are in the fields of education and nursing, you'll also find online PhD programs in Texas in business, computer science, engineering, and more. Online PhD programs not only offer a high degree of flexibility, but they are also more affordable than studying on-campus thanks to reduced expenses.
Ready to submit your application? Take a look at our guide to applying to grad school.