Ready to learn how to apply to grad school? I can help. After all, if you've always dreamt of going to graduate school, the thought of applying may fill you with both excitement and trepidation.
Colleges receive hundreds, sometimes thousands, of grad school applications every year. Each school has its own list of requirements and criteria that selection committees use to filter applications to find the best candidates.
If this all sounds super overwhelming, don't worry. Read on to learn more about how to apply to grad school!
How Important is Your Grad School Application?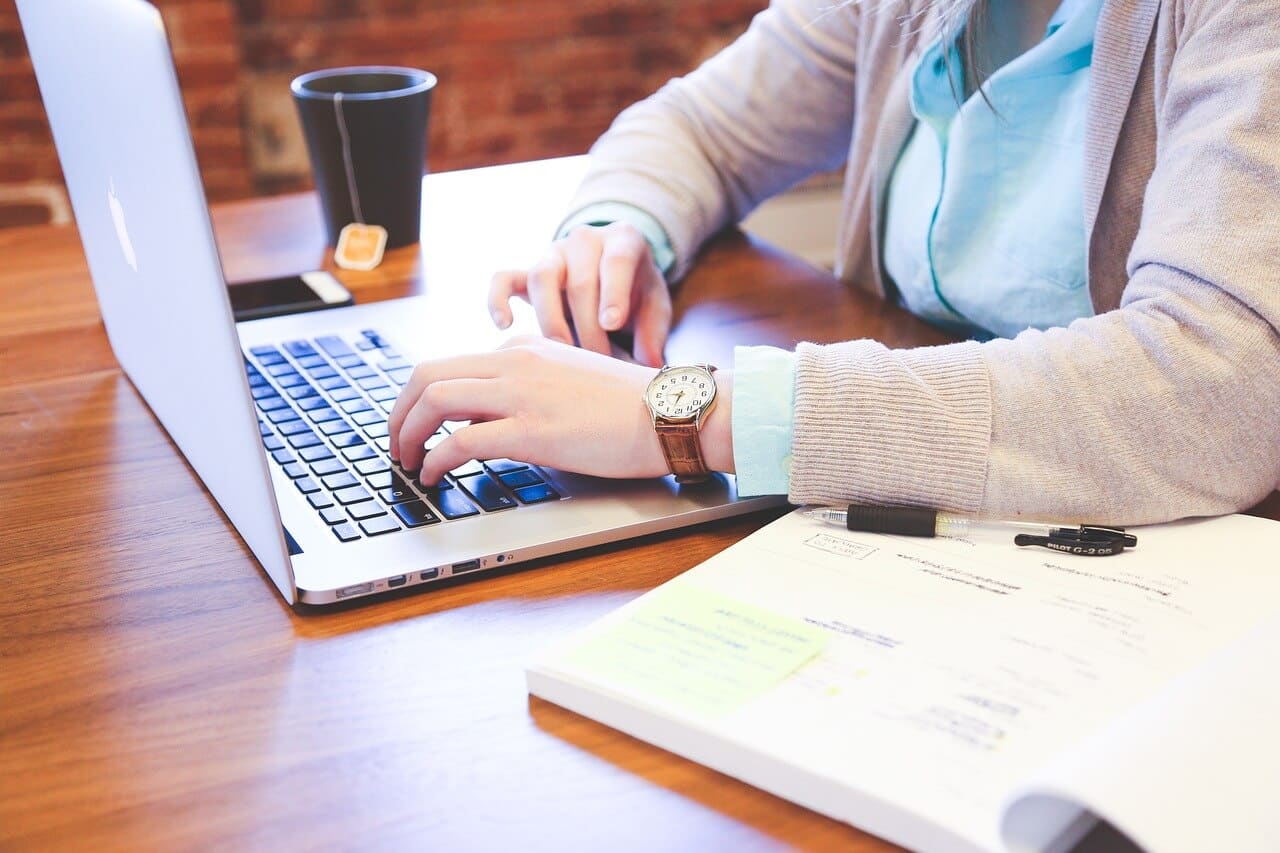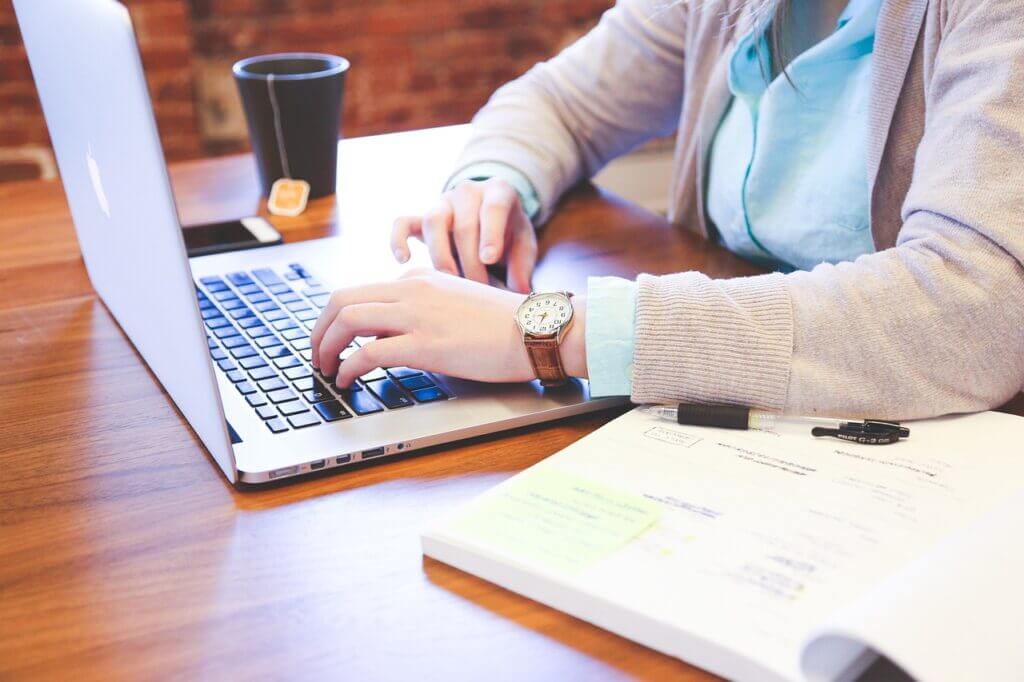 In most cases, applying to grad school isn't a simple process. There are many steps to applying for grad school and the competition can be tough, especially if you're applying to a coveted Ivy League grad school such as Harvard or Princeton.
You should not only closely follow the school's requirements, but also make every effort to persuade the selection committee that you are a strong candidate. In most cases, you must meet or exceed all the graduate school application requirements set by your chosen programs. Additionally, you may be able to improve your chances by listing extracurricular activities, volunteer work, relevant work experience, and the like.
In our guide to the grad school application process, we'll walk you through each step for applying to grad school, and how you can make your grad school application as strong as possible at every stage.
Related Reading: How Many Grad Schools Should I Apply to in 2023-2024?
How  to Apply to Grad School: Your Step-by-Step Guide
We understand that applying to grad schools can be overwhelming, especially if you aren't sure where to begin. There are a few things to know before applying to grad school, one of them being that every graduate school will have different requirements.
To help you navigate the world of grad school admissions, we've put together the step-by-step guide below. Follow this guide on how to apply to grad schools:
1. Research Your Grad Schools
Before we even talk about how to apply for grad school, you must first decide which schools and programs you want to apply for. If you think you'll need financial aid, then it's a good choice to look for schools that offer financial aid opportunities in one way or another.
It's important to do your research and find the best schools for you, striking a balance between those which meet your requirements, and those to which you're most likely to be accepted.
To balance these factors, create a list of at least six schools and separate them into three categories:
Dream schools – These are your top choice schools, schools that tick all the boxes. Of course, these schools are often very competitive and have challenging admission criteria.
Target schools – These are good institutions for which you have a fair chance of acceptance. They might not be as attractive as your dream schools but are still good options.
Safety schools – These are your backup choices. Safety schools are the schools that you feel confident you'll get into.
When applying to graduate schools, you typically want to apply to at least one school in each category. However, it's best not to apply to more than six programs to ensure you are able to make your applications as high quality as possible.
Do your research by looking at schools' websites and marketing materials. You can also talk to current students and alumni. Our forum is a great place to get feedback and advice from others.
2. Check the Eligibility Criteria
Once you have a solid list of graduate schools you want to apply to, the next crucial step is to check each one's admission requirements. However, there is often a lot of overlap between programs, allowing you to prepare in advance. So what do you need for grad school applications?
Most grad schools will require the following in your application:
Academic transcripts for your undergraduate studies (request official transcripts from your previous schools)
The specific program's application form
Standardized test scores like the GRE or GMAT
Personal statement or statement of purpose
Letters of recommendation
Most grad schools share several requirements, though the exact selection criteria and application process varies between institutions. For example, some graduate schools ask students to submit an academic resume, while others ask for work samples. Some schools may have non-negotiable criteria, such as a minimum undergraduate GPA. Other schools may not require you to take a standardized test at all.
It's important to fulfill school requirements if you want your application to be successful. You also don't want to waste your time applying for grad schools where you don't meet the eligibility criteria.
Be sure to check this on GradCafe's Admissions Tool to compare grad school requirements.
3. Fill Out the Application Form
One thing you'll come to find out while learning how to apply for graduate school is that there is no universal application. You won't find an equivalent to the Common App or Coalition App during the grad school application process. Unfortunately, this means you'll need to complete one application for each grad program you want to apply for.
Application forms vary, but they typically ask for basic information about your academic and extracurricular experience. Although the application form may seem like the easiest part of the process, don't rush through it. Make sure your application is comprehensive and error-free, and before you know it, you could be on your way to earning your graduate degree!
4. Prepare for the Entrance Tests
You may have an excellent GPA for grad school, but you'll need to take entrance tests before you're admitted to a program. Standardized tests are often part of how to apply to graduate school in the USA.
Standardized tests like the GRE and GMAT are designed to determine your academic potential for grad school. Some programs also have specific test requirements — for example, if you want to become a lawyer, you need to take the law school admissions test before you can apply.
Prepare well for these exams. You might want to consider taking a preparation course to give you the best chances of success. You will need a passing score to be considered for most grad schools. Additionally, strong test results can also make up for a lower GPA.
5. Impress with a Personal Statement
Most grad schools require you to submit a personal statement. This is a personal essay that you can use to showcase your skills, journey to date, motivation, and goals.
A good personal statement can persuade your dream school's selection committee that you are the ideal candidate. You want to make sure that your personal statement is compelling and demonstrates your passion and motivation. Note that we also showed you how to write a compelling letter of intent for grad school.
6. Update Your Resume
While it might seem counterintuitive (this is for more education, not a job), you'll still need to include a resume. It's a little different than what you use to apply for a job though. Many grad schools require an academic resume in your application.
Just remember, an academic resume is different from an employment resume.
For more information, look at our in-depth guide to writing a graduate school resume. The basics include:
A strong, concise introduction
Your contact details
Education history
Skills and hobbies
Achievement and awards
Any relevant work experience
Your resume should be comprehensive but concise, and include everything the selection committee needs to know, without exceeding one or two pages.
7. Gather your Transcripts and Letters of Recommendation
Two other crucial aspects of your grad school application are your academic transcripts and letters of recommendation. Both can take some time to pull together, so don't leave it to the last minute. You'll want to request these documents at least a month or two before the grad school application deadline.
Also, be sure to check the application criteria for each school you're applying to. Most schools will accept a copy or scan of your official transcript, but some require your college to send the transcript directly to them.
It's worth noting that some schools may have a minimum requirement of two or three recommendation letters and they may need those letters to come from professors. Or, some schools might specify that letters from professional referees are also acceptable.
8. Prep for the Interview
Not every graduate program requires an interview, but interviews are becoming increasingly common for grad school admissions. If you're called for an interview, take the opportunity to show your personality, passion, and motivation.
Just like a job interview, you want to prepare well and prep answers to questions you're likely to be asked. It's also a good idea to prepare some questions of your own for the admissions team, to show your enthusiasm and dedication. Ask a friend or family member to help you practice for the interview with a bit of role-playing.
9. Submit Your Application Early
The grad school application process can be pretty complex, so there's no point procrastinating until the deadline to submit your grad application. Grad schools often accept applications on a rolling basis, so the sooner you submit your application and required documents, the better your chances are of getting selected.
10. Wait for the Response
After you've submitted your application, personal statement, letters of recommendation, and resume, and after you've taken the entrance exam, you can relax. Congrats — your job is done! Now, you just need to wait for the selection committee to review your application. The review period may take a while depending on the program, but most schools will give you an estimated date for their decision.
Graduate School Application Checklist
It's easy to feel lost during the graduate school application process. Make it easier on yourself by having the checklist below handy!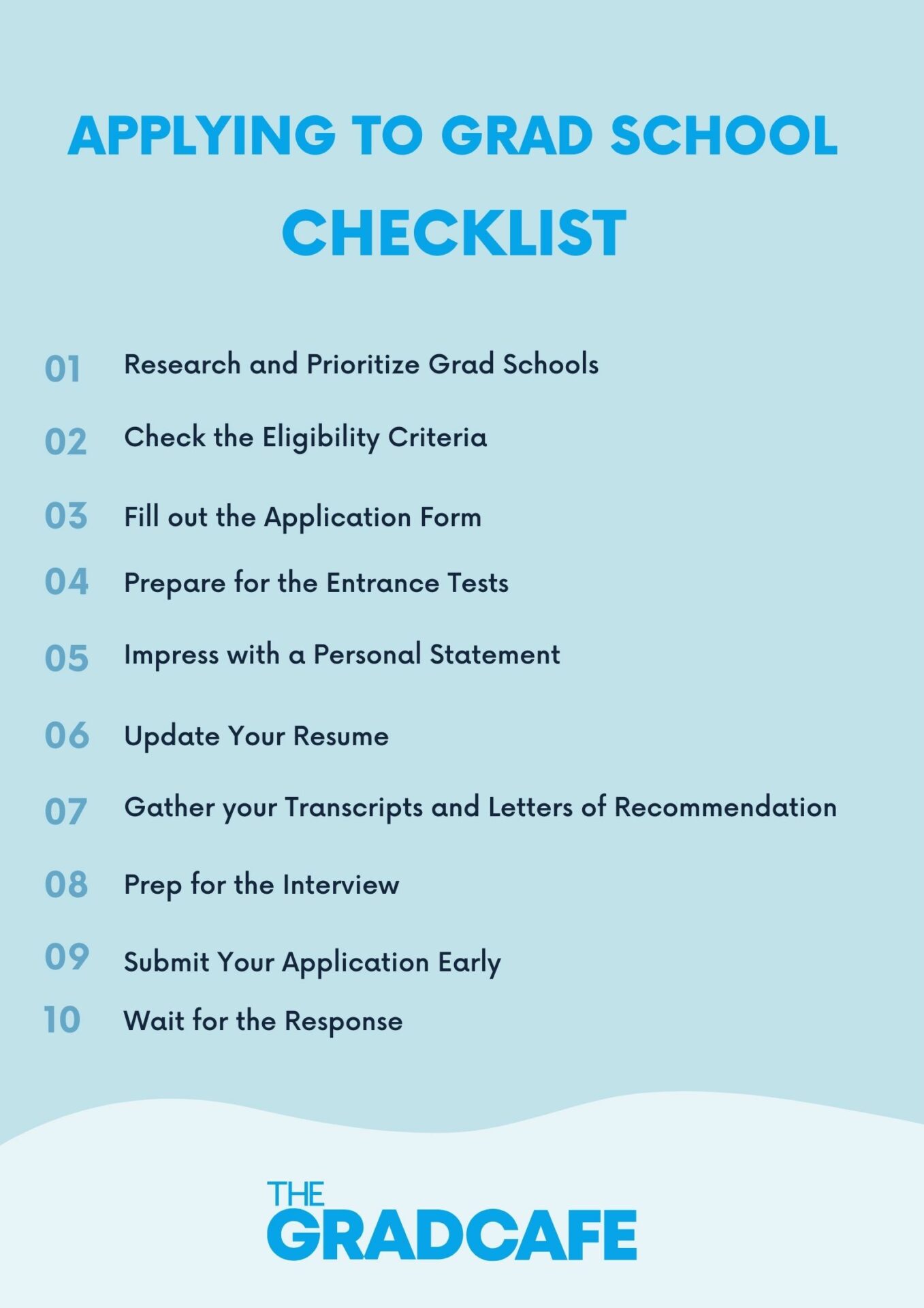 Research and prioritize grad schools

Determine your safety schools, target schools, and dream schools

Check the eligibility criteria

Academic transcripts for your undergraduate studies
The specific program's application form
Standardized test scores like the GRE or GMAT
Personal statement or statement of purpose
Letters of recommendation
Application fee

Fill out the application form
Prepare for the entrance exams
Impress with a personal statement
Update your resume
Gather your transcripts and letters of recommendation
Prep for the interview
Submit your application early
Wait for a response
Download Your Grad School Resume Template
Planning Your Application Timeline
One of the best things you can do for yourself throughout the grad school application process is to start the process early. Doing so ensures that you allow yourself enough time to put your application together, gather all the requirements, and refine anything that needs another look.
Before you begin, check each program's deadline. Many schools have fixed application deadlines, typically six to nine months before the target start date. However, many other schools take applications in on a rolling basis, meaning the earlier you apply, the earlier you can hear back.
Some applicants allow themselves as much as 18 months to complete their applications. But how much time do you really need?
Plan your timeline in accordance to the estimated time it takes to complete each aspect of the application. The examples below will show you how much time you'll need for certain steps:
Standardized Test Preparation – If you must take certain standardized tests to apply, allow yourself 2-5 months to prepare (depending on how many attempts you want to make).
Requesting Recommendation Letters – Allow your recommenders as much time as possible to write your letter by making your request 3-6 months before the deadline.
Preparing Your Personal Statement – Ensure you have enough time to draft, redraft, and perfect your statement of purpose by starting at least one month before the deadline.
Filling Out Your Application – You may need to look up some information, so ensure you allot a month to complete your application.
Requesting Your Transcripts – Give yourself at least one month to request your transcripts from your previous schools, just in case something goes wrong along the way.
Related Reading: When to Apply for Grad School
What You Need to Know About Standardized Tests
Schools used to require standardized tests as part of their application processes. Standardized exams are still a common requirement now, but these days, many institutions have made them completely optional. Here's a bit more information on the most common tests you may need to take:
Test
Information
GRE (Graduate Record Examination) – General

The most commonly required standardized test by graduate schools
Tests a candidate's math and verbal skills
Also tests a candidate's ability to write logical and well-argued statements and essays
Often taken digitally at test centers
Typically shows candidates their preliminary scores at the end

GRE Subject Tests

Specialized tests on subject areas, such as biology, physics, chemistry, math, English literature, and psychology
Programs that require high-level math will often require applicants to take one of these subject tests

LSAT (Law School Admissions Test)

Required in the US and Canada
Tests an applicant's verbal and logical reasoning
Also tests reading comprehension
Taken digitally at a test center

GMAT (Graduate Management Admissions Test)

A test required by business schools in the US and Canada
Tests a candidate's verbal and mathematical skills
Typically adapts to the examinee's answers — if a question is answered correctly, the next question becomes harder; if a question is answered incorrectly, the next question gets easier

MCAT (Medical College Admissions Test)

Required exam for medical school applicants
One of the longest standardized exams, requiring 7.5 hours to complete
Tests candidates on their knowledge and skill of areas like biology, chemistry, psychology, and verbal reasoning
What to Do if You Didn't Get Accepted
It's easy to feel dejected if you don't receive any acceptance letters. However, not getting accepted doesn't mean the end of your grad school dreams. There are a few things you can do to help yourself feel better and prepare for your next round of applications:
Put things into perspective – Do your best to see rejection in a positive light. You can always apply again, and now you know the process better so you can prepare.
Determine what you can improve – Take an honest look at your application and see whether there are areas you can improve before your next try.
Gain some relevant experience – Graduate programs love applicants with work experience relevant to their field. Gaining experience may boost your chances next round.
Improve your resume and portfolio – A positive to rejection is you now have more time to improve your portfolio and resume. Seek advice from successful applicants if you wish.
Follow up with the admissions officer – Seeking advice or feedback from an admissions officer is a great way to find out what you can improve in your next application.
Do some self-study – If you are passionate about a certain field, you scratch the learning itch by doing some self-study or courses until you get accepted into your desired program.
Frequently Asked Questions
When Should I Apply to Grad School?
The most important thing is to check the deadlines for your chosen schools, as deadlines vary. Most programs close their applications between late October and early December, though others admit students on a rolling basis.
How Many Schools Should I Apply to?
This depends on your preferences, budget, and the amount of time you have to complete the applications. It's a good idea to apply for at least three programs covering safety, target, and dream schools. On the other hand, experts advise that you don't apply to more than six schools, as your applications might seem a bit stretched thin and less genuine.
What's the Most Important Part of a Grad School Application?
Every element of your grad school application is important. Your GPA is arguably the most important factor, but other aspects such as your personal statement, interview, and letters of recommendation can also have significant sway.
Do I Need a Certain GPA?
Some graduate programs have minimum GPA requirements. Some schools, on the other hand, may not declare minimums at all. That said, despite not declaring specific cut-offs, many graduate admissions committees may not consider an applicant if their GPA is below a certain point.
However, the GPA isn't the only deciding factor. If other parts of your application are strong, they might make up for a lower GPA. Ready to apply but worried about your GPA? Learn how to get into grad school with a 2.5.
Which Types of Graduate Programs Require Interviews?
Graduate programs and admissions committees may choose to require interviews at their discretion. That said, interviews are commonly required for med school, law school, and business school. Indeed has a wonderful grad school interview prep guide to help you prepare for yours!
How Much are Grad School Applications?
Applications typically cost anywhere from $50 to $100, though rarely, some schools may charge more. Each school will have its own price, with some grad school applications costing more than others. That said, many schools offer application fee waivers for qualified individuals, so check with your chosen programs to see if you are eligible.
Conclusion
If you know how to apply to grad school, the process becomes significantly less daunting. The best thing you can do to make it easier for yourself is to start planning well ahead of time. Doing so gives you enough time to put together strong graduate school applications for each program you plan to apply to. Just make sure you stay on top of the application deadlines!
Worried about your chances of success? Check out 4 ways to boost your grad school admissions odds.