Table of Contents
The highest possible degree you can get in any field is a doctorate or a PhD. Obtaining a doctoral degree can help to greatly further your career, but unfortunately, PhDs aren't always that easy to earn. The average time a doctoral candidate spends to receive their PhD is anywhere from seven to ten years, and during this time, it also becomes a balancing act.
However, if you manage to earn your PhD, you stand to increase your salary by a significant amount. Chances are, you might also find more opportunities in the future.
The best doctorate degrees are always the ones that you're passionate about. But, if you find yourself asking, "what should I get my PhD in?," this list of the highest paying PhDs might just help you out if you're looking to have a lucrative career.
Looking to get a master's instead? Check out: Top 9 Highest Paying Master's Degrees You Can Get in 2022
What's the Best PhD to Get?
If you're trying to figure out the best-paid PhD, we've compiled a list of the top 10 fields with the highest earning potential.
Here are some quick facts:
The PhD with the highest mid-career salary is in Chemical Engineering, with an average salary of $146,000. This field also has a pretty good early career, with the average salary sitting at $96,100.
When it comes to the highest early career earnings, a PhD in Computer Science is your best bet since the average salary is $118,000. This field also has one of the highest $145,000.
It's worth noting that your earning potential in any given field can also depend on your location. For example, a doctorate in computer science might earn you more money in San Francisco or other similar tech hubs. The best PhD degrees, at least for earning potential, can depend on where you intend to work.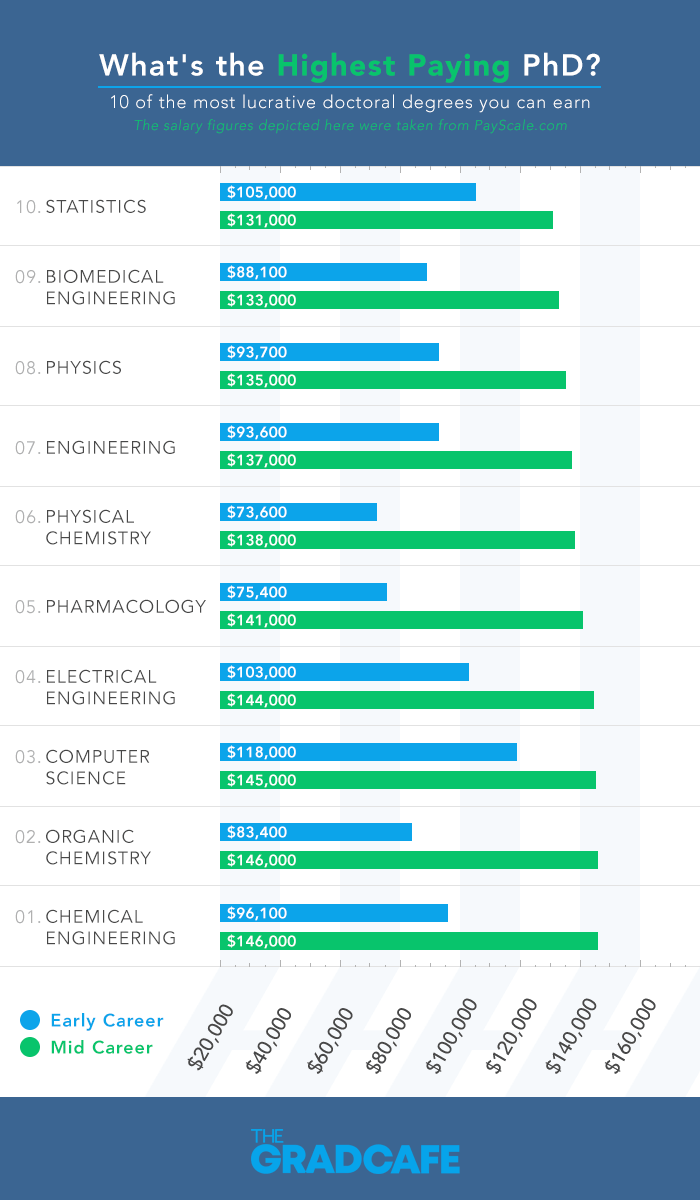 Here are the best PhD degrees by salary, ranked from lowest to highest.
Of course, the best doctorate degree for you depends on your particular situation. When answering the question "what should I get my PhD in?," consider your preferences and interests as well as what you want to do in the future.
Top 10 Highest Paying PhD Degrees
The salary figures of the highest-paid PhD degrees depicted in this article were taken from PayScale, based on data of those with PhDs.
10) Statistics
Salary in Early Career: $105,000
Salary in Mid Career: $131,000
BLS 2020-2030 Job Growth Outlook: 33%, much faster than average
Statisticians collect and analyze data via various statistical methods. They help various businesses, organizations, and even the healthcare industry collect and interpret data so they can solve problems, strategize, and plan ahead.
If you want a career as a statistician, you'll need to have an undergraduate degree and a master's degree at a minimum. Having a PhD in Statistics can help increase your earning potential by giving you an advantage over your peers.
The Bureau of Labor and Statistics (BLS) has the job outlook for mathematicians and statisticians growing by a projected 33% rate throughout 2020-2030. According to their website, this is a much faster growth rate than the average growth other fields are experiencing. It appears that statistics qualifies for the most in-demand PhD degree — on this list, at least. Therefore we can suggest it as the best PhD for jobs, since it'll be pretty easy to find one once you graduate.
9) Biomedical Engineering
Salary in Early Career: $88,100
Salary in Mid Career: $133,000
BLS 2020-2030 Job Growth Outlook: 6%, on the low end of average
In simple terms, biomedical engineering is the fusion of engineering, medicine, and biology. In particular, in this field, problem-solving techniques and principles used by engineering are applied to the fields of biology and medicine for healthcare. It's an interdisciplinary field that is growing in popularity over time.
Biomedical engineering is continually evolving thanks to the constant pursuit of knowledge. Because of this, the field continues to grow and can always use people who know theory and are well versed in the life sciences.
Getting a PhD in this field can open up opportunities for you in a variety of areas. You can work in research, at universities, in manufacturing, and even in hospitals. A doctorate is required if you want to work in research or at universities.
The BLS states that jobs in the biomedical engineering field are projected to grow at a 6% rate over the following seven years.
8) Physics
Salary in Early Career: $93,700
Salary in Mid Career: $133,000
BLS 2020-2030 Job Growth Outlook: 7%, about average
If you're interested in becoming a physicist, you'll definitely need a PhD. Most careers for physicists, particularly in research and academia, require you to have a doctoral degree in the field. You can become a research advisor, a physics professor, a (lead) physicist, or a researcher.
According to the BLS, the job outlook for physicists is looking good. The projections are positive, sitting at a 7% increase until 2024, and this rate is on par with the average national growth rate for most occupations.
7) Engineering
Salary in Early Career: $93,600
Salary in Mid Career: $137,000
BLS 2020-2030 Job Growth Outlook: 6%, on the low end of average
The world always needs engineers. However, a doctoral degree is not always necessary if you want to work as an engineer — unless, of course, you want to work in research. Research opportunities in the engineering field are only given to PhD candidates or graduates.
You can choose to go for a general track or a specialty such as materials science, mechanical engineering, computer engineering, and chemical engineering. If you have a PhD in engineering, you can take positions like project manager, engineering director, and specialty positions like aerospace engineer or chemical engineer.
6) Physical Chemistry
Salary in Early Career: $73,600
Salary in Mid Career: $138,000
BLS 2020-2030 Job Growth Outlook: 6%, on the low end of average
Although the early career salary for PhD graduates of physical chemistry is one of the lowest on this list, it ramps up and is one of the highest-earning on this list in the mid-career.
But what exactly is physical chemistry?
Physical chemistry is a branch of chemistry that applies the theories and techniques of physics to chemical systems (or the study thereof). It's the study of the behavior of matter on the atomic and molecular levels. Alongside this, physical chemistry is also the study of chemical reactions.
As a physical chemist, you'll most likely work in labs and research facilities. These research opportunities are awarded only to those with PhDs, and a PhD can also open the door for even more lucrative careers in high-tech or materials science.
The job growth and outlook for physical chemists are below average. However, the average annual wage makes it one of the most profitable ones.
5) Pharmacology
Salary in Early Career: $75,400
Salary in Mid Career: $141,000
BLS 2020-2030 Job Growth Outlook: -2% decline
Pharmacology is the study of drugs and drug actions, or how drugs work within the body. It's a branch of biology, medicine, and the pharmaceutical sciences. Having a PhD in pharmacology can help you find careers in research.
PhD programs in this field often build upon other areas, such as biochemistry, molecular bio, cell bio, physiology, and neuroscience. Depending on the track you choose, you can become a researcher in a particular field.
Pharmacology can also lead you to a career as a pharmacist.
The average early career wages for pharmacists are low because it can depend on location or position. For example, pharmacists who work at grocery stores or drug stores often earn less than their entry-level researcher counterparts.
Unfortunately, the current rate of growth for this field is -2% from 2020-2030. So while there will still be opportunities, it may be harder to find a job.
4) Electrical Engineering
Salary in Early Career: $103,000
Salary in Mid Career: $144,000
BLS 2020-2030 Job Growth Outlook: 7%, about average
If you have a PhD in electrical engineering, you stand to earn quite a good amount of money. Electrical engineering has one of the highest average early-career salaries and one of the highest mid-career to boot.
Electrical Engineering is the application and study of mathematics and physics combined with electromagnetism, electronics, and electricity. This discipline deals with the research and design of systems, equipment, and devices that use electricity. The results of electrical engineering are seen in day-to-day life. The advances humanity has made in the field have resulted in modern-day staples like the radio and the television.
A doctorate in engineering can help you go into research. If you are more of an idea generator, you can pursue a career in invention and product development. This discipline had plenty of opportunities in various fields such as transportation, computing, manufacturing, and aviation.
3) Computer Science
Salary in Early Career: $118,000
Salary in Mid Career: $145,000
BLS 2020-2030 Job Growth Outlook: 22%, much faster than average
Computer Science is one of the highest-paying fields, both in early and mid-career salary averages. A doctorate in this field allows graduates to become experts in certain computer science subfields. If you want to get a PhD in this field, you'll need a bachelor's degree or a master's in computer science.
If you choose to research in this field, you'll need a doctorate to qualify for research opportunities. You can also find non-academic careers as an information research scientist, a hardware engineer, programming, and even robotics. It truly comes as no surprise that Computer Science is one of the best-paid PhD programs considering technology continues to progress over the years.
The job outlook for this field is expected to grow by 22% until 2030, making it one of the best and most in-demand PhDs on this list
2) Organic Chemistry
Salary in Early Career: $83,400
Salary in Mid Career: $146,000
BLS 2020-2030 Job Growth Outlook: 6%, on the low end of average
Organic chemistry shares a spot with #1 for the highest-paying PhD, at least for mid-career salaries. However, early wages are lower, which earns this field its #2 spot on this list.
If you want to pursue a career in organic chemistry, earning a PhD in this field can get you a research position, and you may even find yourself leading a research team. However, to qualify for advanced research positions, you'll need a PhD in the field from an accredited institution whose programs are approved by the ACS or the American Chemical Society.
You may also find jobs in academia as a professor.
1) Chemical Engineering
Salary in Early Career: $96,100
Salary in Mid Career: $146,000
BLS 2020-2030 Job Growth Outlook: 9%, on the high end of average
Sitting at number one on this list is chemical engineering. This branch of engineering combines various fields into one, and you'll see physics, chemistry, microbiology, biochemistry, and math. This interdisciplinary field helps solve problems related to fuel, food, chemicals, or drugs.
If you earn a PhD in chemical engineering, you may find yourself prepared with expert-level knowledge of the current research findings, practices, and the core fundamentals of the field. After you graduate, you may find opportunities in research and academia and find jobs in areas like biotechnology.
Paying for Your PhD
One obstacle that many doctoral candidates run into is the cost of earning a PhD. If you find yourself wondering how you can afford to pay for your PhD, there are a few common ways you can ease the financial load.
Student loans – Many PhD candidates take out student loans to help them afford the tuition and living expenses while working on their doctorate full (or even part) time. You can choose to take out a loan for the full tuition plus living costs, or you can take a smaller loan to cover only a part of the expenses.
Scholarships, grants, and fellowships – Savvy PhD candidates seek out scholarships, grants, and fellowship opportunities to help them pay off their tuition and living expenses more easily.
Related: Graduate School Scholarships Guide
Seek financial support from your employer – Some employers help support their employees' education by offering partial or full scholarships as they seek higher education. This option may not always be possible, of course, as it depends on the field you are pursuing and whether it has any relation to your current place of employment.
Teach where you are studying – One of the most common ways doctoral students earn extra financial support for their studies is through teaching — particularly at the school in which they are studying. Teaching can help students cut down on tuition costs as many educational institutions may offer lower rates for their studies. Some colleges and universities will even offer teaching assistant positions that offer flexibility and enough compensation to cover part of the tuition costs.
Already decided on going to grad school? Here's everything you need to apply.
Frequently Asked Questions
Which PhD has the highest salary?
According to this list of the highest paying PhD degrees, the current most lucrative PhD is Organic Chemistry.
Can PhDs make a lot of money?
Yes, but the road there can be long and winding. There are also many factors that can affect how much you earn, such as your location, industry, position, and even your employer. Additionally, "a lot of money" is relative — what do you consider a lot of money? It may benefit you to check out salary information on the Bureau of Labor Statistics website or on websites like PayScale or Salary.com. Check if the average earnings meet your expectations before making your decision on your PhD.
Is a PhD worth it for salary increases?
The BLS says that in 2020, those with a PhD earned median weekly salaries more than 20% more than those with just a bachelor's degree. It can depend on the field and the position, but this does appear to be the case generally. Data also shows that doctorate holders can earn significantly more over their lifetimes. For example, male PhDs earn as much as $1.5 million more compared to high school graduates. Female PhDs earn $1.1 million more on average.
Do PhDs get paid more than master's degree holders?
Yes. According to the World Education Services (WES), doctorate holders do earn more than those with master's degrees. However, how much more they earn depends on their field. For example, engineering PhDs only earn 7% more than master's degree holders in the field. However, in the field of psychology, you can earn up to 33% more if you have a PhD rather than a master's.
Does job location matter when considering the highest paying doctorate degrees?
In any form of employment, your location matters. In fact, aside from your field or line of work, your location may be the next biggest determinant of your salary. The same is true even if you don't have a PhD. For example, if you work in the field of information technology or computer science, you'll most likely have a higher salary in places like San Francisco or Seattle.
You'll likely find plenty of PhDs in some of the most lucrative industries in a certain city or state. IT and Computer Science PhD holders will often find the highest-paying opportunities in tech hubs around the country. Geologists will find the highest-paying work in areas rich in natural resources. Researchers, on the other hand, will likely find the best-paying work in areas with research universities and institutions.
Many of the highest-earning jobs for PhDs are located in cities or states where their specific industry is highly supported.
Are there any degrees higher than a PhD?
Nope! The PhD, also known as the doctorate or doctoral degree, is the highest possible academic degree you can earn. PhDs are specialized degrees often earned through research. They demonstrate an extremely high level of understanding of the subject and expertise in your field. A lot of people who earn their PhD usually go on to stay in academia to teach or continue their research.
Choosing the Best Doctoral Degrees
It's not always about answering the question, "What's the highest paying PhD?" In the end, choosing the best doctoral degree for you comes down to a matter of preference and interest.
Earning a PhD is seldom easy — but with hard work, you can set yourself up for a bright future ahead with a lucrative yet fulfilling career.