This article focuses on how to write a personal statement for graduate school. After all, it's an important part of the admissions process. There's no doubt that your grades matter when applying for grad school. However, your GPA is not the full picture. That's where personal statements come in handy.
While getting into grad school, especially Ivy League grad schools, is highly competitive these days. Selection committees look at a variety of factors when choosing between the huge numbers of qualified candidates who apply each year. We've discussed grad school requirements, so let's talk about personal statements.
Even if you have a great GPA, you'll be competing against a larger number of other students with similar GPAs. So a strong personal statement is essential to help you stand out from the crowd.
Fortunately, this also means that you can strengthen your application with a phenomenal personal statement if your GPA is not quite up to scratch. In fact, some committees pay special attention to your personal statement.
Sure, your GPA and test scores say a lot about your academic performance. However, they are only formal documents. Selection committees also want to understand your academic goals and your motivations, and for this, they look to your personal statement.
So, what should be included in your personal statement for graduate school? Most importantly, how do you write a winning personal statement that will help you get into your dream program?
Read on to learn everything to know!
What is a Personal Statement for Grad School?
Though the requirements vary depending on the institution and the program, generally grad school selection depends on:
An admissions test or exam

Your GPA or academic record

Your personal statement

Recommendation letters
When applying for grad school, you'll need to submit a personal statement along with the other requirements. Your personal statement helps the selection committee understand your goals, passion, and ambitions.
Unlike undergraduate admissions which largely rely on academic performance, grad school selection considers a broader range of factors. We evaluated this document from the University of Washington, for example.
Admissions committees know that success at grad school is about more than just academic performance – prospective students also need to be motivated, disciplined, and driven.
Some programs have very strict requirements for what should be included in their personal statements for graduate school, while others leave it more open. Regardless, you'll need to demonstrate that you are a strong candidate and will excel in their program.
Related: When to Apply for Grad School.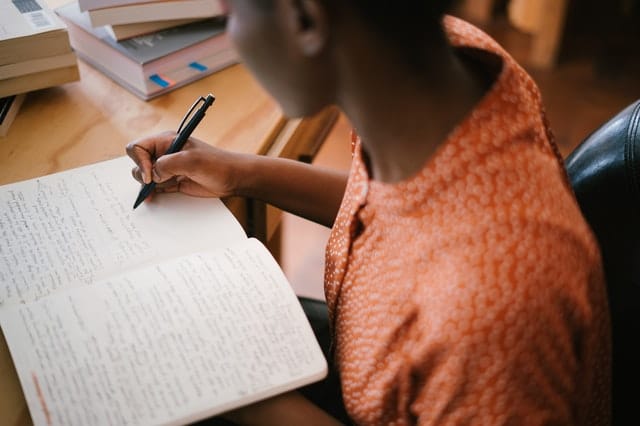 Many applications for graduate programs require a personal statement, and your application will not be considered without one.
Even if it's not mandatory, including a personal statement when applying to grad school can be highly advantageous and help to convince the admissions committee to move you forward to the next stage.
Your academic resume and the rest of your grad school application will typically focus on your previous academic experience, grades, and other technical elements. Your personal statement is your chance to let your personality shine through and have the selection committee see you as an individual. It's your opportunity to explain your goals, motivations, and what you have to offer.
Many grad school programs receive hundreds and even thousands of applications. Therefore, a compelling personal statement is one of the most important elements that can help you stand out and move forward to the next stage!
Tips for Writing a Winning Grad School Personal Statement
Your personal statement could make all the difference in getting into your dream grad school and setting you on the path for an exceptional career. Although the best personal statement can vary depending on where you're applying, there are some things that all the best personal statements examples for graduation school have in common.
So let's take a look at some top tips on how to write a personal statement for graduate school.
     1. Check the Guidelines
First things first – look at the grad school's individual requirements and guidelines. Every institution has different guidelines for how they want the personal essay to be formatted and what it should include. Check the required format, maximum word count, information that must be included, and other guidelines.
Most grad schools will post the requirements on their website – if not, contact the admissions office. You don't want to spend hours writing an essay only to be disqualified just because you didn't follow the guidelines properly!
     2. Be Genuine
You are wrong if you think exaggerating your experiences or achievements will get you admission to your dream university. The selection committee reads a large number of personal statements on a regular basis.
They'll quickly see if your assertions are too good to be true. Likewise, it's not hard for them to tell the difference between a fake and real statement. It's all about framing your own experiences and motivations in a certain way, rather than exaggerating or fabricating anything.
     3. Keep it Short
Aspiring grad students often feel pressured to write everything about themselves in their personal statement. You don't need to explain all of your interests, ambitions, and achievements in this document. Instead, it should be short, relevant to the graduation program, and engaging.
The exact length will depend on the programs' guidelines, but generally speaking, a good personal statement for grad school is around one page. Furthermore, you should make sure that every paragraph and sentence has a purpose. If there isn't a good reason to include it in your personal statement, cut it out!
     4. Keep it Relevant
A trip to Iceland might be super meaningful to you, but it's probably not relevant to your application for a computer science program. When writing your personal statement, keep it to experiences and qualifications relevant to the particular program you're applying for.
However, keeping things relevant doesn't mean you have to be limited to academic qualifications and professional experience. Some of your personal experiences and even family history may be appropriate and add value.
Furthermore, adding personal elements can make your application more authentic and persuasive, as long as they are relevant to the program you are applying for.
     5. Be Unique
Grad school selection committees read hundreds, if not thousands of personal statements. So it's important to stand out from the crowd and make a good impression, and anything that is a little different will help.
This could be a unique and engaging opening sentence, or finishing your personal statement with a dramatic line. You can also make your application stand out with unique personal experiences or exceptional qualifications. These will be your point of difference, so be sure to emphasize them in your personal statement!
     6. Strike a Balance
If you look at the best graduate school personal statement examples, you'll see how the writers manage to strike the right balance between a professional and an informal tone. The goal is to keep the tone neutral — neither too stiff and formal, nor overly friendly. Remember that this is a personal statement and so it is supposed to reflect your personality.
However, it's also important to keep in mind that you are writing it for your dream graduation program, so it must also be professional. If you are having trouble striking the right tone, consult with a professional writer or editor.
     7. Pay Attention to Grammar and Structure
As part of preparing a professional document, it's critical that the text has proper grammar, punctuation, and spelling throughout. At grad school, you're expected to be able to write to a high professional standard, and this means having perfect grammar.
The last thing you want is for your application to be rejected because of poor sentence construction. One way to avoid this is having your essay proofread and edited. If you can't afford this, ask a qualified friend or family member to look over it.
What Makes a Compelling Grad School Personal Statement
The best graduate school personal statement examples have certain things in common:
They start with a strong opener that grabs the attention of the selection committee.

This flows into a compelling narrative that clearly demonstrates the student's passion and motivation.

They include specific examples which show the student's discipline and work ethic.

They encompass family history, goals, education, and professional background all within a short statement.

They are well-written, well-structured, and flow well.

They are well-organized, each paragraph having its own message and belongs in the personal statement.
By applying these rules to your own experience and motivations, you'll be able to write your own personal statement that will greatly strengthen your grad school application.
Key Elements of a Winning Grad School Personal Statement
Writing personal statements is a critical part of applying to grad school. Let's take a deep dive into what to include in a personal statement for grad school, how to refine the writing process, and what will help make your application stand out!
Demonstrate Why You're Right for the Program
When evaluating applications, selection committees look for a potential graduate student who will be a good fit for the program. They want candidates who fit with the school's culture, have the right attitude, and have the same drive and passion as faculty and other students.
Before writing your personal statement, do your research. Learn about the values and culture of the grad school, as well as their faculty and alumni. Throughout your personal essay, be sure to clearly demonstrate how your own ideology aligns with the school to show that you'll be a good fit. It can also be powerful to cite a particular piece of research that inspires you, or describe your interest in the work of a particular faculty member.
Ensure your Personal Statement is Well-Written
Of course, it's not just about what you say. How you say it is also important. Your personal statement serves as a writing sample that will demonstrate your written communication skills (or lack thereof).
Whether a masters program personal statement or a personal essay for a doctorate program, the selection committee wants to see that you can write. This shows them that you'll be able to produce high-quality written work. This is most relevant for master's and advanced degrees that contain a thesis component, but all courses require some level of written communication.
Strong and Consistent Messaging
It's essential that your personal statement builds a clear, compelling narrative to convince the admissions committee that you're an excellent candidate for their program. You need to clearly communicate your key messages, such as your academic and career goals, what you can bring to the program, and what you want to get out of grad school.
This will be most compelling if you are consistent with your messaging throughout your statement by returning to the same key themes. In the same way, avoid contradictory statements and don't include elements that don't fit with the narrative you're trying to build.
Don't Oversell
Sure, it's important to present your strengths and describe your most impressive experience and qualifications. However, a personal statement is not a cover letter for a job application: it shouldn't be sell, sell, sell.
Don't be afraid to acknowledge your weaknesses and faults. The selection committee will appreciate your honesty and humility, and this will help you to come across as a human rather than a faceless name on an application.
Include Examples
To create the strongest grad school personal statement you can, you'll need to include examples. Just like a job interview, examples give more weight to your statements, and help you to demonstrate the claims you're making are true. Peppering your personal statement with examples also helps to capture the reader's attention and avoid generic-sounding text.
Be as specific as you can with these examples. Rather than just saying you're passionate about a subject, demonstrate your interest and dedication to the topic by describing volunteer activities or internships you've done in that field. Mention awards you've received, or simply just detail a certain life event that sparked your motivation to pursue a certain career.
Share Personal Stories (But Don't Overshare)
Some of the most powerful examples and anecdotes in a personal statement are just that, very personal. Some of the best personal statements for grad school are those that show the writer's individuality. You could share how your family history has inspired your passion for a certain subject, or how a particular experience or life event spurred you to pursue a certain career. Not only does this make things more interesting for the reader, but vulnerability can be very compelling.
However, be careful not to overshare. Remember that your personal statement is part of an academic application, so it's essential to keep things professional. Use a professional tone and appropriate language, and only include necessary details.
Refine and Polish your Application
As one of the key parts of your grad school application, it's important to ensure your personal statement is refined and polished. Most selection committees will outright disregard applications with spelling mistakes or typos. With such a high volume of applications, a few missed commas or grammatical errors are an easy way to cull a set of candidates. MIT, for example, sends offers of admission to just over 10% of its grad school candidates.
Before submitting your application, proof read your personal statement. Then proofread it again. Ask a friend, colleague, or family member to look at it – it's amazing what a second set of eyes can pick up.
How Long Should a Grad School Personal Statement Be?
The ideal personal statement for grad school is somewhere between 500 and 1000 words in length.
Any aspiring graduate student wants to make sure that they put in a comprehensive personal statement that includes all the elements they need to win over the selection committee. At the same time, it's important to not make your personal essay too long, as key information may get lost in lengthy, tedious pieces.
However, don't worry about being too firm on the length. The most important thing is to write a strong graduate application personal statement that shows your personality and presents a compelling message.
Related: How to Pick a Grad School.
Personal Statement Examples for Graduate School
Though writing a personal statement for grad school is a very personal endeavor, the best personal statements for grad school share certain elements. Here are some successful personal statement examples from fictional graduate school applicants that show some of the key things that make a compelling personal statement.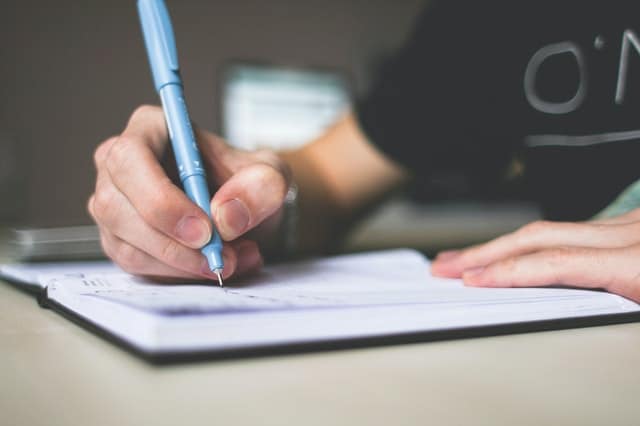 Example #1
Earning a college degree has been one of the proudest achievements of my life, despite the fact that my life's trajectory long suggested that a college education would never be a part of my future. After falling pregnant at age 17 and dropping out of school, I found myself living as one of the "working poor", balancing two minimum-wage jobs and caring for my child. Through my 20's I picked up a string of low-paid, low-skill jobs: cleaner, retail clerk, server. I found none of these roles to be fulfilling, and, looking back, I can see that my talents and potential were going to waste.
However, I never gave up on my dream of going to college. I found work that would allow me to support myself and my family financially while giving me the flexibility to go back to school, and at 27, I enrolled at the local community college. At college, I was exposed to a whole new world which was supported by a thirst for learning, and I excelled academically. There were many long nights of studying after a day working at the local distribution center, followed by helping my kids with their homework and putting them to bed.
Working a 36-hour week while caring for a family and working towards a degree only motivated me to work harder. The better my performance and the more outstanding my results, the more I felt that my sacrifices had been worth it. I took inspiration from my mother, who came to this country as a 19-year old single mother from Nicaragua and worked three jobs to support her six children so that we could have a better life. Although I don't come from a studious or academically-minded family, I have been able to take examples from other facets of my mother's life and apply these to become an exceptional student.
It was during my time at community college that I truly embraced my lifelong passion for science. I have always been interested in how things work, and through my college studies I have developed an intense interest in physics. I find it fascinating to discover how things work on a molecular level, and I'm driven by the enormous potential of this field to shape human history into the future.
I feel a great part of my success as a student has been in how I have approached my studies. I approach study as if I am already a professional in the field, rather than a student, working diligently to excel and put in the strongest performance I can, which is reflected in my excellent academic record. I always chose the most challenging courses, and sought a broad range of subjects to broaden my knowledge and challenge my thinking. One of my greatest academic milestones to date was when my research paper on sub-atomic mass was published in the campus scientific journal, The Modern Scientist.
My undergraduate journey has not only cultivated a love of learning in me, but a strong desire to pursue a graduate degree. I have prepared for the rigors of graduate study by taking extra credits in not only my chosen field of physics, but also biology, chemistry, and ethics, in order to broaden my knowledge base. Additionally, for the past several years I have been an active member of my school's physics club, and I have served as the club president for the past 12 months. I feel that my motivation, drive, and diverse life experiences would make me a valuable addition to the University of Virginia's Master's in Physics program. I am in awe of Virginia's impressive and exciting interdisciplinary program and I feel that it is the ideal program to help me pursue a successful career in the world and make a valuable contribution to the scientific community, as society more generally.
Word count: 636
What makes this a strong personal statement:
The applicant uses memorable examples that are outside the ordinary to stand out from others

It shows a powerful level of self-reflection, including acknowledging the candidate's own weaknesses

The applicant lets their individual personality shine through
Example #2
I'll never forget the day when I first held a copy of Simone de Beauvoir's The Second Sex in my hands. I was in the dusty library at UCLA, a wide-eyed undergraduate student curious to learn more about this thing called "feminism". At that time, I had no idea the impact that book would have on me, or how it would shape my life.
Reading de Beauvoir's masterpiece set off a chain reaction that inspired me to learn more about feminism and women's issues. I moved on to Germaine Greer, Mary Woolstonecraft, Margaret Atwood, Octavia E. Butler, and Audre Lorde, devouring their works and absorbing their ideas. I chose Women's Studies as my undergraduate major, and interned at the Young Women's Legal Service in downtown LA for two summers. After finishing my junior year with a 6.0 GPA, I went to Cambodia for three months, where I volunteered with The Purple Ribbon Project, a local, grassroots non-profit supporting female victims of sex trafficking. These diverse experiences inspired me to dedicate my life to advocating for women's rights.
I am applying my passion for the field to two major projects this year.
First, I received a $2,700 grant under the Women's Liberation Fund. I propose to expand on a prior research project, looking at the incidence of FGM within remote communities in Malaysia. For this thesis I am studying the cultural factors that contribute to the practice, and how this local practice is illegal at the national level, but ignored by authorities. I plan to expand on this theme as part of my senior thesis. My experience working with local communities in developing countries has been invaluable, as this has not only given me insights into cultural differences, it has also made it easier for me to connect with local communities on the ground as part of my research.
My second major project this year is a self-designed research project as part of my final year of Women's Studies at UCLA. I am investigating modern perceptions around feminism. I am focusing on my observation that many younger women today seem to be openly hostile towards the concept, and I'm interested in learning whether this reflects a misunderstanding of the underlying theories, or a misalignment with the core values of traditional feminism.
For years I have been working towards graduate study in the field of Women's Studies, but my approach to the field has been enriched with my double major in Women's Studies and Development Studies. My interest in development has spurred me to study the particular challenges and opportunities faced by women in low-income countries.
My interest in studying at Brown University has grown out of conversations I've had with several people, including Professor Anne Spacek who shared many insights based on her time teaching there. My supervisor Janne Bauer also suggested I connect with Professor Marianne Patel. I reached out to Prof. Patel and we had an inspiring conversation that confirmed I would very much be at home in Brown's Women's Studies department.
Word count: 502
What makes this a strong personal statement:
The personal statement has a unique and interesting beginning to capture the reader's attention. If you're wondering how to start a personal statement for grad school, begin with a compelling statement.

The applicant uses several examples to show their passion for the subject and how they will be a great fit for the program

The personal statement builds a compelling, well-structured narrative
What Sets the Best Personal Statements for Graduate School Applications Apart?
A personal statement is a crucial element of your grad school application. Your GPA alone will not get you into your dream graduate program, especially if you're seeking admission to a leading institution.
Writing a personal statement for graduate school can be a little overwhelming, especially if it's your first try. It's important to come up with a succinct statement that is also unique, authentic, and professional. Keep it short, simple, compelling, and most importantly relevant to the program.
For more tips on putting together a winning grad school application, check out our tips for getting into Ivy League grad school and GRE preparation tips.