Thanks to rising crime rates and security concerns, we're seeing more demand for criminal justice professionals now more than ever. The Bureau of Labor Statistics estimates that the number of professionals in this field will grow by 8% between 2020 and 2030.
Having a Master's in Criminal Justice makes you eligible for roles in prestigious public and private organizations, including the Department of Homeland Security and the National Institute of Justice. Graduates can secure high-level positions and play a vital role in law enforcement and public policy. There are also plenty of excellent opportunities in the private sector. Luckily, there are many options if you wish to attend graduate school for criminal justice.
If you want to know if a Master's in Criminal Justice is right for you, keep reading. We've got you covered with our complete guide to this degree, the best programs, and what you can expect after you graduate.
Why Should You Study a Master's in Criminal Justice?
A master's degree in criminal justice has many benefits and opens up many opportunities for career advancement. With a Master's in Criminal Justice, you will be able to secure any of a range of leadership roles across the sector, such as senior positions in the police force, corrections, and emergency services.
You may also choose to work as a sociologist, forensic specialist, lawyer, or researcher in the criminal justice field. These types of roles are typically well-paid, challenging, and rewarding. Not only will you have the necessary qualification, but you'll have the skills and knowledge needed to excel in the position.
Master's in Criminal Justice Career Paths
A Master's in Criminal Justice equips you for a diverse range of leadership roles in the public and private sectors across law enforcement, cybersecurity, forensic science and research, as well as post-secondary teaching. Graduates with a master's degree in criminal justice have an annual median salary between $55,000 and $92,000, according to the Bureau of Labor Statistics (BLS).
Here are some justice-related roles and their estimated salaries:
Police Force Supervisor: $92,970 
Emergency Management Director: $76,250 
Correctional Treatment Specialists: $55,690 
A Master's in Criminal Justice is typically the minimum requirement for these types of roles. However, further experience, certifications, and qualifications will increase your chances of being hired, particularly to higher-level positions in prestigious organizations.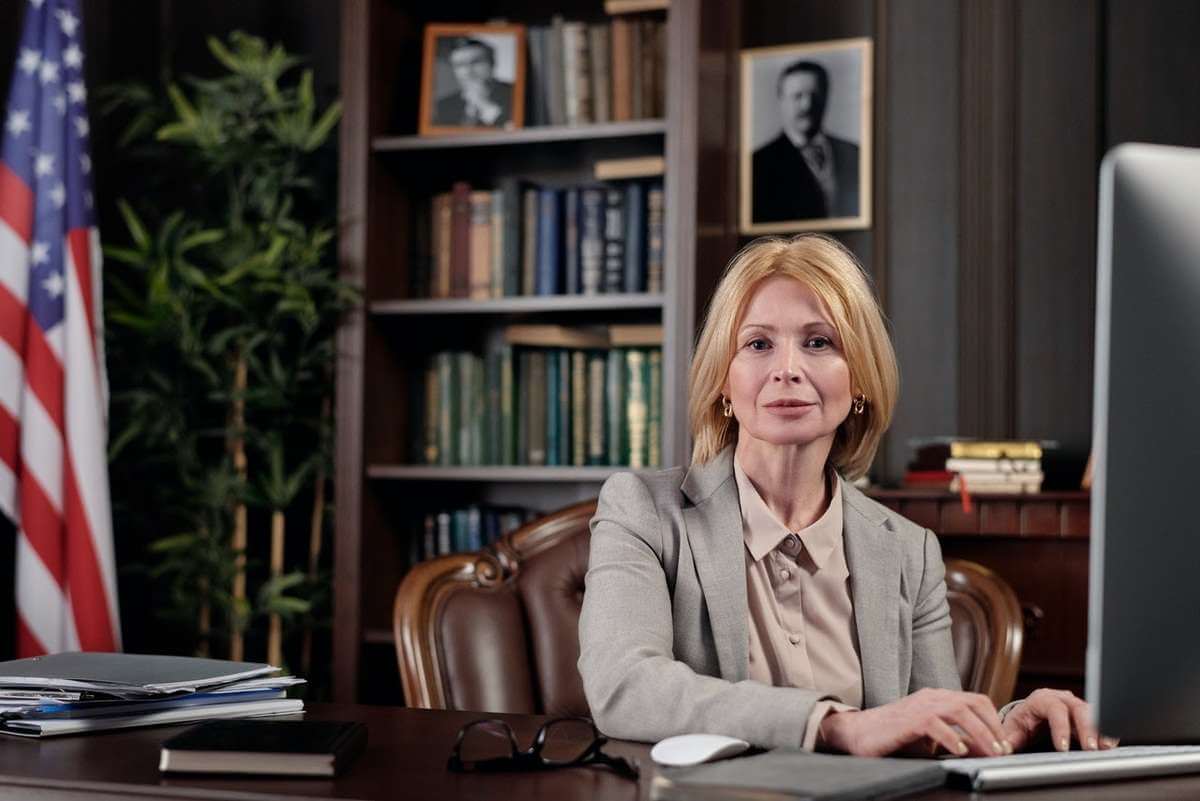 Master's in Criminal Justice Specializations
Completing a master's in criminal justice in the right specialization can make all the difference in your career. When comparing criminal justice masters programs, it's important to consider the specializations and concentrations they offer, as the right specialization increases your chances of landing your dream role.
Here are some of the most prominent specializations in criminal justice master's degrees:
Corrections
Public Policy and Management
Homeland Security
Emergency Management
Law Enforcement
Terrorism and Peace
Forensic Science
How to Choose the Right Master's Program in Criminal Justice
Before you settle on a master's program in criminal justice, make sure it is the right one for you. Here are a few things to think about before you embark on your master's journey:
Specialization: A Master's in Criminal Justice program can offer certain specializations. Be sure to check the specializations offered by the programs you're considering and choose the one that best fits your interests and career aspirations.        
Accreditation: Be sure to check the university's accreditations, as these signify a mark of its excellence. National and regional accreditations reflect the competence of the faculty, the value of programs offered, the financial stability of the institution, and other crucial factors. Besides the school, criminal justice programs can have special accreditations from institutions such as the Academy of Criminal Justice Sciences (ACJS).
Tuition and fees: Tuition and fees vary from school to school, and private universities are generally more expensive than public ones. You may also be eligible for scholarships or financial assistance to assist with these costs.
Distance: If you plan to study on-campus, the location can make a huge difference. Commuting to a faraway school not only increases your transportation costs but also costs you valuable time.
Requirements & Prerequisites
Exact prerequisites vary from program to program — check the requirements of each specific program you're considering.
Here are the most common requirements for a master's degree in criminal justice:
Bachelor's degree: A bachelor's degree is the minimum requirement to apply to any master's program, including in criminal justice. Most programs don't require you to have a degree in the criminal justice field, though it may help to make your application stand out.                  
GPA: When you apply for a master's program in criminal justice, the selection committee will consider your GPA for your undergraduate degree. There is no specific GPA requirement, but most programs expect at least a 3.0 GPA. Having said that, you can certainly get into grad school with a GPA of 2.5 or lower: learn how in this article.
Documents and other requirements: You'll also need to submit other documents, which generally include your undergraduate transcripts, recommendation letters, statement of purpose, and GRE or GMAT score. Most graduate schools also have an application fee, which is usually around $50.
Experience: You don't need professional experience to apply for criminal justice master's programs. However, relevant experience can strengthen your application and make up for other areas, such as a less-than-stellar GPA.
Top Master's Degrees in Criminal Justice
Here are some of the top master's of criminal justice programs offered by renowned schools: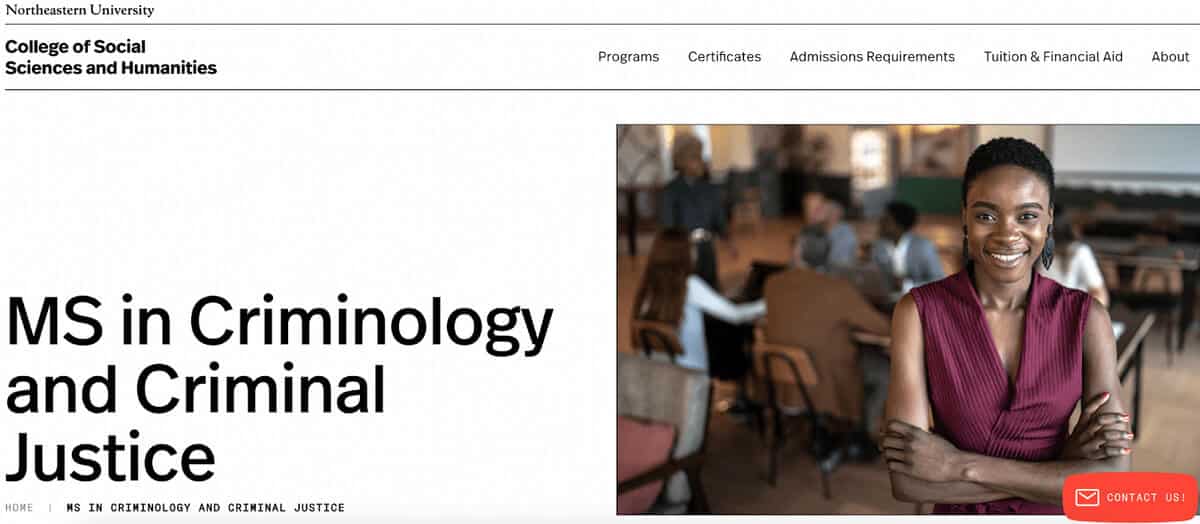 US News & World Report Rankings puts Northeastern University at the number one ranking for experiential learning. The university's MSCJ program covers a wide range of areas such as opioid abuse, racial discrimination, cyber fraud, and human trafficking, to name but a few. You can also have a concentration in cybersecurity. This flexible program can be completed on-campus, online, or both. And, you can complete it in as little as one year.
Total credit hours: 32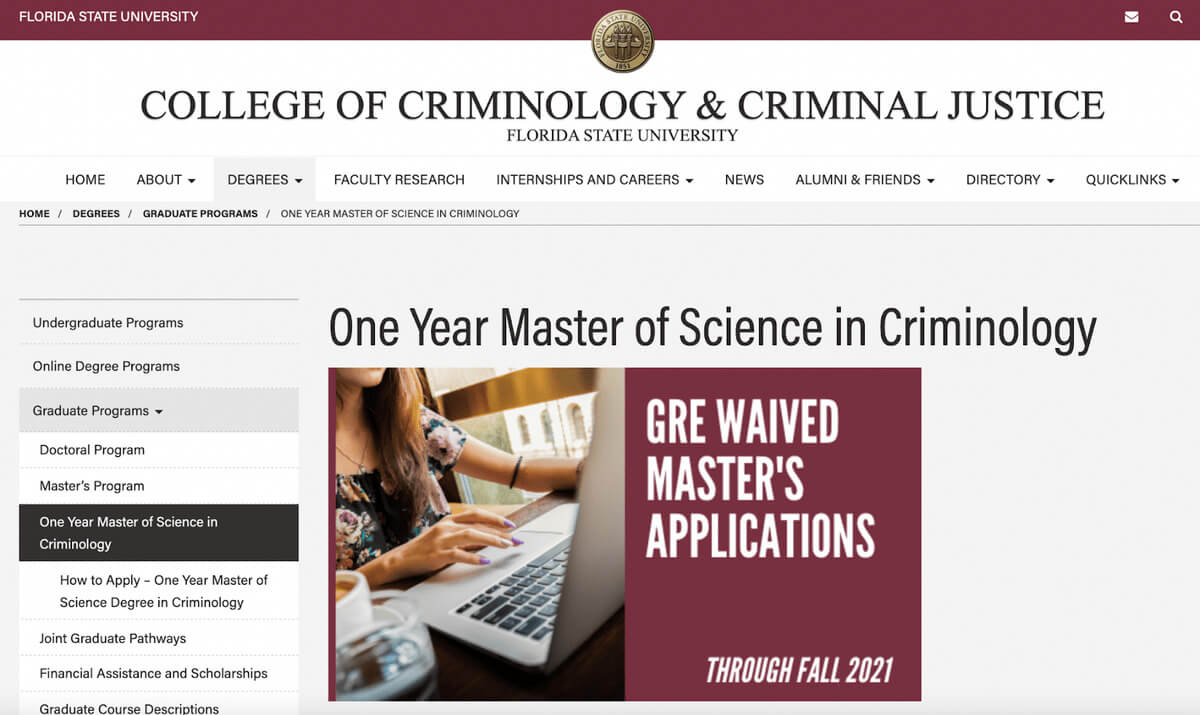 Florida State University's College of Criminology & Criminal Justice offers this one-year Master of Science in Criminology, which is ranked number one in research productivity in the country. The program's 33 credit hours include 24 hours of intensive courses in criminology and criminal justice and the remaining hours are through an internship, which can be completed in prestigious institutions such as the FBI, US Senate, and the Florida Department of Law Enforcement. This program has a minimum requirement of a 3.25 GPA and a GRE score of 148-160.
Total credit hours: 33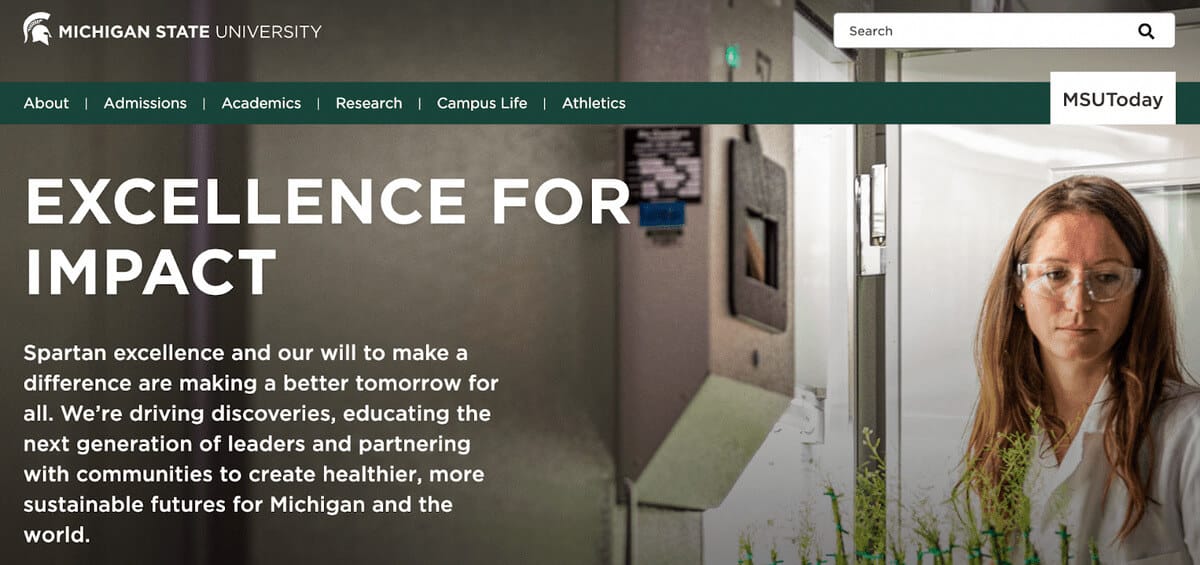 Michigan State University enrolls 50,000 students every year and offers many research-intensive programs. The MS program in Criminal Justice incorporates both classroom-based study and practical work, offering students the opportunity to get involved in real-life case studies. Running for 18 months to two years, the coursework involves various modules dealing with crime control, prevention, and criminal justice analysis, and design. Finally, the online version of the program offers a concentration in Security Management.
Total credit hours: 30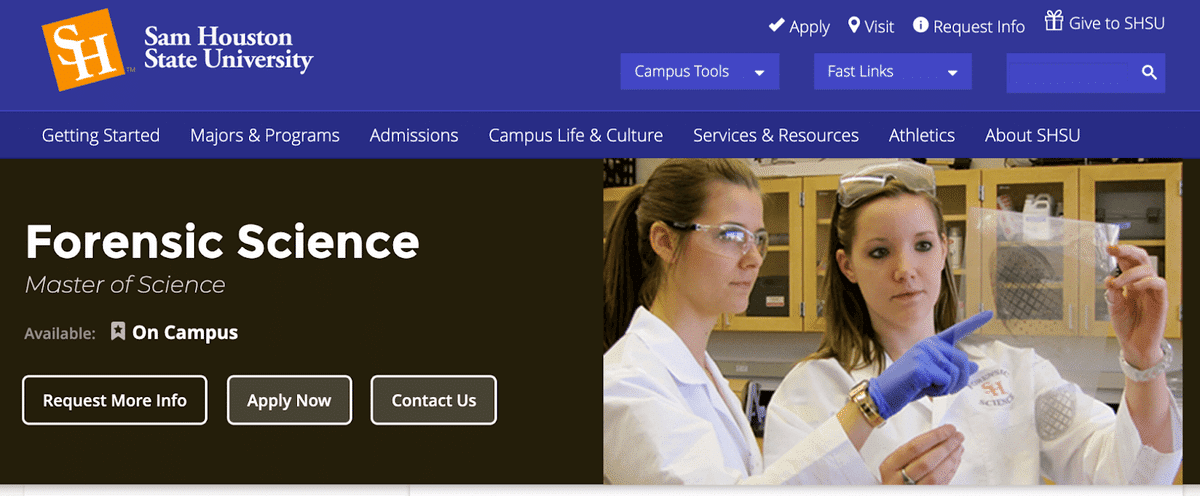 Sam Houston State University is a popular graduate school for aspiring forensics specialists. Located in Texas, the university offers many learning and research opportunities to students, and courses have a practical flavor. This includes two master's criminal justice programs in forensics: one in Forensic Science and the other in Digital Forensics.
The forensic science master's program is the first of its kind in Texas and involves interdisciplinary coursework including subjects like forensic biology, instrumental analysis, forensic toxicology, pattern evidence, trace evidence, microscopy, quality, ethics, and law. On the other hand, the school's Master of Science in Digital Forensics includes subjects like network security, cyber security, data recovery, and intrusion detection and prevention. It is suitable for students aspiring to be network security experts and cybersecurity professionals.
Total credit hours: 44 and 36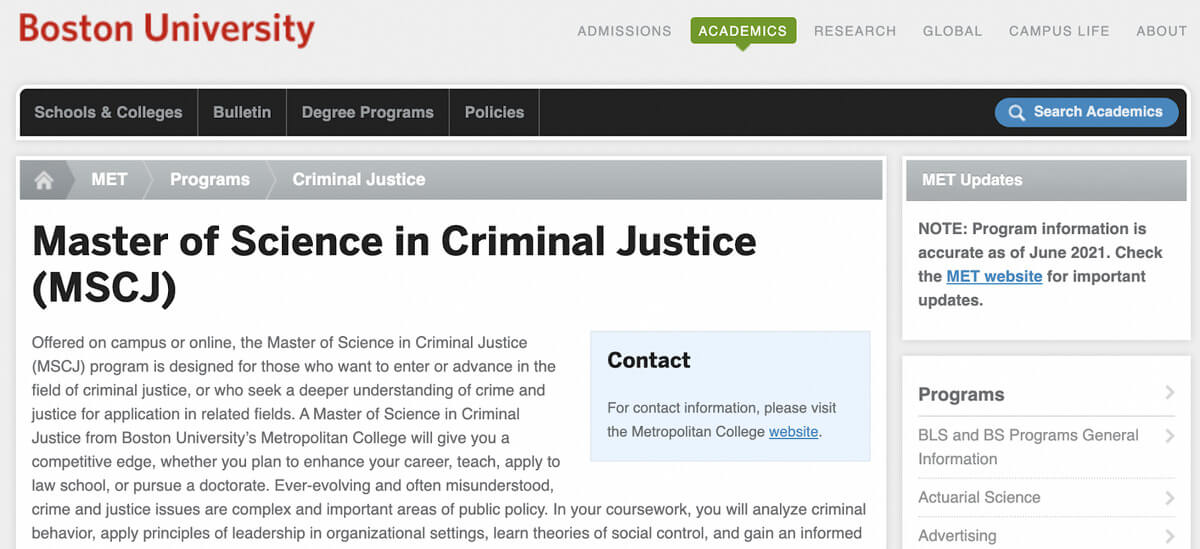 The Master of Science in Criminal Justice (MSCJ) offered by the Metropolitan College of Boston University aims to give its students a deep understanding of criminal behavior, corrections, and judicial systems.
This criminal justice master's degree program consists of a total of 32 credits spread over 8 courses. These include 16 credits for core courses covering criminal justice, criminology, and research and analytical methods, as well as 16 elective credits. It's possible to complete the course on-campus or online.
Total credit hours: 32
Final Thoughts
You can typically complete a Master's in Criminal Justice in around two years with 30-40 credits. Some programs can be completed in as little as 18 months or even in one year, especially if you choose an online program. Alternatively, many of these programs offer a high degree of flexibility, allowing you to complete your master's over a longer period of time so that you can balance work and study.
Take your time, research the various programs available, and you'll soon be armed with a well-regarded qualification that will allow you to pursue a career in the criminal justice sector.
If you're looking to apply for a Master's in Criminal Justice, or are considering a particular graduate school for criminal justice, we're here to help. Let us support you in putting forward the strongest possible application. Check out our guides to applying to grad school and grad school requirements.