A master's degree in finance will prepare you to meet the finance world's demands with the necessary skills, decision-making capabilities, and management acumen. Having a finance master's will make you eligible for advanced, rewarding, and well-paid roles in the finance industry.
Read on for more about the various Master's of Finance programs available today, admission requirements, career prospects, expected salaries, and more.
Typical Jobs and Salaries for Master's of Finance Graduates
Job opportunities are abundant if you have a master's in finance degree. Here are some of the roles you can secure with this sought-after qualification.
Chief Financial Officer ($138K)
A chief financial officer (CFO) is the most senior financial position in any organization. A CFO typically has many years of experience in financial analysis or financial advice and is responsible for the entire financial profile of an organization. This prestigious position comes with a salary of around $138K per year.
Financial Manager ($134K)
Financial managers oversee financial reporting and the overall financial well-being of an organization. They typically create and implement strategies to meet the organization's financial goals. A financial manager's average annual salary is $134K.
Actuary ($111K)
Actuaries mainly work in corporate finance, insurance, and investment banking. They conduct advanced analysis and make predictions to give expert advice. Actuaries earn an average annual salary of $111K.
Personal Finance Advisor ($89K)
A personal finance advisor offers financial advice to help individuals plan their financial future. These professionals earn an average salary of $89K.
Financial Analyst ($83K)
A financial analyst collects, studies, and analyzes market data, then uses this information to design expert strategies for organizations. A financial analyst's annual average salary is around $83K.
Financial Consultant ($70K)
With a Master's in Finance and in-depth knowledge of the field, you can start your own consulting business. The average yearly income of a financial consultant is around $70K.
Master's Degree in Finance Specializations
The finance sector is vast with various branches, offering many different specializations for students studying for a master's degree in finance.
Major specializations include:
International Finance: This concentration is most suitable for students with a keen interest in global financial issues.
Capital Markets: This specialization opens up opportunities in banking and investment, as well as roles with lending firms and equity companies.
Corporate Finance: A specialization in corporate finance will teach you how to handle and analyze the finances of large corporations.
Investments: With a specialization in investment, you can work as a financial advisor or investment banker, among other roles.
Asset Management: Knowledge of asset management will help you to make decisions about asset portfolios such as stocks and shares.
Risk Management and Insurance: This specialization offers in-depth knowledge of insurance regulations and risk management principles, equipping you for a senior role in the insurance sector.
Future Markets: A future markets specialization prepares you to work in the trading and investment sectors. You will be able to analyze current trends and make expert recommendations.
Real Estate: This specialization deals with the financial aspects of the real estate industry. This qualification can lead to a range of opportunities in private equity firms and organizations that invest in real estate.
How to Choose a Master's in Finance Program
With so many institutions and specializations, you might have a hard time picking the right Master in Finance program. It's critical that your master's program, including its course duration, accreditation, cost, and facilities, match your career objectives and passions.  
Here's some advice on choosing the right finance masters degree:
Specialization
As we've already seen, many specializations are available for finance master's programs. It's important to consider which specialization best suits your passions and career aspirations.
Duration
These days, you have many options to complete master's programs at a rapid pace. In fact, you can complete a master's program in finance in as little as 10 months. However, some programs follow a cohort format, which means they have a fixed duration and will take longer. On the other hand, the advantage of the cohort system is that it allows for excellent collaboration.
Accreditation
Most institutions and programs carry accreditation from national or regional authorities. Some also have specialized accreditation from institutions such as the Association of Advance Collegiate Schools of Business (AACSB) and the Accreditation Council for Business Schools and Programs (ACBSP).
Cost
Tuition and fees vary depending on the school and the specific program you choose. In particular, public universities tend to have lower fees than private universities. Make sure you maintain a budget and explore any possible opportunities for financial assistance.
Program Specifics
It's also important to consider the program's teaching and facilities. You want to ensure that you apply for a recognized program delivered by a renowned faculty with world-class facilities that also offer placement and internship opportunities.
Master in Finance Requirements
Generally speaking, Master's in Finance programs have similar admission requirements to other master's programs. Most universities will assess your GRE or GMAT score as well as your undergraduate GPA. Although requirements can vary between schools, the more competitive programs look for a minimum GPA of around 3.0. Some programs also ask for relevant professional work experience.
Besides the program's specific application form, you'll also need to submit your academic resume, a personal statement, and typically between one and three letters of recommendation.
A master's in finance degree can cost anywhere from $22,000 to $60,000 per year, with programs typically running for 18 months or two years. Financial aid and scholarships are available from many schools and external institutions. For more tips on how to pay for grad school, see this article.
The Best Master's in Finance Programs
Many universities offer world-class finance master's programs. These are some of the best programs.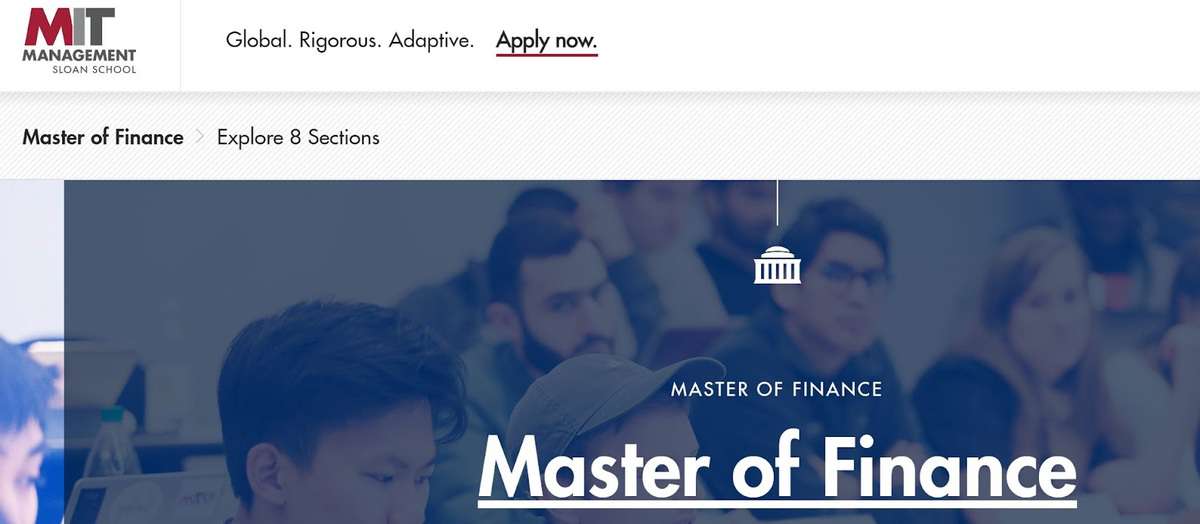 This world-renowned master's degree in finance consists of an 18-month STEM curriculum that can be accelerated to 12 months. It gives students a flexible, customizable curriculum with a hands-on, problem-solving approach.
This prestigious program creates world-class professionals capable of addressing local, national, and global financial problems.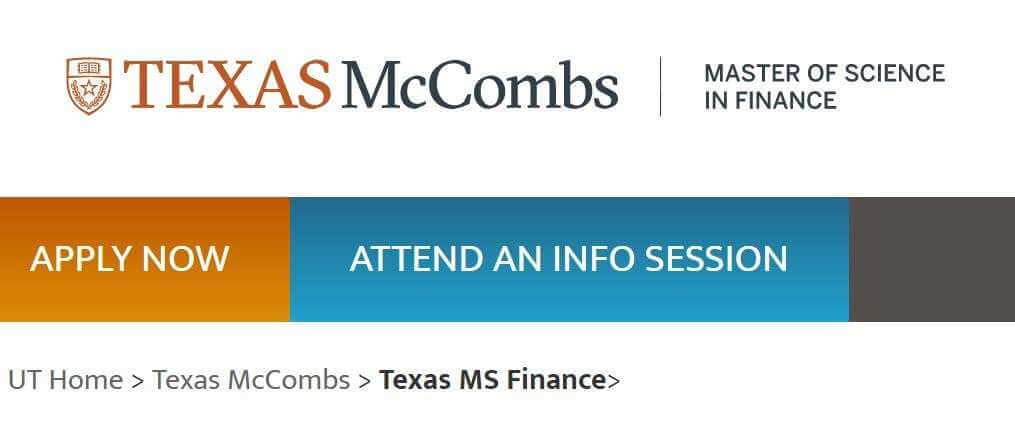 The University of Texas at Austin's McCombs School of Business offers a Master of Science in Finance, which is a fast-paced program that can be completed in just 10 months. It delivers a balance of finance theory and technical training. All bachelor degree-holders are eligible for the program from this public university — previous work experience is not required.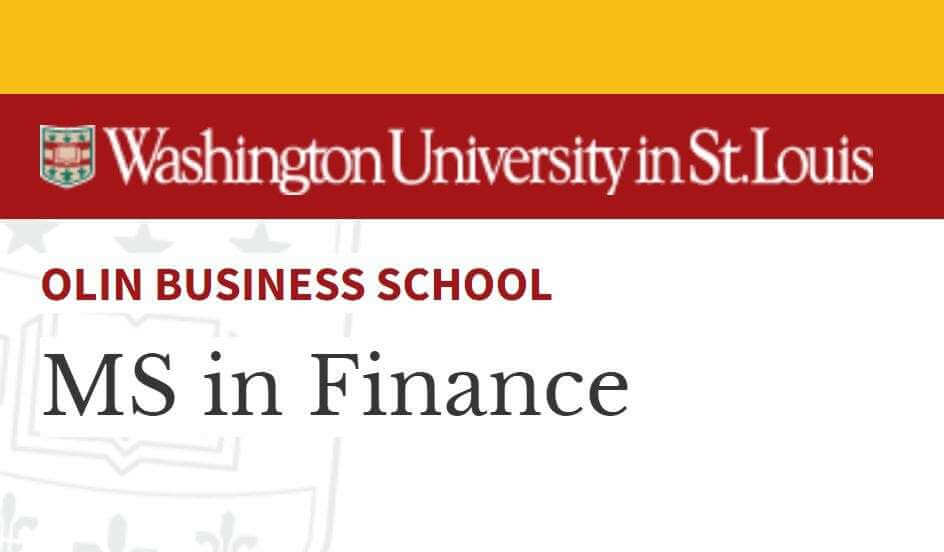 This program offers in-depth knowledge and training on capital raising, securities research, fixed income, and derivative pricing. The program incorporates actual projects from reputable financial organizations and runs for 10 months.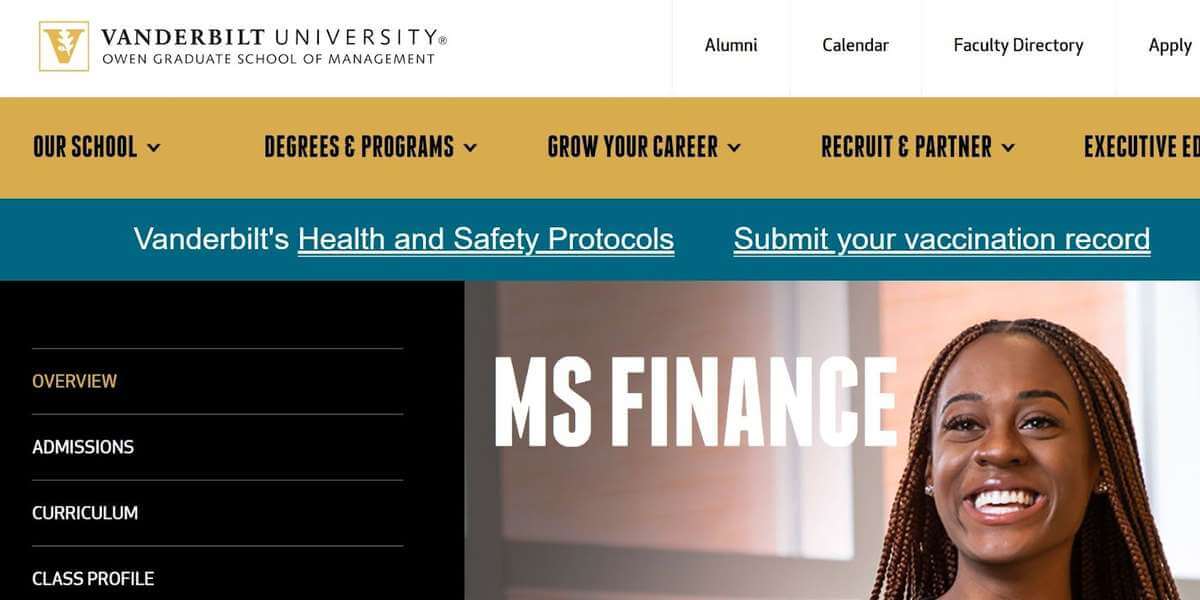 This Master's of Finance program is delivered by a world-renowned faculty and lets you customize half of the content with MBA-level elective courses. It offers small class sizes, allowing for deeper learning and more collaboration. The curriculum includes subjects such as investment banking, corporate finance, real estate finance, and private wealth management.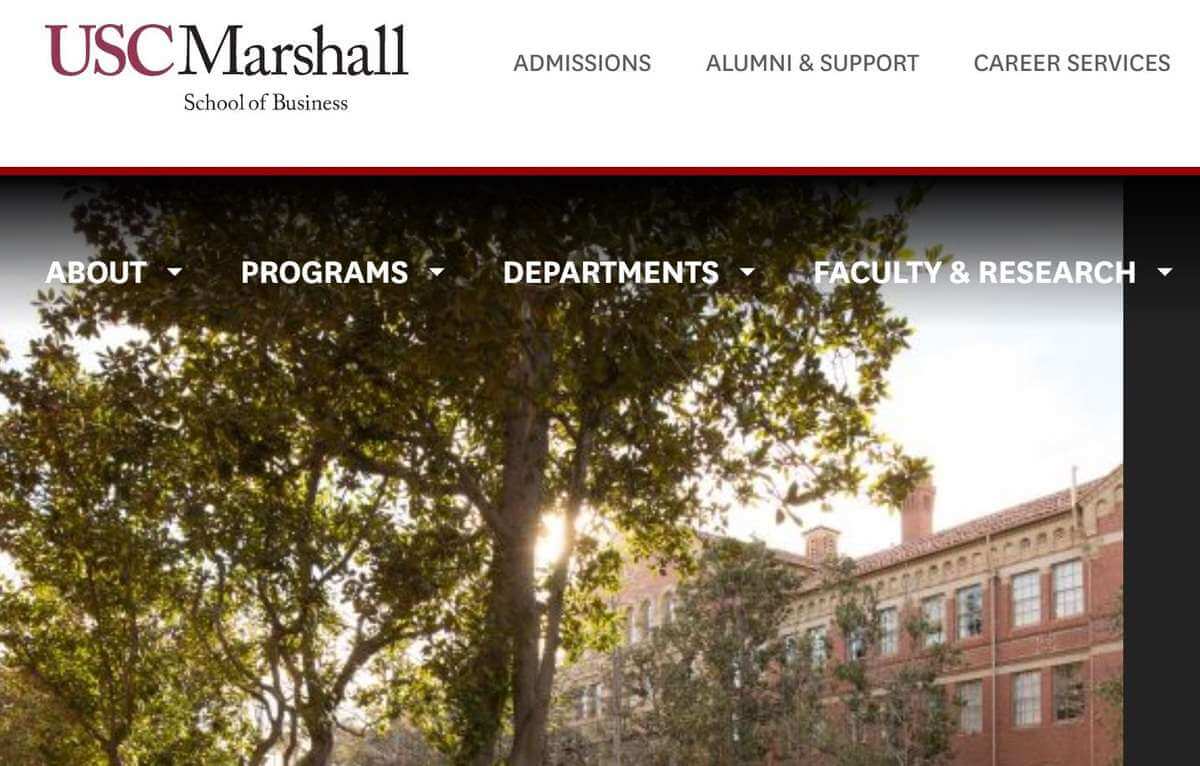 The Master of Science in Finance from the USC Marshall School of Business is a STEM-designated program that aims to create professional analysts capable of making an immediate impact in various spheres of finance. The program can be completed in 16 months and work experience is not required. The course is delivered by world-class faculty and equips students with the necessary skills and expertise to excel in the world of finance.
Key Takeaways
A master's degree in finance from a good school is a valuable investment for your future. The options to specialize and diversify are vast in the field of finance, which brings numerous opportunities to any finance master's degree holder who has completed the program with a noteworthy performance. With concepts like innovative outlook, technology integration, and globalization, openings are plenty in the field of finance. You will never have to look back with a finance master's degree.
Still not sure which graduate program you want to pursue? Here's some related guides: