Table of Contents
Disclosure: TheGradCafe is supported by its audience. When you purchase through links on our site, we may earn an affiliate commission at no extra cost to you.
What is the best microscope for students? The microscope is an invention that has brought humanity forward by leaps and bounds. It has allowed researchers, scientists, students, and even ordinary people to see things that used to be confined to the imagination. For all the discoveries and learning that microscopes can bring about, it's no surprise that they are vital instruments in education, especially in research-intensive graduate school.
Unfortunately, microscopes are not cheap. Sure, there are some entry-level options, but the reality is you'll likely need to make an investment if you'd like an instrument that will serve your needs for years. Thus, it becomes critically important to choose the right microscope before you buy. But with a laundry list of microscopes available today, that selection process can become incredibly challenging.
If you're unsure where to begin as you shop around for an instrument that suits your needs, keep reading! In this article, we've put together a buying guide and our recommendations for the seven best microscopes for students in grad school. We also listed a few helpful tips for proper microscope maintenance. Let's get started!
Why Buy a Microscope?
Grad school is challenging enough on its own. Doing research and conducting experiments for your PhD can be time-consuming and sometimes tedious. You'll likely spend long hours peering into a microscope in the lab. And if you have to share your instruments with others, it can get even more frustrating. You can schedule microscope time as much as you'd like and even put it in your planner, but that doesn't change the fact that you'll need to wait to use an instrument.
Buying yourself a good microscope is a great way to make your life as a student more convenient. It will reduce the time you spend waiting for a microscope to become available, which is especially vital when working with time-sensitive specimens.
Additionally, having your own microscope means you can take it with you wherever you need it, allowing you to continue your work elsewhere if needed. You also won't have to worry about the time and getting kicked out of the lab past closing time, as you can just continue working at home if you're in the zone (though we suggest you maintain a healthy school-life balance)!
Buying Guide: How To Choose the Best Microscope for Students
Buying the best microscope for students to your needs isn't as easy as looking for the most affordable option and immediately checking out. Unfortunately, because microscopes have unique features, you'll also need to consider many factors in your selection process. It's essential to make sure you consider your purchase in relation to your situation, level of study, and grad school program.
Factors you should consider in your purchase include but are not limited to:
Budget and Price
As we've mentioned, student microscopes aren't necessarily cheap. You may want to consider setting a budget for an amount you're willing to spend, as this can guide your shopping process. With a budget in place, you can eliminate options that don't fit. Additionally, knowing the amount you're willing to spend will immediately guide you toward looking for the best options within those parameters.
You can likely get by with an instrument that costs around $70, but even the best cheap microscope has its limitations. If you're in a grad school program that requires better quality microscopes with higher magnification and other additional features, you'll most likely need to spend upwards of $200 or $300. If you're willing to pay even more, you can get a high-quality, premium instrument.
It's worth mentioning that in microscopy, the price you pay correlates quite closely with the quality you get. Microscopes can get pricey due to their lenses. After all, better lenses and build quality mean more expensive materials.
Build Quality, Materials, and Reliability
Because a microscope's price closely correlates with its quality, you'll quickly notice that an instrument's build quality and reliability go up along with its cost.
More affordable microscopes often use a mix of metal and plastic in their builds. It's not ideal for longevity, but the mixed materials can make the instrument lighter and more portable. Also, less expensive instruments may use lens glass that's not of the best quality. Although these microscopes can most likely do what you need them to, it's still a good idea to shell out a bit more cash and invest in a higher-end instrument.
Premium microscopes usually have an all-metal construction, making them heavier but much more solid and durable all around. Higher-end microscopes also often use better lens glass, leading to improved image quality. Additionally, premium instruments often offer features that allow for better control and much more precise adjustments so you can see your specimen as clearly as possible.
Portability
Microscopes are instruments that live in labs, which is why portability isn't usually a concern. However, if for any reason you need to bring your microscope with you somewhere, you may want to consider the factors below:
The microscope's size and weight
Its lighting setup — LED bulbs allow for use with (rechargeable) batteries
How robust and durable the instrument feels, and whether it will survive getting knocked around in transit
Power (Stereo vs. Compound)
While looking for the best microscope for students, you might come across two terms: Stereo and compound. These refer to the microscope's power.
Stereo microscopes are low-power and are usually the choice for those who just need to see finer details on objects that are visible to the naked eye. Stereo microscopes are often used to look at smaller details on things like rocks, gems, insects, and more.
Compound microscopes are much higher in power, allowing you to look at things you wouldn't be able to see with the naked eye, such as microscopic objects.
As a grad student, you'll most likely want a compound microscope. For this reason, all the recommendations on this list are compound type.
Magnification (Monocular vs. Binocular)
You'll probably also see the words monocular and binocular while shopping for student microscopes. Monocular microscopes are instruments with one lens capable of up to 1000x magnification. In rare cases, some monocular instruments may be capable of greater magnification, though you can expect to pay more for them.
Binocular microscopes have two lenses and have much more magnification power. Again, you'll likely pay a premium for the double scopes and increased magnification.
You may even come across "trinocular." Trinocular microscopes are just binocular types with an extra port for your camera attachment (the camera and camera adapter may be sold separately).
Lens Setup
A microscope's eyepiece works with its objective lens to magnify specimens. Each component's settings magnify each other to achieve the result.
When shopping for a microscope, choose one with interchangeable eyepieces with a wide frame (WF) 10x and WF 25x.
Typical compound microscopes come with a few objective lenses. There are several options because this allows you to cycle through and find the best magnification output possible. There may be three to six objective lenses on an instrument, but more is better! Common magnification powers for objective lenses include 4x, 10x, 40x, and 100x.
You can mix and match the settings on your eyepiece and objective lenses to achieve higher magnification. For example, a 25x setting on your eyepiece and a 40x on your objective lens will bring total magnification up to 1000x.
Lighting Setup or Illumination
Without good lighting, a microscope will not be as good or as useful. This is precisely the reason why microscopes often come with built-in illumination. Regarding lightbulbs, there are two main options: Halogen and light-emitting diode or LED. Choosing which type of bulb to go with is often a matter of personal preference. However, you can look at the table below for a quick comparison.
| | | |
| --- | --- | --- |
| | Halogen | LED |
| Cost | Cheaper initial cost but a shorter lifespan. You will need to replace halogen bulbs more frequently since the average lifespan is 3,600 hours | Slightly more expensive in initial cost but has a much longer lifespan at 50,000 hours on average |
| Brightness | Extremely bright, making them the preferred bulb on laboratory and medical instruments. Often used with dimmers to reduce their heat output and brightness levels | Also works well with dimmers because they can also be very bright. Power consumption is very low, allowing for microscope lights powered by rechargeable batteries |
| Light Color | Starts at pure, bright white but becomes more and more yellow as it ages | Constant cool white (though LED lights can come in any color, so make sure to double-check!) |
| Longevity | Reliable but requires frequent replacement. Susceptible to skin oils — avoid contact as the halogen bulbs may burst or malfunction | Extremely reliable, but you might want to keep a spare bulb around as LED bulbs don't usually display warning signs if they are close to burning out |
| Eye Comfort | May lead to eye fatigue more quickly because halogen produces UV-spectrum light. Also carries a slight risk of long-term damage | Many LED bulbs don't produce light waves that are within the ultraviolet spectrum, making them ideal and comfortable during long hours of use |
Something else you may want to consider is the type of lighting setup you need. Cheaper instruments generally have a basic LED bulb with a simpler focus diaphragm. On the other hand, Pricier microscopes tend to have an abbe condenser.
Abbe condensers are microscope components usually found below the microscope's stage. They control and concentrate any light passing through your specimen and into the objective. In essence, abbe condensers give you much more control over your illumination.
Ergonomics and Comfort of Use
The consensus seems to be that the most comfortable slant angles for microscope use hover around 30 to 45 degrees. Choose an instrument that has a viewfinder angle falling within this range. Better yet, consider options that allow you to adjust the viewfinder's slant.
Camera or Computer Connectivity
The best microscope for college students (and grad students) will likely have a camera that will allow you to document your findings. Alternatively, it should have a way to connect a camera or computer to its lens to allow for image capture.
You don't need a microscope with a camera, but it will likely come in handy! If you choose a microscope that doesn't come with a camera, don't worry — you can always purchase aftermarket add-ons as long as they are compatible.
It's worth noting that some microscopes can work with companion mobile apps, adding more features to the mix.
Ease of Maintenance
One last thing to consider when choosing a student microscope is maintenance. Ask yourself these questions before you buy:
Is the instrument's brand and model known for being easy to clean?
Do the manuals provide instructions on doing so?
How easy is it to find spare parts for the microscope?
What is the warranty?
How expensive will it be to get the instrument repaired?
How challenging would it be to send the microscope in for maintenance and repairs?
In this case, it's generally a good idea to avoid buying microscopes from obscure brands, especially if they don't have any service centers and parts dealers within a reasonable distance. Also, ensure that any instrument you purchase has a good warranty policy, mainly because repairs can get expensive.
Grad School Tools: The Best Microscope for Students in 2023
1. Swift SW350B – Best Value for Graduate School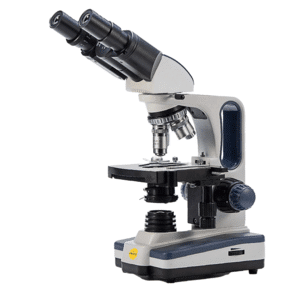 Specifications
Magnification: 40x – 2500x
Power: Compound Binocular
Lenses:

Eyepieces: WF 10x, WF 25x
Objective lenses: DIN Achromatic 4X, 10X, 40x (spring), 100x (spring, oil)
Illumination: LED bulb + abbe condenser
Portable: No, because it requires 110-240V power input; however, it does have a built-in handle in the arm
Build Quality: Solid metal frame and body with some cosmetic plastic
Camera: 1.3 Megapixel (MP) eyepiece camera included
Computer or App Compatibility: Software compatible with Windows and Mac
Other Notable Features:

Two-layer mechanical stage
Rotatable head allows for easy sharing
30-degree viewfinder tilt for comfortable viewing
The Swift SW350B offers a magnification of up to 2500x, making it an extremely high-powered instrument capable of practically any specimen. It also has a USB eyepiece camera that you can connect to your Windows or Mac computer. Connecting the camera to your laptop or desktop gives you access to additional features, such as image stitching.
The SW350B isn't the most portable as it doesn't allow for battery power. However, it's easy to move this instrument around, thanks to its built-in handle (located in the arm). Additionally, this microscope isn't cheap, but it offers excellent value for its price. For this reason, it's one of the best and most popular student microscopes.
Pros
Includes a 1.3 MP camera for easy image capture
Strong magnification allows you to look at practically any specimen
Great dimmable LED lighting with an abbe condenser
Allows coarse and fine adjustments
Robust construction
Cons
On the pricier side
Offers more power than you may need at 2500x magnification
1.3 MP camera isn't the best but will do in a pinch
2. AmScope T490B – Best for Great Image Quality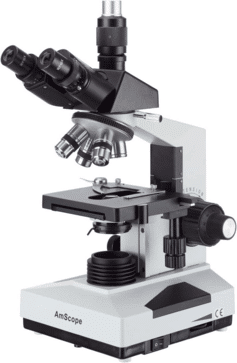 Specifications
Magnification: 40x – 2000x
Power: Compound Trinocular
Lenses:

Eyepieces: WF 10x, WF 20x
Objective lenses: Achromatic 4x, 10x, 40x (spring), 100x (spring, oil)
Illumination: Halogen bulb with abbe condenser
Portable: No
Build Quality: Solid metal construction
Camera: Not included
Computer or App Compatibility: You can connect to your Mac or Windows computer via the camera (sold separately)
Other Notable Features:

Has a photo port (23mm) that allows you to capture images or video with an eyepiece camera; comes with a C-mount adapter that allows you to connect some types of cameras
You can also use a DSLR with an adapter
360-degree rotating head for easy sharing
30-degree tilt on the viewfinder for comfortable use
Five-year factory warranty
The AmScope T490B is a pricey microscope, but its cost is justified by its features and quality. If you're looking for superb image quality from your instrument, the T490B is an excellent option. Its high-quality glass ensures the image you see is sharp and clear. This is also one of the best microscopes if you want to capture images or videos through the included photo port.
One of the downsides to this model is that it doesn't come with a bundled camera. You'll need to purchase one of Amscope's cameras to capture images and video or connect your own with the appropriate adapter. Some users like using their DSLRs with the T490B, connected with the proprietary Amscope adapter.
Pros
Five-year warranty
Up to 2000x magnification
Photo port allows you to use any camera you choose (as long as you have the adapter)
High-quality lens glass and all-metal construction
Abbe condenser
Mechanical stage and great control
Cons
Expensive
Camera sold separately
Halogen light (not a problem for everyone)
3. AmScope M170C-E – Best Affordable Microscope for Students with a Camera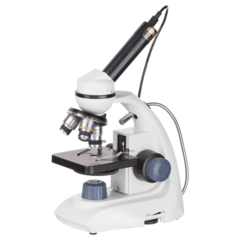 Specifications
Magnification: 40x – 1000x
Power: Compound Monocular
Lenses:

Eyepieces: WF 10x, WF 25x
Objective lenses: Achromatic 4X, 10X, 40X
Illumination: LED under-stage lighting with abbe condenser; free gooseneck LED light
Portable: Yes; uses AC and battery power (uses 3 AAs)
Build Quality: Metal, durable
Camera: Included, 0.35 MP 640×480
Computer or App Compatibility: Included camera is compatible with Windows and Mac
Other Notable Features:

The stage is fixed, but there are clips to help hold the specimens
45-degree tilt for the viewfinder makes it more comfortable to use
The AmScope M170C-E is a more affordable microscope that will work well for grad students who don't need magnification over 1000x. It's not the best instrument out there, but for some purposes, it'll do. The best part about this microscope is that it comes with a free gooseneck LED light, allowing you to have two lights on your specimen. Both lights can run via AC power or three AA batteries, making this microscope a truly portable option.
If you're looking for a more powerful instrument with better features, you might want to skip the M170C-E. This microscope is best for beginners or those who only need to view finer details on small objects visible to the naked eye.
Pros
Monocular setup is suitable for those who are new to using microscopes
Comes with a free overhead LED light in gooseneck style so you can have a double-illumination setup
Has a camera
Works with AC and battery power, making it more portable
Cons
Monocular setup might not be enough for you if you're an experienced user
Fixed stage
Camera is basic and low-resolution, only 640 x 480 px
Despite dual lighting, this model has no abbe condenser
4. Swift SW380T – Another Excellent Premium Microscope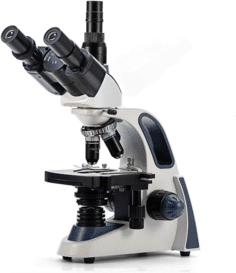 Specifications
Magnification: 40x – 2500x
Power: Compound Trinocular (binocular + camera port)
Lenses:

Eyepieces: WF 10x – 25x
Objective lenses: DIN Achromatic 4X, 10X, 40X(Spring), and 100X (Spring, Oil)
Illumination: Dimmable LED lights with abbe condenser
Portable: No, this requires 110-240V AC power. However, there is a built-in handle to make it easier to move your SW380T around
Build Quality: Solid metal construction makes this a durable instrument
Camera: Has a camera port but does not include a camera
Computer or App Compatibility: Can only connect to computers via the camera software (camera sold separately)
Other Notable Features:

Fully rotatable head allows for easy sharing
Mechanical stage also comes with a slide-holder
30-degree viewfinder tilt for comfortable viewing
Fine and course adjustments
The Swift SW380T is an expensive microscope and is certainly one of the more premium options on this list. But despite the high price, your return value is very much worth the investment. It's worth mentioning that this microscope can magnify up to 2500x, allowing you to see the smallest microscopic details.
This microscope has a full metal construction, making it a solid workhorse that can take a few bumps.
On top of that, you also get a built-in handle to make it easy to move from spot to spot. The SW380T is camera-ready, thanks to the camera port in its trinocular head. Unfortunately, it doesn't come with a camera, so you'll need to buy one (and the adapter, if necessary).
Pros
Magnifies up to 2500x
Has a camera port for easy image-capturing
Solid construction, durable and robust frame
Dimmable LED lighting with an abbe condenser
Cons
Does not come with a camera
Expensive
5. AmScope M150C-MS – Best Entry-Level Microscope for Grad Students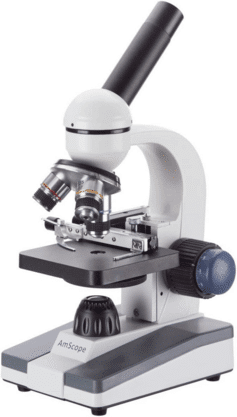 Specifications
Magnification: 40x – 1000x
Power: Compound Monocular
Lenses:

Eyepieces: WF 10x, WF 25x
Objective lenses: 4x, 10x, 40x
Illumination: LED lighting
Portable: Yes, uses AC power or 3 AA batteries
Build Quality: Metal frame with some plastic components, durable and reliable enough but needs some extra care
Camera: None
Computer or App Compatibility:  Can only connect to computers via camera software (camera sold separately)
Other Notable Features:

Five-year factory warranty
Coarse and fine focus adjustments
Fixed stage but with clips to hold the slides
45-degree viewfinder tilt
Monocular head revolves 360 degrees
If you're in the market for a budget or entry-level option, look no further than the AmScope M150C-MS. This monocular compound microscope offers 40x – 1000x magnification. It is not the best, but certainly more than enough for non-medical or scientific purposes.
Pros
Unbeatable price and value
Capable of using AA batteries, portable
Solid metal framework
Excellent warranty
Cons
No abbe condenser
Fixed stage
No carrying case
6. AmScope B120C – Best Microscope for Grad Students Studying Biology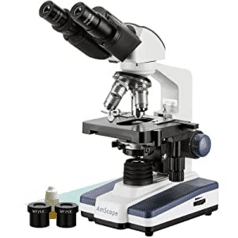 Specifications
Magnification: 40x – 2500x
Power: Compound Binocular
Lenses:

Eyepieces: WF 10x, WF 25x
Objective lenses: DIN Achromatic 4X, 10X, 40X(Spring), and 100X (Spring, Oil)
Illumination: Daylight-tuned LED lighting with abbe condenser
Portable: No, requires AC power
Build Quality: Solid all-metal (cast steel) construction makes for rugged durability
Camera: Comes without a camera, or you can pay more for a bundle with a 1.0 MP, 3.0 MP, or 5.0 MP camera
Computer or App Compatibility:  Can only connect to computers via camera software (camera sold separately)
Other Notable Features:

Has a two-layer mechanical stage
30-degree viewing angle for comfortable use, interpupillary adjustment allows you to change the spacing of the binoculars to adapt to your eyes
The AmScope B120C is an excellent option for those who are studying biology or medicine, thanks to its magnifying power. This instrument is capable of up to 2500x magnification thanks to the combination of its eyepieces and four DIN Achromatic objective lenses.
One of the great things about this microscope is you can purchase it on its own at a more affordable price. However, if you'd also like to have a camera to take images or videos of your specimens, you can pay a little more to bundle a camera with your purchase.
Pros
High rate of magnification makes it great for biology and medical students
More affordable than other options on this list offering similar features
Two-layer mechanical stage makes it easier to find the best position for specimens
Cons
Lights are not dimmable
Not portable
7. OMAX M83EZ-C50U – Best Microscope for Students with a Built-In Camera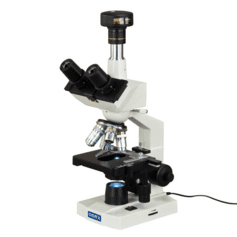 Specifications
Magnification: 40x – 2500x
Power: Compound Trinocular
Lenses:

Eyepieces: WF 10x, WF 25x
Objective lenses: DIN Achromatic 4X, 10X, 40X(Spring), and 100X (Spring, Oil)
Illumination: LED lighting with Abbe condenser
Portable: No, requires AC power
Build Quality: Solid all-metal construction ensures that this instrument will last for years
Camera: Included, 5MP
Computer or App Compatibility: Has an optional downloadable software that you can use on Windows and Mac
Other Notable Features:

Two-layer mechanical stage
Coarse and fine adjustments
45-degree viewfinder tilt for comfortable use
Trinocular head is capable of 360-degree revolution
Has sliding interpupillary adjustments for full control and customization
Five-year warranty
The OMAX M83EZ-C50U is an expensive microscope — it's one of the most costly investments on this list. However, this instrument is powerful and capable of 40x – 2500x magnification. It's an excellent choice for students who are studying medicine or biology, as it will allow them to see the smallest subjects.
The M83EZ-C50U has LED illumination with an abbe condenser to help concentrate the light as needed. There are coarse and fine focus adjustments to help keep specimens in clear view. Additionally, the two-layer mechanical stage holds the specimen slide and allows users to find the best position and angle.
Pros
5-year warranty
USB connector allows you to connect to your computer
Comes with a camera
Clear and sharp images
Two-layer mechanical stage
Cons
Some complaints that the camera is not the best and it would be better to attach your phone or another standalone camera with an adapter
Expensive — you can probably get microscopes with similar features at a more affordable price
Tips for Maintaining Your Microscope in Good Condition
Buying a good microscope for students in grad school is one thing, but keeping it in tip-top shape so it lasts you for many years to come is another.
Microscopes don't come cheap. Even if you buy one of the more affordable options, it'll often still be a significant purchase. Taking care of your microscope means you'll get more value for your money and more use out of your investment.  Of course, it doesn't help that these tools have sensitive glass elements and other components that can be fragile. So how can you take care of your new tool?
Taking extra care not to bump into or knock your microscope around is one of the biggest things you can do to keep it working for years. The tips below can also help you ensure that your microscope remains as reliable and accurate as ever through the years.
Keep It Clean
Your microscope has sensitive components that may suffer damage if dust, dirt, or any other gunk builds up. This damage can negatively impact the quality of your microscope's image. It goes without saying that cleaning your microscope regularly, ideally after every use, is vital. But cleaning it isn't enough — you also need to clean it properly.
Your instrument's knobs, handle, nose piece, and frame should be cleaned with a damp cloth with a bit of detergent. Alternatively, you can use 70% ethanol alcohol to disinfect certain areas.
Never use regular cloth or tissue paper to clean your microscope's lenses. Lenses are incredibly sensitive and prone to scratching, so you should only use lens paper or special lens cleaning cloths.
Proper Handling in Transportation
Sometimes you may need to bring your microscope with you to another location. In this case, it's a good idea to ensure you handle it properly to avoid damage to sensitive pieces and parts. Hold onto stable, durable components like the metal arm, base, or the actual handle.
Proper Storage Matters
When you purchase a microscope, chances are it will come with a dust cover. Using the cover to keep your microscope as dust and debris-free as possible is a good idea. As for actual storage, you might want to choose a spot that's out of the way to avoid accidents. Additionally, the best place to keep your microscope is on a stable surface and in a cool, dry place, as this will help prevent the growth of unwanted mold.
Bulb Maintenance
Microscope light bulbs come in either halogen or LED form. It may be a good idea to allow the bulb to cool down before storing your microscope. LED bulbs are easier to deal with as they don't require you to do this step before putting your microscope away. You may also want to keep a spare bulb or two handy, just in case the installed light burns out.
Use the Right Add-Ons
Some microscopes are upgradeable or can use other lenses and camera systems. If your microscope is of this type, always ensure that the add-ons you use are compatible with your model. Forcing accessories that won't fit is likely to damage your microscope, making it impossible to use add-ons.
Keep the Manual (and Read It!)
Don't toss your microscope's manual! One of the first things you should do when you first unbox your purchase is to read the manual and make sure you take note of the important information. Keep the manual handy, as you may need to check it for instructions again at some point.
When it comes to microscopes, the best thing to do is to stick to the manual and avoid tinkering. Tinkering is more likely to cause problems than anything else unless you know what you're doing. Follow the instructions in the manual for cleaning and setup, and if you need to troubleshoot or deal with an issue, perhaps consider professional servicing from the manufacturer.
Frequently Asked Questions
What Microscope Is Most Used in Schools?
The most common type of microscope you'll find in schools may vary depending on the level and program. However, it appears that you'll generally see monocular light microscopes and compound light microscopes in most teaching situations. Generally, the best student microscopes tend to be of the compound type.
What Magnification Microscope Do I Need?
Make sure that you buy a microscope with enough magnification for your field of study — for example, in neuroscience, you'll need a high magnification instrument to best see your specimen. In grad school, you'll probably need at least 200-400x at a minimum to see finer details. However, it's a good idea to invest in a microscope that can get up to or over 1000x, as many bacteria, microbes, and other small specimens won't be visible otherwise.
What Is the Most Modern Microscope of Today?
There have been quite a few innovations in imaging and microscopy. Most of these new technologies won't make their way into consumer instruments, and you're more likely to see them in specialized labs than anywhere else. Some modern microscope technologies include live cell imaging, SHeM (scanning helium microscopy), and time-resolved electron microscopy.
Conclusion
Buying a microscope is a significant investment, especially if you opt for one of the higher-end instruments available today.
However, there's no denying that having one can be incredibly helpful to your grad school education. If you are looking to purchase the best microscope for students, remember that it is vital to take proper care of your instrument so it will last you through the years.
Are you looking for a laptop to help you with your studies? Consider this list of the best laptops for graduate students.