Table of Contents
Staying focused on studying is hard enough on its own. It can only get harder when you don't have a desk or if you have one that isn't comfortable in the slightest. Having the right study table can make a big difference in your productivity and general comfort as you pore over course materials and work on papers and assignments.
But what exactly is the best desk for students? And how can you find the best one for you?
In this buying guide, we talk about the best desks for studying and how to choose the right one for you. Read on to find out more!
Disclosure: TheGradCafe is supported by its audience. When you purchase through links on our site, we may earn an affiliate commission at no extra cost to you.
What Type of Table is Best for Studying?
The best student desks have large flat surfaces so that you can place your laptop, books, and other items down without worrying about them slipping off. Additionally, you'll likely enjoy a desk that is sturdy and robust so that they don't wobble as you type, write, or do any other productive work. The perfect desk for you will also be the one that's the right size for your needs and for your space.
Despite the general criteria listed above, the best table for you, in particular, will be the one that fits your needs best. If you need some help choosing your desk for school, the criteria below might help.
Related: 17 Best Chairs for Studying: Avoid Neck and Back Pain
How to Choose Your Study Table: Things to Consider
One of the first things you'll probably do when you get admitted into your graduate program is try to figure out how to prepare for grad school. Part of prep includes getting your space ready and making it a bit more conducive to studying using one of the best study desks available.
As you look for the best desks for graduate students, there are quite a few things you may want to keep in mind. The criteria below can help you have an easier time shopping around.
Related: Top 12 Best Laptops for Graduate Students
Size

A student's study desk needs to be the right size to accommodate their study tools and materials. Choose a desk that is capable of holding your most commonly used items.
It's a good idea to make sure your chosen desk will fit into your room/space without causing any issues. Don't buy a desk that's oversized!
The best desks for studying will be just the right height to allow you to write or type without causing wrist problems like carpal tunnel and repetitive strain injuries.
It may also be a good idea to consider your field of study as it may impact your space needs. For example, earning one of the best masters in computer science programs may mean you'll need more space for your laptop/PC and a few monitors.

Design and Aesthetics

Choose a desk that was thoughtfully designed to include features you'd like to have. For example, consider whether you want a desk designed with a monitor riser, or if you'd like a desk that tilts, and so on.
Also consider a desk's aesthetics and whether it suits your space.

Comfortability

A desk needs to be comfortable for you to sit at and work from for extended hours each day. If you know you'll be spending most of your time at your desk (such as when you're earning your PhD online), choose a desk that won't cause you wrist, shoulder, neck, or back pain.

Storage

Storage is always at a premium when you're a busy graduate student handling tons of files, books, readings, and other materials. It may benefit you to consider having drawers and storage options on your desk.
Alternatively, you can always purchase a separate file cabinet that fits perfectly under your desk.

Portability

If you live in a small space or know you'll constantly be moving around, you may want to have a portable study desk.
There are desks that fold up so you can carry them around, though you'd have to look for sturdier options if you don't want your table to wobble.
You can also consider desks on (locking) wheels if you prefer to simply roll your workstation around to your preferred area.

Standing Desk

Standing desks have steadily grown in popularity over the past decade or so. Ask yourself if you'd like a standing desk that can potentially help you stay healthier and prevent back pain from sitting all day.
There are manual standing desks that have hand cranks allowing you to raise or lower the desktop to your preferred position. They tend to be more affordable than fully electric standing desks, which have motors that do the work for you.
You can also opt for an adjustable laptop riser that you can put on any flat surface to turn it into a standing desk.

Price

Price is always one of the biggest determining factors in the decision to buy a desk. Set a budget and stick to it!

Ease of Assembly

You may want to consider desks that are easier to assemble, especially if you'll need to do it all on your own. A desk that's easy to disassemble might also be good if you plan to move.

Warranty

Always look for a warranty when buying desks with moving parts, such as standing desks.
The 7 Best Desks for Students in 2022
Portable Desks
Desks with Shelving
Sit-Stand Desks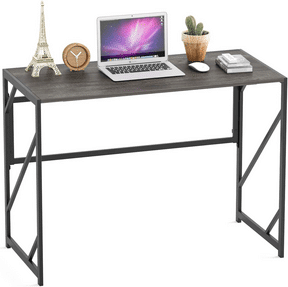 Key Features
Comes preassembled. You only need to unfold the legs and lock the safety hatch and it is ready for use
Comes in beige, black, and black oak
40.6" L x 19.7" D x  29.5" H (Length x Depth x Height); 40.6" L x 19.7" D x 2.7" H when folded
Weighs 27 lbs
Made of particle board and strong steel for legs
The Elephance Folding Desk is a great choice for students who want something simple and understated without sacrificing sturdiness and comfort. The fact that this table comes preassembled and is easy to move around if you'd like to change up your space is just the icing on the cake.
Pros
Sturdy
Spacious enough for most students' needs without being overly bulky
Very affordable
Nice aesthetic
Portable and easily stores
Cons
No additional features like storage or lockable wheels
On the heavier side, can be challenging to lift and move around for some
Only comes in one size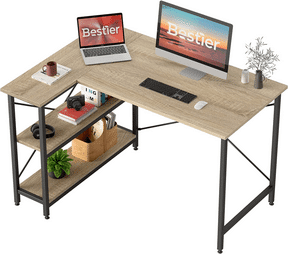 Key Features
Comes in a 47 or 54-inch table top; both options are 23.6" deep
Corner desk portion can attach to the left or right side, and its second shelf is adjustable in height
The desk comes packed with labeled parts so you can easily follow the illustrated instructions
Put two desks side by side to make a big working area
Seven tabletop styles to choose from
Capable of bearing 100lbs of weight; shelf can bear 25lbs
This Bestier L-Shaped Desk is a great choice for students with a bit more space. We'd say it's one of the best study tables for those who want a large workspace, as you can put two tables side by side for a wider work area.
Pros
Affordable yet sturdy
Offers plenty of leg room
Has some customizability
Easy assembly
Cons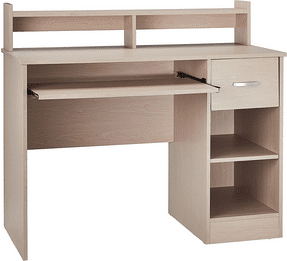 Key Features
Enjoy comfortably typing with the included sliding keyboard tray
Drawer and shelves can help you keep organized
Comes in six styles/colors for you to choose from
42.1" L x 20.1" D x 36.9" H
Shelf is adjustable or removable for your PC tower, holes for wire management included on the back panel
The Rockpoint Axess desk is an excellent choice for students who are looking for an ergonomic typing experience and plenty of storage space. However, it's not the most compact desk and may not provide so much leg space. however.
Pros
Storage solutions help keep your space organized
Sturdy enough
Back mini-shelf can act as a monitor riser
Cons
Keyboard tray doesn't have cable management, so you'll need to use wireless peripherals
Not so much leg space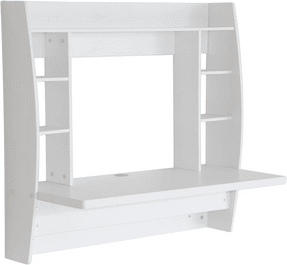 Key Features
Three colorways
Wall-mounted desk requires drilling into the wall and finding wall studs
Plenty of shelf space to display items or keep your space organized
42.25" L x 19.75" D x 39.5" H; 60lbs total weight
If mounted properly can support a decent amount of weight (unspecified by manufacturer)
Also available in a version with a keyboard tray
The Prepac Floating Desk with storage is an excellent solution for students who don't have a ton of space to work with. Setup is as easy as mounting it to wall studs (at any height you want) and it's good to go.
Pros
No floor space necessary
Mount at whatever height is most comfortable to you
Built-in cable management
Cons
Not the biggest desktop for working
Requires drilling into the wall for installation, not for renters or students living in dorms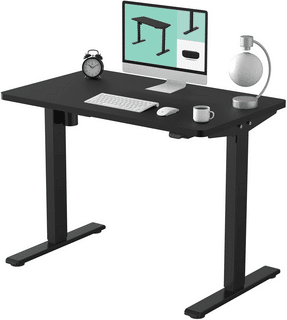 Key Features
Tabletop size choices:

40" x 24"
48" x 24"
48" x 30"
55" x 28"
60" x 24"
Eight colorways to choose from
Uses an electric lift system to smoothly adjust height; min height 28", max height 47.6" + the 1" thick tabletop
Quiet operation, only 50dB
Uses industrial grade steel for the frame, allowing weights of up to 154lbs to be supported on the desktop
5-year warranty on frame and motor
The FlexiSpot EC1 desk is one of the best investments you can make. We'd easily say this is the best student desk for those who want to help keep their backs healthy and pain-free. This desk will also work well for you even after you graduate and start working.
Pros
Great sit-stand desk that transforms workspaces seamlessly
Capable of supporting up to 154lbs
Sturdy, well-designed, and reliable
Choose from various tabletop sizes
The warranty
Cons
A little bit pricey
Bulky and can be challenging to set up (some steps may require a drill)
Add the FlexiSpot Anti-Fatigue Mat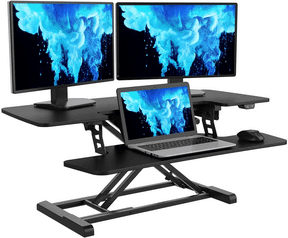 Key Features
36" workspace with a 34.6" keyboard tray
Heavy-duty and durable for long-term use
Desktop can bear 44lbs, keyboard tray can bear 11lbs
Tabletop heights can go from 5.7″ to 19.7″
Smooth operation
5-year warranty on frame and motor
If you'd like the option of having a standing desk but don't have the space, try FlexiSpot's motorized standing desk converter. It's sturdy and works well, you'll just need a table or flat, sturdy surface to put it on top of.
Pros
Integrated cable management keeps your workspace neat
The warranty
Durable and heavy-duty construction
Smooth motorized height adjustments
Cons
Requires a secondary table, not a standalone desk
Not so much space for working with books and other materials
One color only
Add the FlexiSpot Anti-Fatigue Mat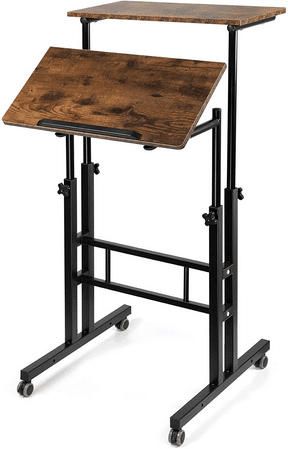 Key Features
Comes in five colorways
Mobile workstation comes with locking wheels for easy repositioning
Individually adjustable front and back sections; height adjustments from 27.5" to 45.3"
Tiltable front area for more flexibility; has a barrier strip to keep items on the surface
If you are on a budget but need a flexible work/study solution, the Siducal table is one of the best desks for college students. All the adjustments are manual, but you have the option of setting the back section higher than the front part of the table so you can raise your monitor/laptop up to eye level.
Pros
Extremely affordable
Portable with locking wheels
Tiltable front section for drafting, drawing, reading, and more
Can work for those who want to a working surface while using a treadmill or stationary bike
Cons
Not the sturdiest, don't put too much weight on top
Smaller table top
Frequently Asked Questions
What do students need on their desks?
Regardless of what your preferred study tools may be, it's a good idea to have enough room on your desk for your laptop, book(s), notes, readings, and other stuff like your food and drinks. Luckily, you don't always need to fit all those things at once, so plan your desk's size accordingly.
What is the standard size of study tables?
There are no set standards for college students' desks, but there are three common lengths for study tables in general — 48 inches, 60 inches, and 72 inches. The length is the measurement running from the left side to the right when you sit down facing the desk. However, length is less important than depth, which is the measurement from the front to the back of the desk. Desks usually have depths ranging from 20 to 36 inches. Desk heights can vary.
Do I need a study desk?
Not necessarily. However, having a dedicated work or study space can make a big difference in your productivity as it can help you keep more organized. Even if you don't have a dedicated room for your studies, a desk can help you create mental separation so you can switch into "study mode" when need be.
Conclusion
It's not always easy to find the best desk for students, especially since everyone's tastes and needs may vary. Your best desk for studying may be highly different from someone else's. The hunt for the right study desk can be deeply personal, as only you can truly determine the right table for your needs. Nevertheless, we hope that this buying guide has helped point you in the right direction!
If there are any desks that you feel belong on this list, please feel free to leave a comment below.
Related: Top 15 Best PhD Graduation Gifts